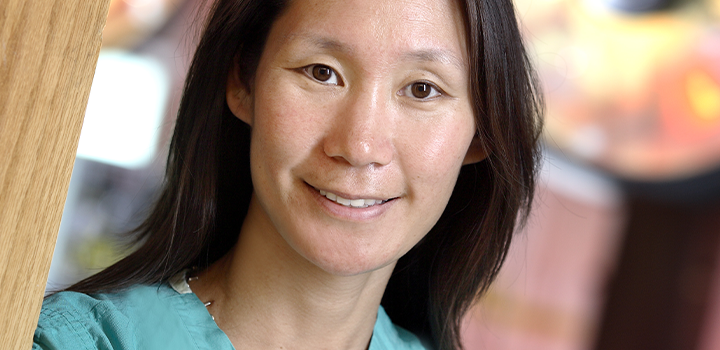 Prof Kathryn Chu's stellar career stretches across 30 countries, yet she has chosen to help strengthen the surgical system at a hospital in Upington in the Northern Cape. A Distinguished Visitor Award from the Discovery Foundation will help fund her visits.
In 2019, Prof Kathryn Chu, 48, visited the Department of Surgery at the Dr Harry Surtie Hospital in Upington to teach the Stellenbosch medical students doing their year-long rural training. That was when she realised that the hospital surgeon, Dr Willem Smith, was essentially working alone.
Together they identified gaps in the healthcare system, which, if addressed in the right way, could improve surgical services for patients in the enormous district that this hospital serves.
A passion for strengthening global health systems
It was with this purpose in mind that the Discovery Foundation awarded a Rural Distinguished Visitor Award to Prof Chu, the Director of the Centre for Global Surgery at the University of Stellenbosch's Faculty of Medicine and Health Sciences.
The grant will help her to visit Dr Harry Surtie Hospital regularly over the next 18 months. The hospital is the site of Stellenbosch University's Ukwanda Centre for Rural Health, where clinicians and students receive training.
"My research interest is in improving equitable access to surgical care in Africa by strengthening the surgical system. I have worked in the Western Cape, KwaZulu-Natal and Mpumalanga as a surgeon for several public hospitals, so I have experience of the challenges faced by staff in these hospitals," Prof Chu says.
Prof Chu is a trained general and colorectal surgeon. She did her undergraduate degree at Stanford University and completed her medical degree at the University of California. She received a master's degree in public health and developing countries from the London School of Hygiene and Tropical Medicine, and is currently Vice-president of the Board of Mťdecins Sans FrontiŤres in Southern Africa. She has spent four years doing humanitarian work, and previously worked for the Harvard Medical School in Rwanda, training surgeons under the Human Resources for Health Programme.
"I hope to be able to make sustainable changes in the surgical system. This includes improving the clinical care by updating protocols and referral systems, and strengthening district hospital surgical capacity. I hope to enhance communication of the surgical platforms at all the hospitals in the health district to reduce barriers to surgical care for patients in the Northern Cape."
Dr Chu's visits to Dr Harry Surtie Hospital will address three of the core objectives of the Discovery Foundation Awards:
To retain and support skills in rural areas
To increase the supply of experienced specialists to teach medical skills
To increase resources and skills development in the public sector.
Overcoming challenges of specialist shortages
Prof Chu says it is difficult to get specialists to work in rural areas. There are only seven specialists for every 100 000 people in South Africa's rural areas, while there are 69 for 100 000 people in urban areas.
During her years of working in rural hospitals, she experienced the difficulties that patients and doctors have first-hand. She clearly feels for the patients and their struggles, and her work and research reflect this.
For a breast cancer patient, for example, it is difficult to access chemotherapy and radiation at local district hospitals. People often have to travel to tertiary hospitals far away. But this isn't always possible because of poor communication, transport costs, lack of family support and long waiting lists. This often means that treatment is delayed, or simply comes too late.
Existing staff can perform many of the necessary procedures, such as wound treatment and hernia repairs. With the help of technology like video conferencing, specialist help can be available, even if only remotely.
"I realised that improving the surgical capacity of hospitals in rural areas would help many people have better access to care. More importantly, strengthening the surgical system and identifying and reducing barriers to access to surgical care are key components to universal health coverage," Prof Chu concludes.
This article was created for the 2020 Discovery Foundation Awards and has been edited for the Discovery Magazine.
About the Discovery Foundation
Since 2006, the Discovery Foundation has invested over R256 million in grants to support academic medicine through research, development and training medical specialists in South Africa.
The Discovery Foundation is an independent trust with a clear focus - to strengthen the healthcare system - by making sure that more people have access to specialised healthcare services. Each year, the Discovery Foundation gives five different awards to outstanding individual and institutional awardees in the public healthcare sector.