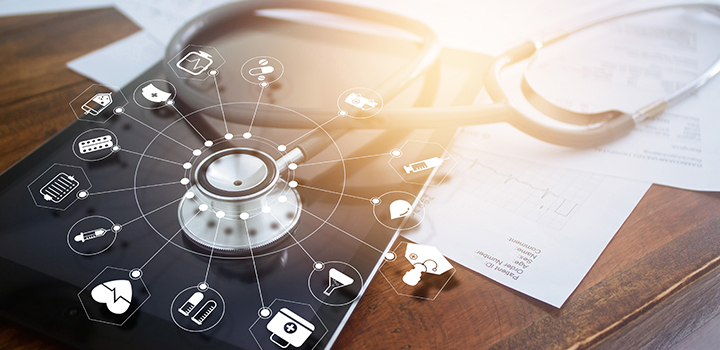 Dr Venesh Moodley emphasises the importance of electronic health records and how a patient's health history is critical to treating complex chronic illnesses.
The first reported case of telehealth, was published in 1879 in The Lancet. Contacted at midnight, a doctor listened through a phone receiver to an infant's chest and it's a cough, ruling out a diagnosis of croup. Since then, telehealth or telemedicine technologies have evolved by orders of magnitude.
Telemedicine refers to patient education, monitoring, diagnosis and treatment by means of telecommunications or digital technologies to provide and support healthcare, when distance separates participants. Telemedicine is enabled by mobile healthcare apps, wearables and wireless patient-monitoring devices that link to smartphones, tablets and computers. These platforms provide remote-access to ongoing biometric data, opportunities for virtual consultations with patients and more. The scientific community has documented countless cases of telehealth bridging time-delays and geographical barriers, decreasing costs, improving outcomes and so, driving value-based healthcare.
For example, since 2010, Médecins Sans Frontières (MSF2) has engaged telemedicine platforms to connect its doctors and healthcare workers – areas of conflict or plagued by dysfunctional healthcare systems - with around 280 global experts. Those at the coalface are provided quick, virtual back-up, 24-7 with maximum confidentiality, their live-sessions enabled via internet access. Telemedicine links MSF doctors with remote medical colleagues, allowing for first-class diagnosis and treatment in conditions that are anything but that.
Digital healthcare supports specialist-patient care
Every specialist knows that patients appreciate relevant and timely communication with us – particularly when complex patients are in trouble. But, we're often unavailable. And, for Chronic Kidney Disease (CKD) patients, most medical events require urgent feedback. Clinical problems range from difficulty breathing to an abnormal heart rhythm, electrolyte abnormalities and fluid overload, sepsis and recurrent infections, clotted or infected fistulas and more. For poorly-monitored patients with acute renal failure, remaining on dialysis for too long causes additional kidney damage.
Globally, 1 in 10 – or, over 500 million people - people suffer from CKD. South Africa has only 150-odd nephrologists across private and state healthcare and for a population of around 56 million people.
Kidney function declines with age and the globally ageing population features an increase in chronic health conditions. Poor lifestyle choices are accelerating the explosion in global CKD rates. In Africa and in South Africa, the epidemic of kidney disease is fuelled by the quadruple burden of diseases of poor lifestyle – obesity, diabetes, hypertension and HIV. Diabetes and hypertension are particular catalysts of microvascular disease with devastating consequences to micro vessel-rich organs such as the kidneys, the eyes and then the brain. The problem is compounded by a dire shortage of donor-kidneys in South Africa and elsewhere.
I see my patients when they are admitted to hospital. Once discharged most receive dialysis, at any one of ten units located from five to 150km away from me, in various parts of Kwa-Zulu Natal. Try as I might, between working in two private practices and dealing with my hospital patients I do not have the time or capacity for frequent visits to check on patients at these units. I see distant patients when they encounter a high-level problem and require admittance to hospital. I rely on telephonic updates and pathology results to get a sense of their status, but the patient and I don't connect as effectively as we might, in this way.
Clearly, there is a need for affordable, accessible, equitable tools that assist us to offer truly patient-centric care. Access to digital healthcare technologies is offering such support to me and to others in my field.
Plugging into electronic health records and virtual consultations
Understanding a patient's health history is critical to treating a complex chronic illness like CKD - particular in older people who cannot remember their personal health-related details. Patient electronic health record (EHR) Discovery HealthID – an app-based platform - provides me access to a consenting patient's health history including past and current chronic medications, medical conditions, pathology results and other reports, as allowing for the prescribing medications that do not require a co-payment for the patient. The system is paperless and efficient. For patients admitted to hospital, the EHR allows me to access recent test results and avoid re-ordering unnecessary investigations. The hospital summaries provided by other treating physicians and saved to the platform, provide invaluable insight into the patient's health journey.
In 2017 the platform was taken further with the launch of Discovery HealthID DrConnect which introduced the option of virtual consultations between doctors and their patients. DrConnect is a secure platform, for virtual follow-up appointments with patients – who also use the app. Frequent and meaningful interaction with patients is potentially lifesaving at the end of the day. Virtual consultations mean more frequent interaction with patients, or with clinical technologist or nurse, caring for patients at remote units.
The smartphone has also flattened the educational hierarchy and with nearly 65% of adults worldwide accessing information through their mobile phones. It is estimated that 1 in 20 of these searches is about health-related concerns. Unfortunately, general internet searches seldom yield the correct answer.
DrConnect's patient-users can also access high-quality medical information from a worldwide network of over 105 000 doctors in over 174 countries. The app also allows doctor-users a chance for connection with peers on complex cases and referrals.
There are many global examples of digital healthcare applied to nephrology.
For example, a June 2016 study found that a smart-phone app empowered patients with advanced CKD to manage their condition. The smartphone-app based system used targeted blood pressure, medication management, symptom assessment, and tracking laboratory results and provided real-time personalised patient feedback. It also alerts providers when predefined treatment thresholds were crossed or critical changes occurred. User adherence was high and the system provided timely and reliable information to the clinical care team without disrupting their workflow. Notably, 27% with normal clinic BP readings had newly identified masked hypertension. Also, 127 medication discrepancies were identified, and 59% represented a medication error that required an intervention to prevent harm.
Encouraging results from a 2018 study of high-risk CKD patients monitored in six-monthly follow-up cycles by a specialist team (Nephrologist, Endocrinologist, Cardiologist and Renal 'Palliative' Supportive Care) which provided either virtual medical consulting or face-to-face consultations. Sixty-one (87%) patients were virtually tracked or consulted with 14 (23%) being HR. At 12 months, there was no difference in outcomes between VC and F2F patients. General practitioners reported a high level of satisfaction and supported the model, despite some software challenges. Patients found the system attractive and well-managed.
What does the digital future of specialist healthcare look like?
What might the future of nephrology look like? It could likely include access to genomic-based healthcare that relies on insight into genes that contribute to kidney disease. It may see us overcome the shortage of donor kidneys through stem cell and bioengineering approaches that offer sources of autologous tissues for regenerative therapies. Dialysis could be powered by mobile and bioartificial technologies. I hope that the healthcare revolution we're living through will translate into improved methods of work for us doctors, and improved care for our patients. But it's up to us to engage with digital technologies and shape their design.
Some have compared telehealth technology to the way in which the automated teller machine (ATM) was, when introduced in the 1970s – an expensive, clunky, unfriendly, and inflexible device capable only of dispensing cash. What was a financial loss leader for banks has become integral to the functioning of financial institutions and fully integrated with global electronic banking records, overcoming all geographical barriers and offering access to accounts and local currency no matter where clients find themselves. This sort of customer-centric innovation is paralleled in patient-centric digital healthcare innovations.
The dramatic increase in healthcare data being generated around world , as well as our ability to analyse it through Artificial Intelligence and Machine-Learning platforms, means digital drivers will continue to revolutionise healthcare systems, with great potential to enhance the patient-provider relationship as well as to enhance personalised patient care. Doctors are used to face-to-face contact with patients so it will take a little time for digital healthcare technologies to become widely accepted by clinicians. I would love to see enhanced adoption of these technologies among a greater number of specialists so that we can test digital healthcare's full potential to revolutionise the way we work – for our sake and that our patients.