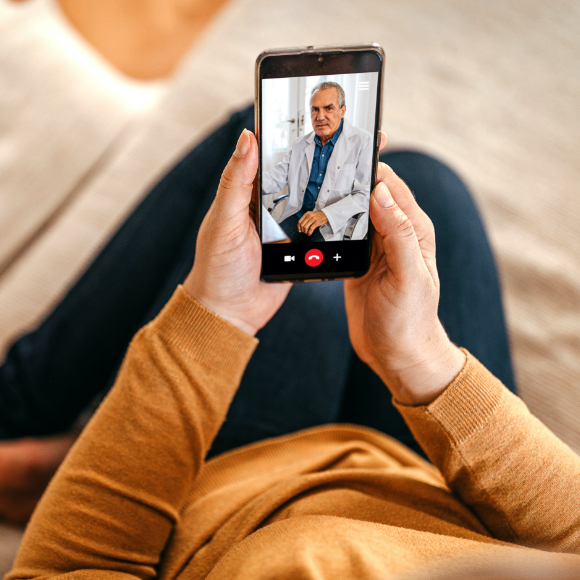 Connecting you to doctors like never before
Discovery Connected Care is a digital platform that connects you to a range of home-based healthcare services for all levels of care.
Funded by Discovery Health Medical Scheme, it enables an end-to-end healthcare journey. Discovery Connected Care revamps the online consultation experience by bringing it closer to a face-to-face doctor visit.
Healthcare in your hands, from home
Seamless access to your doctors through online consultations. You can link remote home monitoring and point of care devices as well as access your personalised, condition-specific information to help you manage your health.
Connected Care for healthcare at home

Connected Care for members at home
Bring the virtual consultation experience closer to a face-to-face doctor visit. Access the latest in diagnostic point-of-care technology, e-scripting and medicine ordering from the comfort of your home.
Coming Soon

Connected Care for members with chronic conditions
Manage and track your chronic condition at home. Digital, end-to-end management of a chronic condition is available to qualifying members, who get access to personalised coaching, consultations and remote monitoring devices.

Hospital at Home
Receive hospital-level care in your home. Qualifying members can experience clinically appropriate, patient-centric care in their homes as a substitute for acute hospital care.

Access quality healthcare from home
Condition-specific information: Educational content specific to your condition, at your fingertips.
Electronic prescriptions: Seamless e-scripting to give you quicker access to your medicine.
Health monitoring devices: Access to the latest medical examination and remote monitoring and point-of-care devices to enable quality care from home.
Home nurses: Hospital-related care with home nurses to care for you at home.
Medicine ordering: Order your medicine online.
Online coaches: Personalised coaching to help you better manage your chronic conditions from home.

How you are covered
Connected Care for members at home
Online consultations (including TytoHome consultations) with a doctor in the Connected Care GP network are covered from your available day-to-day benefits or condition-specific benefits, where applicable.
The Home Monitoring Device Benefit gives you access to a range of essential and registered home monitoring devices for certain chronic and acute conditions.
Hospital at Home: Home-based care instead of being admitted to hospital
You can receive general ward level treatment at home when this is recommended by your treating doctor.
If this is approved by the Scheme, cover includes:

The first clinical assessment
Supportive care at home that includes physical nurse visits, online consults with your treating doctor, and 24-hour online monitoring.
Access to condition-specific remote-monitoring devices
Access to any other clinically appropriate at-home treatment required, as prescribed by your treating doctor.
Hospital at Home: Home-based care if you are discharged early from hospital
The Scheme is enhancing the Discovery Home Care offering. If you have a condition that needs therapeutic interventions (covered by Discovery Home Care), you can be discharged from hospital earlier to continue your treatment at home. Your treating doctor must consider you to be medically stable before you can be discharged.
Examples of these Home Care services include doctor-initiated, clinically appropriate intravenous (IV) infusion therapy and wound care at home.
Coming Soon
Home-based care if you are at risk of readmission after being in hospital
If you meet the clinical entry criteria, you have cover for:
Bedside medicine reconciliation before you are discharged.
A follow-up consultation with a general practitioner (GP) or specialist
Supportive care at home that includes a face-to-face consultation and online consultations with a Discovery Home Care nurse.
Coming Soon
Connected Care if you have chronic conditions
If you are registered for selected chronic conditions, we offer a number of condition-specific care programmes.
You and your doctor can manage your chronic condition through Connected Care.
You can access a range of digital services linked to smart remote monitoring devices, and personalised coaching, to help you track and manage your chronic condition from home.
Coming Soon
Home Monitoring Device Benefit for essential home monitoring (qualifying members)
If you meet the Scheme's clinical entry criteria, we pay up to a limit of R4 000 per person per year, at 100% of the Discovery Health Rate (DHR), for a defined list of home monitoring devices for certain conditions (such as chronic obstructive pulmonary disease, congestive cardiac failure, diabetes and pneumonia.
Depending on the condition and clinical entry criteria, the connected devices include a:

Biosensor patch
Blood pressure monitor
Glucometer
Weight scale
Thermometer
Pulse oximeter



Do you know how to get support to help control your diabetes?
Half of people living with diabetes don't know they have it. We know that more than 4.5 million adult South Africans have diabetes. 14 November is World Diabetes Day, now is the time to know your blood sugar. And if you have diabetes, we have the enhanced support and benefits to help you.