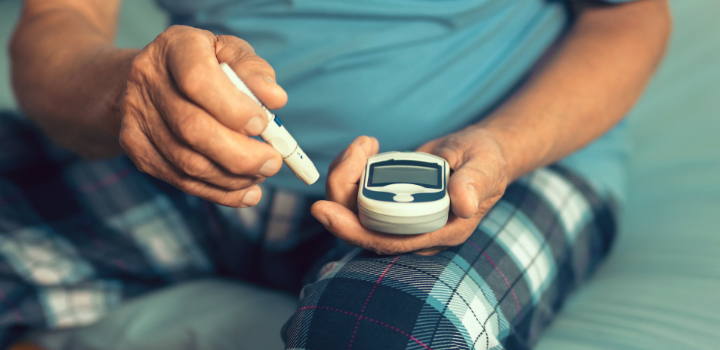 Half of people living with diabetes don't know they have it. We know that more than 4.5 million adult South Africans have diabetes. 14 November is World Diabetes Day, now is the time to know your blood sugar levels. And if you have diabetes, we have the enhanced support and benefits to help you.
Since March, South Africans have been focussing on the signs of infection and protecting themselves from the COVID-19 virus. This is sensible, but so is paying attention to a condition that affects 12.7% of adults in South Africa according to the International Diabetes Federation's (IDF's) 2019 Diabetes Atlas. By now, even more adults could have diabetes, especially considering the jump in numbers from just three years ago. 2017 statistics showed that 5.4% of adult South Africans had diabetes.
Have your blood sugar tested. Early detection and treatment can help prevent complications. If your diabetes is under control, you can lead a full, healthy life.
Getting the best health outcomes
Teamwork is the best way to manage chronic conditions like diabetes. You have to do your part by knowing your blood sugar, educating yourself, making healthy food choices, exercising, and taking your prescribed medicine. But while you have to put in the time and dedication to manage your condition, you have a team of healthcare professionals to guide and support you.
People with diabetes have the best health outcomes when one doctor helps you manage your diabetes with the support of a healthcare team. This makes sure that everyone involved in your treatment is following the same strategy and that they share important information with each other.
Research shows that modifying health care delivery to include team-based care combined with patient-centred technologies offers great promise to better treat chronic conditions, so you get the best health outcomes.
Discovery Health Medical Scheme members have access to benefits and technology to help them achieve the best possible health outcomes.
The Diabetes Care Programme and enhancements for 2021
Once you register for diabetes on the Chronic Illness Benefit, you have cover for the care, treatment and ongoing management of your diabetes through the Diabetes Care Programme. This does not use up their day-to-day benefits, where applicable."
Your Premier Plus GP can register you for the Diabetes Care Programme, which gives you access to additional benefits to help you manage your diabetes.
Connected Care app
We're introducing a new app to help you manage your chronic condition: Connected Care. The Connected Care app is an online digital platform that connects you to healthcare professionals and online coaches through online doctor consultations. It provides a medicine ordering and delivery service and links to remote home monitoring and point of care devices. You also have access to personalised condition-specific information to help you manage your health. Once you have given consent, this information in your electronic health record is made available to healthcare professionals to enable better quality of care wherever you are.
This app will give you access to:
Remote monitoring devices and supporting apps to monitor your condition from home, for qualifying members on the Diabetes Care Programme
Online consultations with a Health Coach to assist you with lifestyle changes, to find educational content and to help you navigate your benefits.
If you need additional clinical support, you will also have access to consultations with a healthcare professional or a diabetes nurse educator
Reliable health and wellness information about diabetes.
Track your health
We offer you all the support you need to track your exercise and achieve your personalised health goals. The Health Tracker is a free platform, made available to all Scheme members by Discovery Vitality that allows you to track your exercise and achieve your personalised health goals.
You'll be able to experience how Vitality works to encourage and reward healthy living.
Read these inspiring stories about how the programme helped other members with diabetes
While it's useful to know that you have access to enhanced support and benefits, it's difficult to imagine how they can make a difference in your life if you haven't experienced them yet.
For Hilton Coltman, who got control of his diabetes with the help of his doctor and the Diabetes Care Programme, it was life-changing. "For the first time in 10 years, I feel like my energy is up, my sugar is controlled. I feel healthier," he says.
Read how his life changed for the better.
Merlin Naidoo had his first hint that something was wrong when his feet swelled up. A check-up with his doctor revealed that he has type 2 diabetes. Getting the coordinated care and information he needed got him to the point where he's "feeling great at the moment. Overall, my health has been good since I joined Discovery's Diabetes Care Programme."
Find out more about this COVID-19 recoveree's diabetes journey.
Rakesh Mithal puts every effort into controlling his diabetes and being a role model for his daughter. Joining the Discovery Health Diabetes Care Programme has ensured he and his doctor work in partnership to manage his condition.
Here for you, here for your health
Feel reassured that you're not alone if you are living with diabetes. The Diabetes Care Programme gives you access to enhanced support and additional benefits to best manage your condition.
To learn more about the Diabetes Care Programme watch this video.

"We only have one body": how to fight diabetes
This National Diabetes Month, we spoke to endocrinologist and specialist diabetologist Dr Joanna Skelton about the myths around diabetes, how patients can gain control of the condition, and the importance of making good lifestyle choices.
Access a world of digital support
Technology has created many benefits for our lifestyle. Life is easier; you have choices that are best suited for you; and you save costs and valuable time. These benefits of technology are now also changing how we manage our healthcare journey at our fingertips.

Discovery Health Medical Scheme, registration number 1125, administered by Discovery Health (Pty) Ltd, registration number 1997/013480/07, an authorised financial services provider and administrator of medical schemes. Vitality is a separate wellness product, sold and administered by Discovery Vitality (Pty) Ltd, registration number 1999/007736/07. Limits, terms and conditions apply.