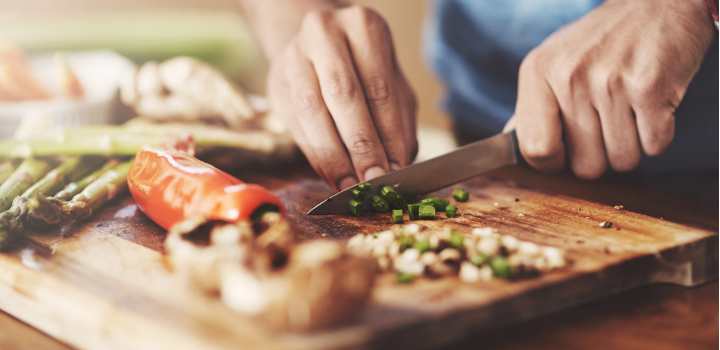 Merlin Naidoo has been a Discovery Health Medical Scheme member for the past nine years. All was going well until 2014, when he learned that he had developed a chronic condition: type 2 diabetes.
The Chronic Illness Benefit on Discovery Health Medical Scheme plans enables members access to quality care when it's most needed. While no one wishes to learn that they have developed a medical condition, and especially one of a chronic nature, having access to such a benefit can be an immense help.
Diagnosed with type 2 diabetes about five years ago, Merlin made the decision to participate in Discovery Health's highly recommended Diabetes Care Programme that includes access to the Guidepost Coach Programme after his doctor made the suggestion. Ever since, Merlin has been doing really well. Here's his story.
An unexpected diabetes diagnosis
While away on a cruise holiday, Merlin experienced enough discomfort in his feet to warrant a check-up with his doctor. It was just as well that he scheduled a check-up. Little did he know at the time that he developed a chronic condition and that he would need to start making adjustments to his lifestyle.
Merlin's general practitioner (GP) conducted the standard tests necessary and then delivered the news. Merlin hadn't expected that the swelling in his feet would turn out to be one of several signs that he had developed a chronic medical condition.
"I was in a state of shock and just could not believe it," he says. "It also made me feel down initially, but I had to learn to accept my condition. I told myself that it's something that is now going to be a part of my life, for the rest of my life. So, I need to adjust to the condition."
Learning to live life with diabetes
Key to managing type 2 diabetes is keeping blood glucose (sugar) levels in check by using medicine and making lifestyle adjustments such as regular exercise and improved nutrition.
Working closely with his doctor and a diabetes specialist nurse, Merlin began to learn more about his condition and what he would need to help keep it under control.
"Soon after my diagnosis the doctor introduced me to a diabetes specialist nurse who was very helpful. She assisted in providing me with my medicine and scheduling any necessary consultations with an optometrist and podiatrist. My doctor and nurse helped me to understand the importance of taking my medicine on time too," he explains.
While learning to live with and manage his diabetes, Merlin's doctor suggested that he could benefit from participating in the Diabetes Care Programme.
The programme is designed to offer optimum care with the help of a specialist multidisciplinary team. Merlin received personalised clinical and lifestyle coaching from an assigned health team. Together with his Premier Plus GP, nurse, dietitian, diabetes coach and educator, Merlin gained valuable insight into how to manage his condition better. "In this way, I learnt how to accept my disease," he says.
Making nutrition a priority
One of the most important aspects of managing blood sugar levels is nutrition. With the help of a dietitian provided through the Diabetes Care Programme, Merlin learnt how to take better care of his eating habits.
"She was very helpful. I learnt which foods are best for me as well as those that are better to stay away from," he says. By consuming fewer calories, refined carbohydrates and saturated fats, as well as enjoying healthier doses of fibre and an array of fruits and vegetables, Merlin's blood glucose levels are now able to be better managed on a daily basis.
As a Discovery Vitality member, Merlin has been able to use this science driven wellness programme effectively to get cash back on his healthy food purchases.
A coordinated care effort that achieves long-term results
Along with addressing healthy weight management through exercise and nutrition adjustments, the Diabetes Care Programme encourages regular check-ups and laboratory tests. All clinical information is plugged into monitoring and tracking tools that essentially paint a full picture. For all involved, this information not only helps guide how treatment needs to be implemented, but it also gives valuable indications that can assist in reducing the risk of worrying complications.
Merlin learned how to take his own blood glucose readings as often as needed. "I had to learn how to prick myself every day so that I could take my own readings and administer the doses of insulin I need," he says.
Diabetes in check
Through this programme, Merlin has not only been able to get his chronic condition under better control, but also improve his overall state of health and quality of life. Now, several years down the line, he is doing very well.
Living with diabetes is no longer a heavy weight on his shoulders. He now has a sense of control and says that diabetes has now become part of his lifestyle. "I have learned to accept and manage it successfully," he says.
Now that he has learned to adapt his eating habits in particular, Merlin has found that his blood glucose readings have become more stable. "The team involved in the programme are very professional and manage the process well. I was sent regular reminders by SMS and any meetings were always honoured," says Merlin.
"I would definitely recommend this programme for anyone who is diagnosed with diabetes or who is already living with this condition," he adds.
Discovery Health Medical Scheme, registration number 1125, administered by Discovery Health (Pty) Ltd, registration number 1997/013480/07, an authorised financial services provider and administrator of medical schemes. Vitality is a separate wellness product, sold and administered by Discovery Vitality (Pty) Ltd, registration number 1999/007736/07. Limits, terms and conditions apply.
Here for you, here for your health
Feel reassured that you're not alone if you are living with diabetes. The Diabetes Care Programme gives you access to enhanced support and additional benefits to best manage your condition.
To learn more about the Diabetes Care Programme watch this video.

Diabetes Care gives you extra help for diabetes
If you have diabetes, you have to keep measuring your blood sugar and taking your medicine. The Chronic Illness Benefit helps with the basics, but Diabetes Care gives you and your Premier Plus GP access to more tools and benefits to give you the best support and health outcomes.