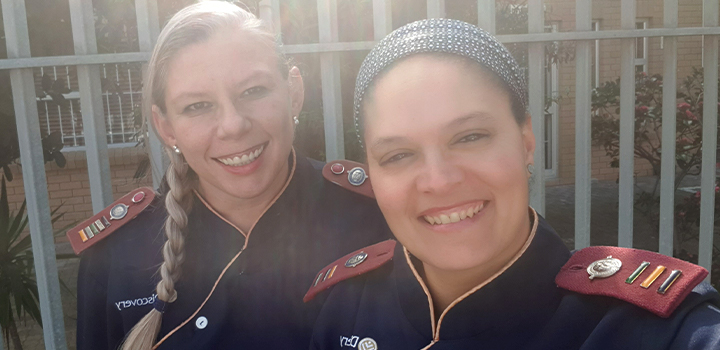 Discovery Home Care professional nurse Drikie Richardson draws from her personal experience of surviving breast cancer to help her patients, give them hope and inspire them to get better – making her a firm favourite among her patients in Cape Town.
What strikes you first about Discovery Home Care professional nurse Drikie Richardson is her warm smile, her sunny disposition and her long blonde hair which she wears in a braid. The picture of health and wellness, it's hard to believe that five years ago Sister Drikie was diagnosed with breast cancer.
"I was diagnosed with breast cancer in 2014. I went through my chemo treatment that year and in 2015, I had surgery," she says. Today, the 41-year-old nurse uses her experience to help and inspire her patients.
"Going through breast cancer has helped me understand what my patients are going through," Sister Drikie explains. "There are so many people who have had breast cancer or are going through it now. When I tell patients about my condition they say, 'but your hair is long!' and I say, 'that's five years of growth – from having a bald head to now'. Then they would say, 'really, is that possible?' And I say, 'yes, it is possible'. It gives them a little bit of hope that they can beat cancer."
"A lot of patients don't want to go for chemo because they think it's poison. I tell them if it wasn't for chemo, I wouldn't be here today to nurse you. That opens up their world a little bit. Chemo is only tough for that period in your life, but after that it gets better. I know not everyone is as blessed as I was, though."
Her boundless optimism is one of the reasons why Sister Drikie is so loved by her patients. Since she joined Discovery Home Care in November 2018, she's become a firm favourite among Discovery Health Medical Scheme members using the Home Care benefit.
Sister Drikie has led a fascinating life. Born in the Free State in 1978, she secured a bursary in 1996 to study nursing at the University of Port Elizabeth (today Nelson Mandela Metropolitan University). Then, in 2002, her taste for adventure led her to Saudi Arabia where she practised nursing for eight years. She says working with a multinational team in a foreign country contributed massively to her learning and growth. Today, she lives in Gordon's Bay with her husband Eric, her daughter and her grandson.
All of her experiences have made Sister Drikie a deeply compassionate Home Care nurse. On what makes a good Home Care experience, Sister Drikie quotes the Dalai Lama: "When you talk, you are only repeating what you already know. But if you listen you may learn something new."
Sister Drikie often works alongside fellow Discovery Home Care nurse Alexcia (Lexi) Johnson in Cape Town. Earlier this year, two Home Care patients, Edith Canhola and Undersecretary to the National Assembly in Parliament Dr Nazeem Ismail, wrote to Discovery to praise Sister Drikie and Sister Lexi.
Edith says: "Sister Lexi is a gem and is very passionate about her work. Sister Drikie is dedicated to her work and is very friendly. She will go out of her way to help you. They both listen to you, the patient. They take into consideration that you know your own body, and where needed, they will try and make alternative arrangements. They are an asset to your company and show their dedication in everything they do. I would recommend them to anybody who needs Home Care."
Nazeem has been using a wheelchair for 20 years. He says, "Thank you for sending your wonderful nursing staff, Sister Lexi and Sister Drikie, into my life. You know, when a stranger comes into your house it feels like they're invading your privacy. But the manner in which they do it all puts me at ease. We have fun about it, we laugh about it. They have great personalities, they're great people, they interact with the family, which I appreciate, and everyone loves them, even our parrot. And that contributes to the healing process. They make it all pleasant."
Sister Drikie really cares about her patients. She visits them to tend their wounds, administer infusions, and to make sure they take their medicine. "It's important that my patients are well and taken care of. Some of my patients are really alone and they don't have anyone."
DISCOVERY HEALTH MEDICAL SCHEME IS AN INDEPENDENT NON-PROFIT ENTITY GOVERNED BY THE MEDICAL SCHEMES ACT, AND REGULATED BY THE COUNCIL FOR MEDICAL SCHEMES. IT IS ADMINISTERED BY A SEPARATE COMPANY, DISCOVERY HEALTH (PTY) LTD, AN AUTHORISED FINANCIAL SERVICES PROVIDER.
Discovery Home Care
Discovery Home Care is a unique home-based service that offers you quality care in the comfort of your own home when recommended by your doctor as an alternative to a hospital stay if appropriate. With Home Care, there is minimum disruption to your normal routine and family life. Cover includes postnatal care, end-of-life care, IV infusions (drips) and wound care. We pay for these services from the Hospital Benefit as long as you get approval beforehand. Find out more about Discovery Home Care or call 0860 46 22 73.