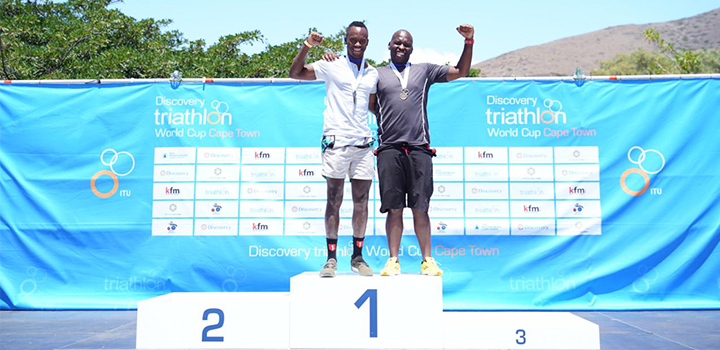 A freak attack derailed Mhlengi Gwala's budding career as an able-bodied triathlete, but in spite of a limp, he just took top honours in the 2019 Discovery Triathlon Mixed Sprint Team race. Here he shares more about why he's determined to keep racing.
Elite triathlete Mhlengi Gwala, who credits sports for saving him from a drug and drinking addiction, is no stranger to overcoming obstacles in life. But last March, while on a training ride, he was attacked by three men who tried to hack off his legs with a handsaw.
Following the attack, Gwala was flooded with public support, with over R782 000 raised through crowdfunding to help cover his medical and rehab costs. The incident left him with a limp and derailed his budding career as an able-bodied athlete. However, that hasn't deterred him from training.
Gwala has exceeded all expectations with an incredible recovery, cycling from Johannesburg to Durban a mere nine months later. While Team South Africa's Olympic doctor Kevin Subban says it may take him two years to recover, that's not stopping Gwala from participating in the 2019 Discovery Triathlon World Cup Cape Town this February. We caught up with him to hear how things are going.
How have you been dealing with the trauma of what happened?
I told myself, there's nothing I can do besides focus on my sports. I have to forgive, because I've got two kids, two lovely daughters. One is three and one is seven. They always want to play, so if I'm down, they have nobody to play with. I try to think about them, so I can always have smiles for them.
I don't know the people who hurt me, so who can I even be angry with? It would be stupid. So I forgive. I can't forget – but when I remember, I don't let myself get upset or afraid. Everything I think about has to work towards my progress. I knew if I just focussed on my recovery, I can get there fast. That's why I am here today.
How has your medical and rehab team helped you?
I have a bio, he's been by my side, helping me work harder. I can see the progress from that. Dr Kevin Subban is a sports doctor, he's always checking on me and making sure I'm strong. I go to a physio, who makes sure my muscles are fine. And then Dr O'Sharran R. Singh, my plastic surgeon – he did a very good job to connect nerves, muscles, tendons… I've got such a good team supporting me.
What positive impact do you believe exercise can have on a person's life?
Exercise is very, very, very important. So many people are driving in cars, going to offices and sitting – they don't move enough. Exercise can change the way you feel and look. It can open doors for you. You can travel the world, meet new people and become more open-minded. I've got so many friends around the world and I've had new experiences because of sports. It lowers stress – if I don't train in the mornings, I can feel the effect. And sports is so powerful in uniting people. In a sports team, even if there are two or three who are not friends, when you're on the field, you're all working to win. You become one team, one unit.
What lessons have you learned from this whole experience?
A big lesson I learn after my accident was from all the support that I got. Everybody – black, white, yellow, blue, men and women, friends, even strangers – they supported me. I felt like the whole world was together and helping me, praying for me.
So I learnt, you have to have a big heart, at work, wherever. When I see people on the street, I always make sure to help them with food and clothes. Because of my experience and seeing how everybody helped me, I knew I also have to help others with what I have.
Your experience didn't quell your enthusiasm for the 2019 Discovery Triathlon World Cup! How was the experience for you?
We won our race! This year, I entered for the Sprint event as a team, because I didn't want to injure myself running. So I swam and I cycled, my team mate ran, and we won the Mixed Sprint event. The organisers also did a very good job – the whole weekend was great. I enjoyed every minute and every second.
What is your advice for aspiring triathletes?
The more you race, the stronger you get. Just work hard and have fun, the chances will come. Be focussed and keep trying – if it doesn't work today, tomorrow it will work. if it doesn't work tomorrow – for sure next month it will!
What's next for you in your journey?
In fact, since the incident, I've qualified as a para-cyclist. I don't know what to say… God does things in His way! This incident actually opened so many doors for me, doors that were shut before. It changed the way I think, the way I look at people. I've learnt a lot from it.
So I'm hoping to keep racing and qualify for the Paralympics next year. That depends on my legs. But I want to keep earning points so I can compete internationally and make my country proud. Also, I want to finish paying the lobola for my fiancée – I still owe a few cows!
Join Team Vitality and get 50% cash back on races and a VIP hospitality experience
Join Team Vitality and get 50% cash back on registration entry fees for selected events. You will also receive a Team Vitality starter pack with quality running or cycling kit. Even more rewarding is that you'll have access to our VIP hospitality at certain events on the Team Vitality race calendar, simply by wearing your Team Vitality race gear at these events. Get the full scoop and sign up here.
Give your fitness a boost with a new suite of Fitness Boosters
Get cash back on a new road or mountain bike, a heart-rate fitness device or a pair of running shoes with Vitality Active Rewards by activating one of these Vitality Active Rewards booster benefits: Bike Booster,Device Booster or Shoe Booster.
Find out more about the new range of Fitness Boosters
Join Team Vitality, SA's largest running and cycling club today!
BONUS: Team Vitality Running members for 2019 pay no activation fee for the Vitality Active Rewards Shoe Booster benefit. Visit the Shoe Booster page under Vitality Active Rewards on the Discovery app to activate Shoe Booster and get up to 100% cash back on your next pair of running shoes purchased from Sportsmans Warehouse or Totalsports.
7 decades strong and taking on the Discovery Duathlon
Molly Fabé, 70, had never exercised before when she inadvertently entered a competition to participate in the Discovery Triathlon World Cup. She couldn't even swim at the time. Here's her story of overcoming the odds – and repeating it for love.