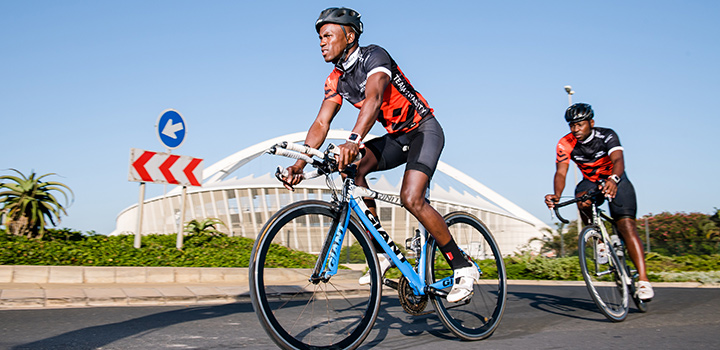 When he lined up for the start of the Discovery Triathlon World Cup in Cape Town last weekend, up-and-coming swimmer Mhlengi Gwala was flushed with gratefulness. Reporter William Molema caught up with him to find out why.
Mhlengi Gwala and Sandile Shange
Mhlengi Gwala, a 26-year-old from Ndwedwe in KwaZulu-Natal and keen triathlete, is grateful for the opportunity to display his athletic talents against the best in the business. But more importantly, he's grateful for life.
"I shouldn't be alive," Mhlengi says, in a somewhat blasť manner that makes it hard to believe him at first. "I should have died a long time ago, my man," he explains. "You see, I was a drug addict, and in 2009 I was admitted to hospital because of sicknesses caused by my addiction."
We are at the Durban King's Park swimming pool, and the irony of Mhlengi's statement is too hard to ignore. Resplendent in a life-guard's vest and with young boys waving excitedly at him as they head to the pool, here is a man tasked with saving lives, talking about how his should have long ended.
Drugs landed me in hospital before I turned to swimming
Yet such are the realities of life for boys in many South African townships: dicing with death is par for the course. Before becoming a lifeguard, Mhlengi was a young boy on a fast track to nowhere. Having left the serene surrounds of rural Ndwedwe for the hustle and bustle of Chesterville as he began his studies at UNISA, he found himself drawn to the wrong crowds.
"I started using drugs and ended up being hooked on Ecstasy. Eventually I got Hepatitis B and I was told my liver was not working. I was close to dying and had to spend time in hospital on drips." Upon his discharge from the hospital, he stopped drinking for a while and even started swimming.
Healthier influences turned my life around
"I only drank on weekends, I loved my beer," he smiles. "But the problem was that there was this guy called Vuyo who beat me in swimming races every Monday, but never during the week. I realised that the drinking was affecting my swimming, and I consciously decided to start hanging around with non-drinkers. That's when I met Sandile."
Sandile Shange is a 36-year-old with massive triathlon experience who'll also be participating at the Discovery Triathlon World Cup next weekend in the Mother City.
With eight full Iron Mans and five Durban Ultras to his name, he turned out to be a fantastic role model for Mhlengi.
My mentors taught me to swim, and life lessons along the way
Mhlengi admits, "The temptation to go back to drinking and my old life of drugs is always there. So it is key for me to hang out with people who will ensure that I don't go back to what I used to do. And to be honest, the support I get from everyone - our coach Glen Gore, Sandile, Prince and Zamu is very good. They all taught me to swim, but more importantly, they are giving me very important life lessons. I am now a permanent lifeguard and I've had some great experiences in triathlons and lifesaving championships."
Last year was a particularly good year for Mhlengi as he finished fourth in his age category of the SA Championships, and even competed in the World Championships in the Netherlands. He also competed in last year's Discovery Triathlon World Cup.
"It was an amazing experience," he beams. "I saw a competition on Facebook asking people to write a story about their friend, and I shared mine and Sandile's. We won and flew to Cape Town for what turned out to be a very good holiday. The people at Discovery put us up at the Southern Sun hotel and we were supposed to check out a day after the event but they allowed us to stay an extra day. And then we got a call from them telling us that we are going back again this year. I'm very excited."
Read more about how Mhlengi and Sandile are inspiring other youngsters in townships to engage in sports and become triathletes themselves.
Run your way to new running shoes with Vitality Active Rewards Shoe Booster
Earn up to 100% cash back on a pair of running shoes with Vitality Active Rewards Shoe Booster and your preferred HealthyGear partner, Sportsmans Warehouse or Totalsports.
Remember, you can get up to 25% cash back on a wide range of fitness devices and sports gear at Sportsmans Warehouse or Totalsports. Activate your HealthyGear benefit today and increase your cash back by finding out your Vitality Age and going for a Vitality Fitness Assessment.
Not a Vitality member? Join Vitality today and get rewarded for living well.
Need more motivation? Become a winner by getting fitter!
Vitality Active Rewards encourages you to work out more frequently, wherever you are, by giving you weekly rewards for meeting your personalised physical activity goals. You can also earn exciting surprise rewards for achieving 3-in-a-row goal streaks!
Rewards range from drinks and snacks to retail rewards from partners like Cape Union Mart and Nando's, to weekends away and even dream international holidays. Become a winner by getting fitter: join Vitality today and activate Vitality Active Rewards on the latest version of the Discovery app.
Team testimonies: Why two are better than one
Research is increasingly showing the importance of social interaction in influencing human behaviour. This is because the way we behave is strongly affected by our colleagues, friends and family. Here's how some Vitality members are making the most of this.
Life begins at 78! How running keeps Deirdre Larkin young
Deirdre Larkin first hit the road in 2009, and now, at 85 years old, is getting stronger and keener by the year. We caught up with 'Randburg's Grand Dame' to find out how her passion for running has given her a new lease on life.