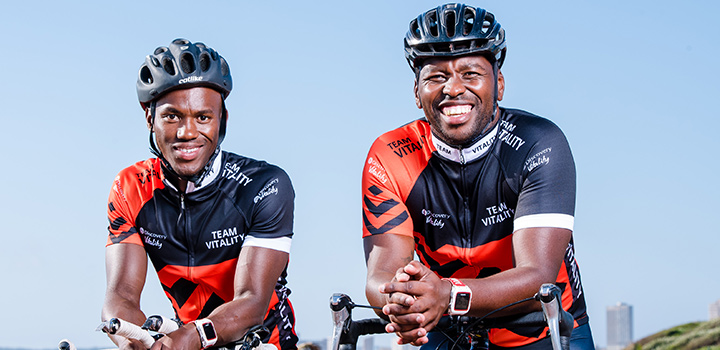 Reporter William Molema met up with triathlete Sandile Shange at the Durban King's Park swimming pool, where Sandile trains and serves as a lifeguard, to learn more about where he's headed and the positive influence he's having on local youths.
Mhlengi Gwala and Sandile Shange
Sandile Shange's enthusiasm for triathlons is infectious. The 36-year-old Durbanite has eight full Iron Mans under his belt, as well as seven half Iron Mans, five Durban Ultras and participation at the Life Saving Worlds. He's also hoping to make his mark at the Discovery Triathlon World Cup next weekend in the Mother City.
Dedication can help us compete with the pros
Sandile gets shivers down his spine as he remembers last year's Discovery Triathlon. "Phew, I remember just how cold the water was," he laughs. "We were not allowed to warm up, so we went straight into the water to race. I'm form Durban and I'm used to the warm water we have here. The Cape Town water was way too cold! But once I was in the water for a little while I got into my stride, and in the end it was great fun."
It was watching the professionals, however, that left a massive impression on the 36-year-old. "I saw their times and I was in awe. I was inspired and motivated to come back and work hard on improving my times too. I don't think the margin between us and them is too big. If we can be dedicated and work on the swim in the open water then someday - who knows?"
With coach Glen Gore by his side, he believes the sky is the limit. "Before I met Glen, all I knew was cycling and running. He entered us into competition and while it was hard at first and a bit confusing, one eventually gets the hang of this triathlon business," he explains.
Triathlons teach you discipline
Admittedly, triathlon is a very expensive sport, but the rewards beat the costs. "It teaches discipline. You need to spend a lot of time practicing and you have to practice the disciplines daily."
"Glen has got us reading Triathlon Plus magazine, just so we can learn what the other pros are doing out there. He also gets the samples of cycling shoes and attire and gives them to us because he understands just how expensive the sport can be. Glen understands us as people - he's like a father to us."
Out in their townships, Sandile, along with his friend and training partner Mhlengi, are seen as very different. "In our communities, they view us as white people," Sandile laughs. "And it is all because we do these very expensive sports that are not really common among black people. But over time, we've also become role models for many kids."
Being a role model to young boys
"There are plenty of youngsters who aspire to be lifeguards like us, and who always ask us about triathlons. Now many youngsters in the townships no longer look up to the criminals as we did while we were younger, but they look up to us. I'm just glad that in a small way we are showing them that they can get away from that flashy life of criminals, which is very short because you will either get jailed or shot and die."
"So we go to schools and give talks about what lifeguards do, and we teach them about beach awareness. That way we also introduce them to triathlons and make the kids realise that there's no such thing as a sport for white or black people anymore."
Catch Sandile in action at the Discovery Triathlon World Cup on 11 February 2018.
Read Mhlengi's story of how healthier influences - like swimming and support from caring mentors - turned him from being a heavy-drinking drug addict to a competitive swimmer and promising triathlete.
Feeling inspired? First kit yourself out and save with HealthyGear
Running gear, swimwear, cycling essentials - whatever you need to aim for a triathlon - get it for less with the Vitality HealthyGear benefit.
Get up to 25% cash back on a wide range of fitness devices, sports gear and equipment at Sportsmans Warehouse or Totalsports. Activate your HealthyGear benefit today and increase your cash back by finding out your Vitality Age and going for a Vitality Fitness Assessment. Go on - gear yourself up and make a splash today!
Not a Vitality member? Join Vitality today and get rewarded for living well.
Team testimonies: Why two are better than one
Research is increasingly showing the importance of social interaction in influencing human behaviour. This is because the way we behave is strongly affected by our colleagues, friends and family. Here's how some Vitality members are making the most of this.
Life begins at 78! How running keeps Deirdre Larkin young
Deirdre Larkin first hit the road in 2009, and now, at 85 years old, is getting stronger and keener by the year. We caught up with 'Randburg's Grand Dame' to find out how her passion for running has given her a new lease on life.