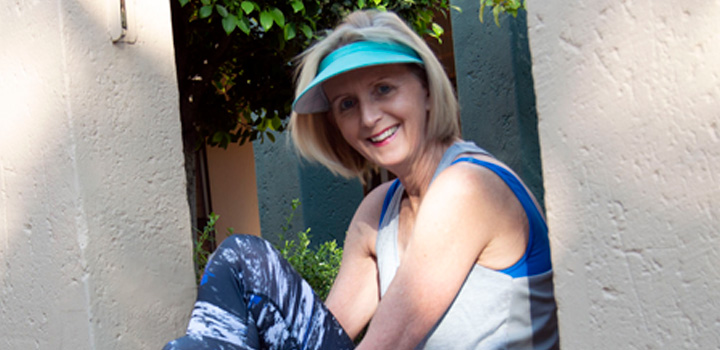 It's a new year, which means new opportunities to get fitter and stronger than the year before. Debby Walker sets her mind to hitting and maintaining her Diamond Vitality status. Find inspiration in her story to reach your own fitness goals!
Back in the late 1970s, gyms were nowhere near as ubiquitous as they are now. Debby Walker joined one of the first health clubs in the country. Since then, she's exercised 5 to 6 times a week – for almost half her life.
Debby, who turned 60 in December, is so committed to wellness that she once gave her husband an unusual ultimatum. "Nine years ago," she said, "when I married my husband, we were on separate medical aids."
"We wanted to consolidate our finances, and as I've exercised all my life and he is quite sedentary, I said to him, 'I have a Discovery Health policy and am on Diamond Vitality status. You're welcome to join my policy, but you will have to maintain Diamond status – otherwise, we keep our medical aids separate!"
"The parkrun was a real bonus for us"
Happily, her good example set a standard that got her new hubby a little more active each day, starting with their local parkrun in Lonehill, Johannesburg. "The parkrun was a real bonus for us, because it was something that he, as a non-sporty person, could do.
He initially got involved in the volunteering, but now he's done 135 parkruns himself! He and I run once or twice during the week as well. That would never have happened without the parkrun."
"It's incredible what your body is capable of"
Even Debby, who's no stranger to sports, has found new and exciting ways to stretch her limits. "About 11 years ago, I started Pilates. I've never been naturally supple, but after a period of time, I could feel the improvement and do all sorts of things I never thought I'd be able to do, despite having been active all my life. It's incredible what your body is capable of!"
Her instructor, noting her passion, suggested she do a course in teaching Pilates. "So I got a few girlfriends, met up at our church hall and eventually qualified. Then I thought to myself, I love Pilates as a discipline, but the ladies I teach want to lose weight, build strength and get fitter, so I started introducing other exercises."
Debby now runs a mixed exercise class twice a week at the Lonehill Village Church. She visits her local Planet Fitness on other days, runs some mornings and has engaged a personal trainer as an early birthday present to herself. She's also excited about the recent updates to Vitality Active Rewards.
"There's now a lot more choice in rewards"
"Being naturally competitive, I don't want to lose to myself. That's what motivates me to hit my goal each week. The reward is separate – getting the points is what does it for me. "The new Vitality Active Rewards system is so much more rewarding for me because there's now a lot more choice in rewards. I can save up my points and get hundreds off for online shopping," she says.
"Before, I'd been dishing out coffees to family members and donating to charity through MoveToGive. But recently I collected two breakfasts! "I also like flipping a tile – and if you get your goals consistently, the chances of you winning much bigger prizes over a year are reasonably high, so I'm looking forward to that. I currently have R1 000 in Woolworths and Dis-Chem vouchers!"
"I just realised how great the value was for me personally"
Debby also has household and vehicle cover with Discovery Insure. "I'm a bookkeeper by trade, so I'm quite analytical and sensible with finances. When I wanted to take out car insurance, for example, I got quotes from four companies and tried to compare apples with apples."
She continues, "Although I was getting cheaper quotes, they didn't include Discovery's tracking device. At that time, with a 19-year-old son driving about Fourways, I just realised how great the value was for me personally. We've since had two claims because my son and my husband were both in accidents, and both cars were on my policy. We were paid out very fairly, so that was a good sign for me."
"I've been getting 50% off my petrol every month, for years"
The best part is that, as an above-average driver with Discovery Insure, Debby gets huge rewards. "I've been getting 50% off my petrol every month, for years. The petrol price keeps going up, but I benefit because I spend about R1 000 a month on petrol, but in reality, I only pay R500."
Back in 2005, Debby wasn't maximising on her life cover, until her broker pointed out that she could be getting much more of her Discovery Life premiums back. "I thought, I'm probably doing 90% of the requirements anyhow, so it's just a case of being aware and monitoring that you do things in time. It wasn't as complicated as I thought it was. I soon reached Gold Vitality status – and two years later – Diamond."
"Once you're on Diamond, it'd be very foolish to let that slip"
"Last year, I got a statement from Discovery showing how much I'd saved with all my product integration, and I was quite amazed. From my retirement annuity to Miles Multiplier with Discovery Card – it all adds up, and once you're on Diamond, it'd be very foolish to let that slip."
"We fly locally three or four times a year and get large discounts on kulula.com. Once we got up to 25% off an inclusive holiday package to Mauritius, and over another Christmas we paid just R700 a night for two at a 4-star B&B in Umhlanga – very affordable. "I'm a bit of a Discovery fan," Debby adds with slightly sheepish enthusiasm, "The benefits, if you work it, are just great!"
Diamond Vitality status? "Anybody can do it!""
"When I tell people that I've been on Diamond for years, they say, 'Wow!' and I say, anybody can do it! You just need to understand it, and if you need help, ask. I've helped some of my friends to reach Gold just by explaining the process to them, showing them what they're getting points for and what they're missing out on."
"Obviously, you have to exercise and apply yourself – but there were just little things they weren't doing that I've been able to help them with. I'm not a fundi, but I do try and keep my eye on the newsletters to get an overall understanding of the package."
"Have an honest conversation with yourself"
After seeing and feeling tangible improvements in her body strength after three months of working with a personal trainer, Debby's goal this year is to keep building muscle mass.
She believes it's important at the start of each New Year to have an honest conversation with yourself about your health: "Consider how you want to feel and look in the next five years, and what you need to start doing – and stop doing – to get there. I think that should motivate us!"
Just 30 minutes of exercise a day helps you live longer
We all know it's important to get off the couch and get active, but there are more health benefits of exercising regularly - for just 30 minutes a day - than you think. is that a fraction of time that you can spare if it meant a healthier life?