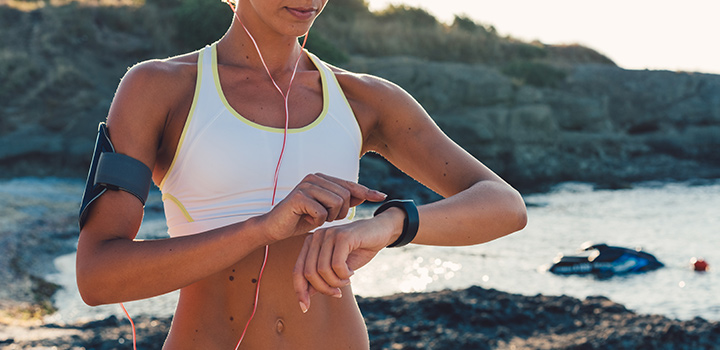 If we don't understand how to interpret data in ways that compel us to act, even the most sophisticated of technology is useless. Learn all you need to know about heart rate monitoring here, and how wearable tech can get you fitter.
Whether you're hoping to beat a personal best, achieve weekly fitness goals, or just improve your ability to perform everyday tasks, a personal device that measures and records your heart rate in real time can come in handy.
As the technology behind heart rate monitoring has improved, the ability for athletes to use the information it gathers has become easier. In the not-so-distant past, the data collected from heart rate monitors has really only been useful for exercise physiologists working with professional athletes - but now, with the easy-to-understand apps and resources available for even the most causal athlete, anyone can make use of this training tool.
Zoning in
Heart rate training is especially useful for those new to a sport because it helps to measure intensity. If you're a seasoned athlete who starts using a heart rate monitor, you may find that your easy runs aren't as easy as you thought, or your tough runs weren't as demanding as you imagined!
To check how effectively you're exercising, you need to know your heart rate zones. Work out your zones by calculating your maximum heart rate: 220 minus your age equals your maximum heart rate. It depends who you're talking to or what technology you're using, but usually there are five heart rate zones to consider:
Zone 1: 50 - 60% of your maximum: Warm-ups and cool-downs.
Zone 2: 60 - 70% of your maximum: Low intensity - gentle, aerobic, and fat-burning.
Zone 3: 70 - 80% of your maximum: Moderate intensity - aerobic and fat-burning, but still sustainable.
Zone 4: 80 - 90% of your maximum: Vigorous intensity - anaerobic and tougher to maintain.
Zone 5: 90 -100% of your maximum: Maximum intensity.
Track your heart rate to check you're exercising effectively
Once you have determined each of your heart rate zones, which differ for everyone depending on age, exercise adaptation, and physiological health, you can start to use them to maximise your training benefit. "For instance," suggests Mari Leach, a biokineticist at Discovery Vitality, "stick within zone 1 and 2 during recovery sessions and push your heart rate up to zone 4 during the high intensity sessions of interval workouts."
Remember that the recommended minimum guidelines for adults aged 18 to 64 are 150 minutes of moderate-intensity physical activity each week or 75 minutes of vigorous-intensity activity (or an equivalent combination of the two). Low intensity-exercise can also come in handy as part of an active recovery session; for individuals with joint problems; or on those days where you just don't have the willpower to push yourself harder! Don't forget that if you do low-intensity exercise, you'll need to train for a longer duration (about an hour) to gain the health benefit.
Follow your heart
Making use of heart rate training can help you to improve your training efficiency, but it's also important to listen to your body while training. "It's very important to understand yourself and to do an exercise you enjoy," says Mari. "If you track your heart rate obsessively, struggle to push yourself to a higher intensity and end up hating exercise, the entire routine will be counter-productive."
She adds, "If you'd rather exercise for longer at a lower intensity (i.e. an hour or more at 50 to 60% of your maximum heart rate), then opt for that. But if you have time constraints or if you thrive on the challenge of pushing your limits, then short higher-intensity sessions are for you. Either way, fit in whatever kind of exercise or sports suits your personality and lifestyle, and if you enjoy it, you'll get the best out of every workout!"
Our bio's top tip - on buying a heart rate monitor
Wrist-based heart rate monitors are very convenient. However, you may find that yours shows lower heart rates when doing a combination of cardio and upper and lower body strength exercises, such as burpees and weightlifting. This is due to the pressure placed on your hands and wrists when performing such exercises. If this is the case, you may want to link a chest or bicep heart rate strap to your wrist device. Heart rate straps are especially useful because you don't need to carry a device with you while you train. The strap records your exercise data so that after your session, you can download it to your smartphone and check it on an app.
Mari Leach, Discovery Vitality biokineticist
Get up to 75% cash back on your Vitality-linked heart rate fitness device
Achieve your monthly Vitality Active Rewards goals to get cash back on a brand new fitness device. Activate Device Booster and get up to 75% total cash back on your qualifying heart rate fitness device purchased from your preferred HealthyGear partner: Sportsmans Warehouse or Totalsports.
Growing up, I couldn't wait to see what cool gadgets James Bond would use next to save the world. These days, it seems unimpressive considering what the tech attached to our bodies can do. Dr Craig Nossel, Head of Vitality Wellness: The Sunday Times, 21 May 2017