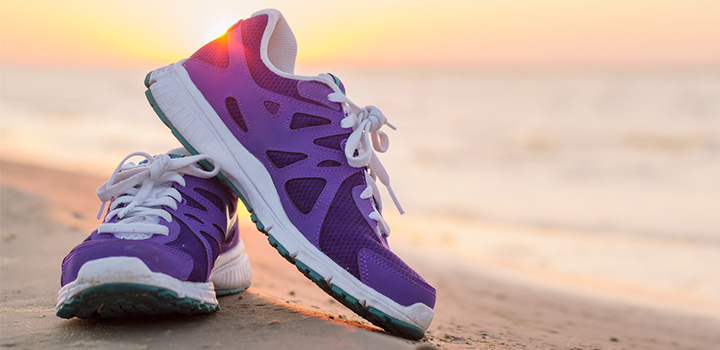 It's December and for many of us that means a welcome break from routine. Here are ways to ensure exercise doesn't fall through the cracks.
The December holidays are notorious for derailing fitness goals - but don't let being far from your usual gym or local parkrun get the better of you. Try get an exercise session done first thing in the morning - that way social commitments or the languor of being on holiday won't get in the way of your training.
If you're prone to the other extreme, don't overdo it! Mari Leach, a Discovery Vitality biokineticist, has this advice: "Now that you suddenly have more time on your hands, be careful of doing too much too soon. This could result in an injury, and discomfort is no way to spend the rest of your holidays. If you plan to start running, try to alternate your running days with a lower impact activity, such as walking, strength training or cycling."
Here are some ideas and exercises you can do while on holiday:
By the sea
You're entitled to spend some time lying face down on a beach towel - but don't stay down all day! Go for a brisk walk and try some beach volleyball or active water sports like swimming and surfing.
Treat yourself to a sunrise yoga or Pilates session. Yoga is all about deep breathing and stretching, which means it can improve your mood and reduce stress. Pilates is great for building strength and toning your muscles - and a great view never hurts.
If you're keen for some fresh sea air on your run, stick to a boardwalk or solid ground, says Leach. "Walking along the beach is great exercise for your feet, but running on sand can result in injuries such as calf strains, plantar fasciitis and Achilles tendinitis."
Remember to use sunscreen regularly and hydrate well. If you happen to have one drink too many the night before, the best cure for that hangover is a good sweat session, lots of water and a healthy balanced meal afterwards!
Travelling and on land
A skipping rope is small, light and easy to pack, so you can pull it out anywhere - like at service stations during pit stops - to get a quick bout of cardio in.
If you're a passenger on a long a long car or plane trip, try a few small exercises in your seat to get your circulation going. These could include clenching your butt and glutes, neck and ankle rolls, lengthening your spine and arms, twisting from side to side at your hips, and lifting your heels up and down. Do at least 20 repetitions of each, every hour, if you can.
Rock-climbing and hiking are wonderful ways to enjoy the sky and view. Make sure you wear suitable footwear to protect your feet and joints on the uneven ground.
If you have enough friends or family around, rope them all into playing a team sport. It's easy to use any passable ball and bat for a makeshift game of soccer, cricket, rugby or baseball.
At home
Enjoying the peace and quiet of a staycation? Here's how to stay active from the comfort of your home:
Be active while watching TV - do strength exercises with hand weights or elastic stretch bands, ride a stationary bike or stretch while watching your favourite show. You can even use a chair for tricep dips and a gym ball for small crunches.
Volunteer to help anyone you know who's going away and needs a dog-sitter. This way you can enjoy a walk or run and some fresh air at a nearby park or field at least once or twice a day.
Make household chores count - mop the floor, scrub the bathtub, wash your car or mow the lawn to get your heart pumping and strengthen your muscles.
There's nothing like a little karaoke to bring out the nostalgia over Christmas time. If you can't hold a tune, put the music up and dance your heart out. Try different genres - from salsa to kwaito to Bollywood to K-pop - each one will get you moving at a different pace and inspire different dance styles and movements from you.
If you're tempted to let your exercise regime slide this December and only worry about getting fit or losing weight in January, draw inspiration from the remarkable Mordechai Perlov, who turned 90 this year and hasn't missed a gym visit in 58 years! Read his incredible story here.
Exciting new surprise rewards: become a winner by getting fitter!
Vitality Active Rewards encourages you to work out more frequently, wherever you are, by giving you weekly rewards for meeting personalised physical activity goals. Now the stakes have been upped with a host of exciting new surprise rewards! Achieve a goal streak with three fitness goals in a row to earn a surprise reward.

Thousands of surprise rewards have been won so far - including grand prizes of local and international holiday packages, and hundreds of retail rewards from partners like Cape Union Mart, Nando's, NetFlorist, Sorbet and Yuppiechef.

Become a winner by getting fitter: join Vitality today and then activate Vitality Active Rewards on the latest version of the Discovery app.
How much is too much? Exercising with hypertension
If you have high blood pressure (or want to try manage the risk of it), it's important to plan an exercise programme properly so that you can maximise the benefits for your blood pressure, without adding extra stress on your heart. Here are some tips and safety guidelines.
Walk your way to a healthy heart
Think you're too unwell or unfit to exercise? Then simply start small this spring. Read here how walking can open the door to better heart health.
Get ready to run - a beginner's guide
Busy? We understand. Haven't exercised in a while? Don't worry - starting running (and sticking with it) is easier than you think. But first things first: you need to get your body and your mind prepared for running.