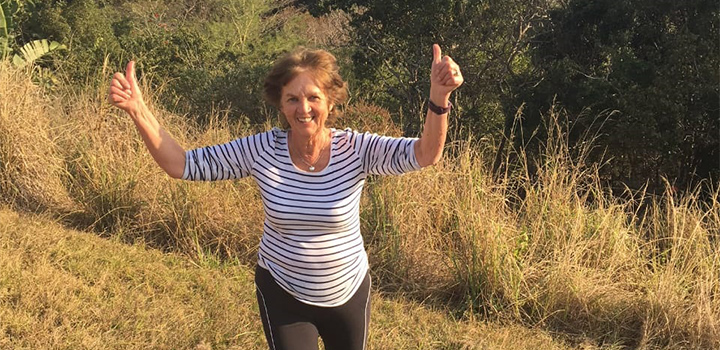 Meet Geraldine Johnston, 70 years old, diagnosed with Meniere's disease and still reaching her Vitality Active Rewards goals.
Geraldine Johnston is an active 70-year-old mother of four who was diagnosed with Meniere's disease, an inner ear disorder that causes episodes of vertigo (severe spinning dizziness). She still lives an active lifestyle with Vitality Active Rewards and reaches her goal of 900 Vitality points every week. Prepare to be inspired as you read about how she finds her motivation to stay active at a time when it's easy to just sit back.
Sometimes you need a little reminder that, as clichéd as it may be, age is nothing but a number.
Before activating Vitality Active Rewards on 05 April 2017, Geraldine was never one for exercise. "I never belonged to a gym and I didn't go walking, so I would literally go for months without any form of exercise," she explains. Geraldine believes that Vitality Active Rewards has improved her motivation to live an active lifestyle.
The secret to staying fit
Her Vitality Active Rewards goal has been on 900 points weekly for the past year and she credits parkruns for helping her reach her goal every week. "I really enjoy the weekly parkruns and I try my best not to miss any," she says. Her favourite parkrun was at Roodepoort on 12 May 2018 when she came third in her age group. "Who would have believed it!" she says.
When asked which other fitness activities she now takes part in to meet her goals, she said, "I usually attend gym once or twice a week".
Family support
Geraldine has a great support system in the form of her three daughters and son who are avid long distance runners. As a former teacher and devoted mother, she would drive them to their athletics practices at school. "This formed the mindset in our family that if you are going to do something, you stick to it and do it well," said Geraldine.
Her children gave her a Fitbit as a gift to encourage her to get active. "My kids told me to put it on my arm and it was an instant inspiration that got me going and motivated," she said. Once her son linked her Fitbit device to Vitality, the rest was history.
Meniere's disease
In 1997 Geraldine was diagnosed with Meniere's disease and this means that she is not able to drive and needs to be cautious when walking in public places. "Severe dizziness attacks come without any warning and can literally knock me to the ground in an instant," explains Geraldine.
"Meniere's disease does limit the amount that one can push themselves but I am very aware of it. Although there is not much I can do to control it, I have not let it get the better of me, and intend keeping as fit as possible," she says.
Once she overcame the fear of symptoms hitting without warning, she was able to achieve her fitness goals rather than sitting and doing nothing. She believes that being more active and leading a healthy lifestyle has not only helped her to be fitter but also feel better. She says, "I have also lost some weight and this is a great motivation".
Motivation
Knowing that she has a goal to meet, keeps Geraldine motivated. "There is nothing quite like a complimentary nut milk smoothie from KAUAI after some exercise." She admits that having an ever-increasing Vitality Active Rewards points goal sounded challenging at first, but believes the fitter one gets, the easier it becomes. "Getting points for my Virgin Active gym workouts which contribute to my Vitality Active Rewards, is another great incentive," she adds.
As far as Geraldine is concerned, it's never too late to reap the benefits of living an active lifestyle with Vitality Active Rewards no matter your age or ailments.
"There is nothing greater than the feeling of achieving your goal. Even in the cold weather when you don't feel like exercising, you should still push yourself". Her message to Vitality Active Rewards members is that every step counts and you shouldn't be afraid to start because once you do, you won't stop.
When asked what her fitness goal for the year ahead is, she confidently answered, "To hit another 52-week streak".
Need more motivation? Become a winner by getting fitter!
Vitality Active Rewards encourages you to work out more frequently, in a variety of ways, by giving you weekly rewards for meeting your personalised physical activity goals. You can also earn exciting surprise rewards for achieving 3-in-a-row goal streaks!

Rewards range from drinks and snacks to retail rewards from partners like Cape Union Mart and Nando's, to weekends away and even dream international holidays. Become a winner by getting fitter: join Vitality today and activate Vitality Active Rewards on the latest version of the Discovery app.