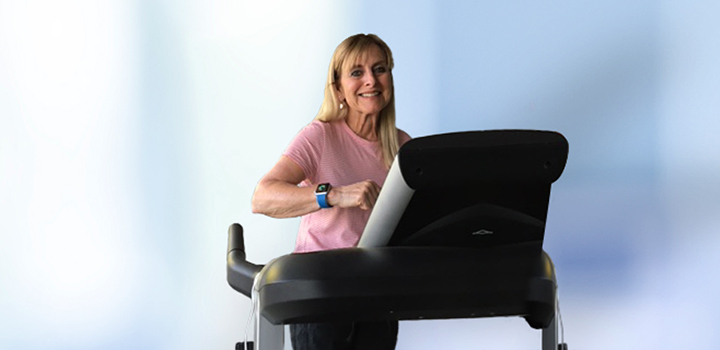 Maureen Eberlin might be one of the most active people you will ever meet. Every morning, she gets up early and gets straight onto her treadmill - or heads outside with her husband - to walk a very brisk 5km (at least) before she starts her day. Her husband Stan says that this habit is so entrenched that she feels uncomfortable throughout the day if she misses a day - but it's also meant that she hasn't had to pay anything towards her Apple Watch.
Maureen got her Apple Watch through the Vitality Active Rewards benefit, which means that as long as she achieves her personalised fitness goal every week, she won't have to pay in towards her device.
"It's not always been easy to stay motivated," says Maureen, remembering when she visited Sabi and walked the perimeter keeping an eye out for hippos. But she did it and continues to stay fit and active - even encouraging her family to get more active.
Finding her inner motivation
But Maureen wasn't always as active as she is today. When she was 38 she fell ill and was in the hospital for 2 weeks. The experience got her reflecting on her life and that she should be making the most of every day.
When she recovered, Maureen joined Run/Walk for Life and never looked back. She was 40 when she ran her first marathon and used to run every morning before she went to work as a school teacher.
These days, Maureen prefers walking to running.
"It's just more responsible for my age to be walking instead," says Maureen. "But it's not like I dawdle, I walk very fast and get my heartrate up to 60% of my max."
Maureen walks every day - even when she's on holiday. She walks outside with Stan over the weekends, but she was particularly touched when her teenage granddaughter, Montana, walked with her.
"We went to Mauritius and the kids were there for 10 days," says Maureen, "and she got up every day, never missed a day, and walked with me."
Maureen's healthy lifestyle has clearly made an impact on her entire family - across generations.
"She's definitely influenced me," says Stan, "I'm not nearly as active as she is but I'm much more active than I used to be," he says.
Stan and Maureen are on Diamond Vitality status as of early in the year, and take advantage of several of Vitality's benefits - including HealthyCare and HealthyFood. They are also looking forward to getting their next pairs of running shoes with Shoe Booster.
"The most important thing to remember is not to take anything for granted," says Maureen. "Your health is critical so you have to live every day the best you can - and that includes being healthy."
How much is too much? Exercising with hypertension
If you have high blood pressure (or want to try manage the risk of it), it's important to plan an exercise programme properly so that you can maximise the benefits for your blood pressure, without adding extra stress on your heart. Here are some tips and safety guidelines.
Walk your way to a healthy heart
Think you're too unwell or unfit to exercise? Then simply start small this spring. Read here how walking can open the door to better heart health.