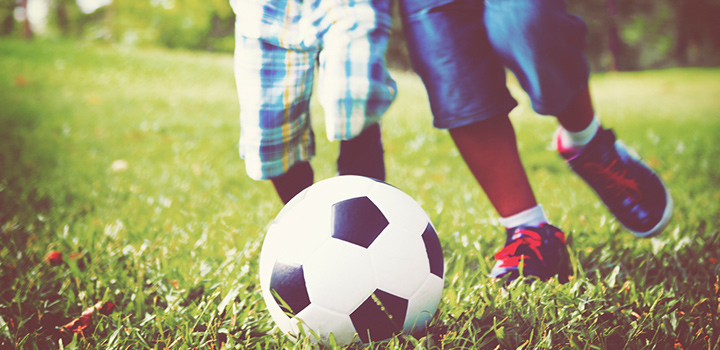 "Nou" they promise, but you know that means "nou nou," which really means not anytime soon! Here are some ideas help the kids (and yourselves) stay active while you pass the time.
If you're South African, you're almost certainly familiar with arriving at a braai and hoping everything's in swing, only to find the coals are cold and someone's off to fetch firelighters or ice or some other essential. This means it'll be a good two to four hours of sitting about and making small talk while food preparation gets underway.
To top it off, 10 minutes in, the kids start whining that they're bored. It's easy at this point to revert to screens to keep them entertained, but a waiting period like this is a great opportunity to occupy them with games or sports that get them moving instead. "The World Health Organization recommends that kids get at least 60 minutes of moderate or vigorous physical activity every day. But regional and provincial surveys show that at only half of South African children are meeting these targets," says Mari Leach, a biokineticist at Discovery Vitality.
Why every opportunity to get kids active counts
"Regular physical activity plays a significant role in preventing obesity and chronic disease later in life," Leach adds. "It helps kids build stronger bones, develop vital muscles and increases their coordination, flexibility and agility - all key components in maintaining a healthy body."
According to the 2016 Healthy Active Kids South Africa (HAKSA) Report Card, which grades various aspects of physical activity in South African children, particular effort is needed to promote physical activity among girls and teens. So take advantage of South Africa's great weather to get your children (and yourselves) moving outdoors. Here are some ways to stay active while you wait:
Ages 4 to 7: Balloon-busy


You'll be amazed at how much fun a simple balloon can provide. The kids will need to keep the balloon in the air. You can give them a little penalty (like 15 jumping jacks) if it touches the ground and a little prize (preferably not junk food) for keeping it up for a certain time period. Start with 2-minute intervals and up the time to make it increasingly challenging. If there's larger open patch outside, practicing somersaults and cartwheels are also fun and if they need to stay indoors, musical chairs is a winner.

Ages 8 to 11: Follow the leader or running games


The rules are pretty simple: follow the leader and do whatever they do. So, if the leader skips 10 times, runs around the house and then spins, they better be ready to do the same. Take a few minutes to first teach the kids some simple exercises like sit-ups, lunges, and burpees, as well as a few cheerleading chants and short, silly dance moves they can use. Then encourage creative combinations of these moves. Other ideas are catches or stuck-in-the-mud if the weather permits, and if not, indoor fort-building with furniture, pillows and blankets.

Ages 12 to 15: Ten-pin bowling


Bowling can be fun at any age. All you'll need for a makeshift game is a ball and some plastic cups or bottles to be used as pins. Pick an area where the ground is even and level, and set up the ten bowling pins. Every player gets two turns each round, and your goal is to knock down as many pins as possible in these turns. Stuck indoors? If they insist on a screen, some Nintendo Wii games encourage physical activity (e.g. ones where you can play tennis or have a dance-off) and can be great for getting teens moving.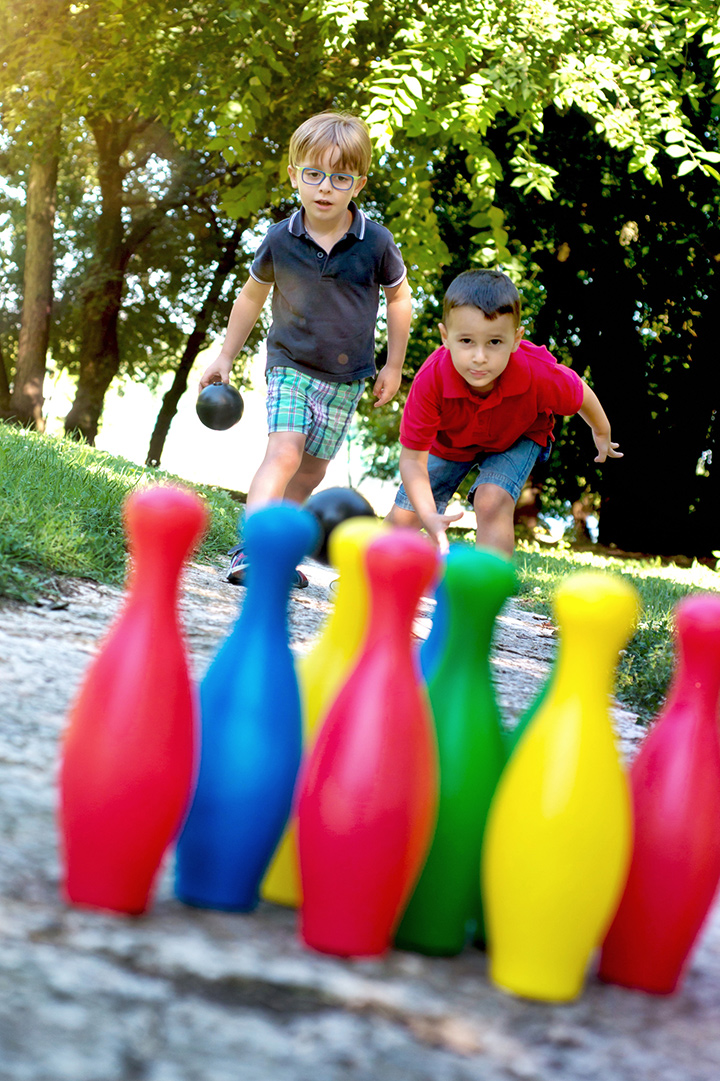 Not enough playmates?
Don't have others your age around? Here's a way to keep occupied solo: first, get a ball. This can be a beach ball, stress ball, basketball or tennis ball - almost anything that bounces will do. Start by throwing the ball against a wall, letting it bounce once on the ground and catching it. Next, make it more difficult by inventing rules for different levels. For example, try to catch the ball without it bouncing, then clap your hands before catching it, or spin around before catching it. It sounds simple, but trying to beat your personal best can get addictive!
"While physical activity can help prevent obesity and chronic disease later in life, their benefits far outweigh health alone," says Leach. "Not only is regular physical activity necessary for normal growth and development, it promotes social connectedness, inclusiveness and gender equity." So get moving with the kids to make each braai an even better memory than the last.
Discovery Vitality recommend
Get to get the kids involved: teach them to braai!
That's right, in September, Discovery Vitality HealthyFood Studio is offering a special Healthy Kids Braai course.
Aimed at kids, this fun and interactive course promises to teach your youngsters the ins and out of braai-ing, equipping them with practical life-skills and helping to instil a healthy eating habits from a young age.
Book your spot today!
Balls, bats, mats - get them all for less with HealthyGear
Whatever your sport of choice, you can get the latest gear for less with up to 25% cash back on a wide range of sportswear and equipment at Totalsports or Sportsman's Warehouse.
Activate the Vitality HealthyGear benefit today or increase your cash back by doing a Vitality Fitness Assessment.
Young diet lessons from an expert
What do nutrition experts feed their own families? We chat to Candice Smith, Discovery Vitality's Head of Nutrition Strategy and mother of three, about what her family eats - and get her to share her personal favourite stew recipe!