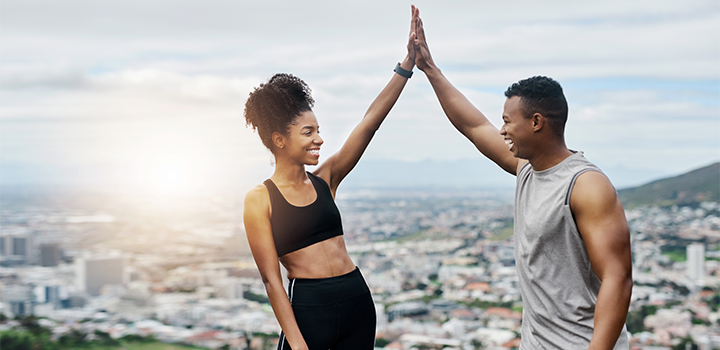 The best exercise is one that you enjoy and will do. But otherwise, it's probably running. Here's why even a little running pays huge dividends.
With new exercises invented every week, new gurus trending by the day and a fresh study that contradicts all the other ones released every time you think you're getting the hang of things, it's easy to become overwhelmed and think that fitness is confusing - but it isn't. And especially not when you make running your choice of activity.
Once you start running - and not necessarily far either - running becomes about healthy living habits, and, says new research, so much more besides.
The physical demands of running affect just about every system of the body in a beneficial way. Take the cardiovascular system. Running forces it to adapt by generating more capacity. You grow more capillaries and small arteries, and that helps lower your blood pressure. (High blood pressure and strokes are major causes of health problems and death.) Running is good at guarding against cancer and also reduces the risk of type 2 diabetes and dementia and symptoms of depression and anxiety.
You might be looking at all of the above benefits and thinking "okay, but how much do I have to run?" In fact, these life-lengthening benefits come at a lower mileage than you may think. In a recent study, published in the British Journal of Sports Medicine, researchers reviewed the available literature out there on the topic and crunched the numbers from 14 previously published studies, which included over 230,000 participants whose health had been tracked for 5 to 35 years. They found that doing any amount of running is good for you.
The study found that runners had a 27% lower risk of early death from any cause, a 30% lower risk of early death from cardiovascular problems and a 23% lower risk of early death from cancer. It also found that these benefits could be gained from running just once a week, for at least 50 minutes a week, and the risk of early death did not reduce more if you did more running.
That's not to say that if you're already an avid runner you should cut back on the kilometres: The study simply found no evidence that benefits will increase with higher amounts of running - something that is encouraging for those who might not have much time to exercise.
What's also encouraging is if one takes the results of this study, with those of the latest study by RAND Europe and Vitality, called "The economic impact of a physically active population", which shows that increasing activity could contribute greatly to the world economy, impact people's quality of life and boost productivity.
The RAND study found that the world's GDP would gain more than $100bn each year until 2050 if people:
walked 15 minutes more a day;
did a slow jog of one kilometre a day, or;
took 1,500 extra steps a day.
The economic improvement comes from lower mortality rates (more people alive and contributing to the economy), reduced absenteeism, and lower presenteeism (being at work, but less productive) driven by the impact of physical activity on mental health.
That's huge. On an individual level, just 10 minutes of jogging every day would add an extra two and a half years to our lives, plus that time alive would more likely be disease-free. And on a collective level, people would be adding $100bn each year to the global economy.
For South Africa, the positive knock-on effect on the economy of an increase in physical activity, is equally acute. The RAND study shows that if South Africa succeeds in getting 20% of adults more active over the next 30 years, the average GDP will increase by $500m; and if all inactive people reach the minimum WHO physical activity levels, GDP will increase by between $1.6 and $2.1bn.
"This ground-breaking study provides proof of the relationship between exercise, productivity, mortality and economic growth," says Dr Mosima Mabunda, head of Vitality Wellness. "And yet, physical inactivity is the fourth leading risk factor for chronic diseases of lifestyle, with 31% of adults classified as physically inactive. It's because of these stats and research results that Vitality and The Global Vitality Network of insurers have committed to making 100 million people 20% more active by 2025."
Discovery Vitality have successfully been incentivising people to move more for over 20 years and now they're more committed than ever. Which is why they're sponsoring the Vitality Running World Cup.
Taking place annually, but this year from 5 March to 5 April, the Vitality Running World Cup gives everyone the chance to represent their country in an annual, free-to-enter, knockout, global running competition. Literally open to anyone over the age of 13, every participant who completes three kilometres in under 30 minutes and tracks their kilometres via a smartphone or fitness device, will be able to contribute towards their country's total. It's free to enter by signing up at runningworldcup.com.
"The studies have shown that runners are healthier, and it's so accessible - just 50 minutes a week offers huge health benefits," says Dr Mabunda. "Vitality has a long-standing commitment with running, tying in with parkrun and myrun, as well as our own initiatives like Team Vitality and Vitality's multi-city Run Series. The Vitality Running World Cup is yet another way for people to reap the benefits of running and feel part of a global campaign."
No matter where you are in life and what your health is like, being physically active as regularly as you can will improve your quality of life. And now we know even a little bit is good.
How exercise can help you age well
Advances in medicine and technology mean human beings are living longer than ever before. But are we aging well? And, can we cheat the negative effects of aging on health? The answer may lie in the positive effects of exercise.
Feel too unfit or unwell to exercise? Start small by walking
Walking is a great low-impact exercise, helping you strengthen your body and maintain a healthy weight. You can start small, and once you get used to it, challenge yourself slowly and safely. Soon you'll start enjoying the many health benefits of walking.