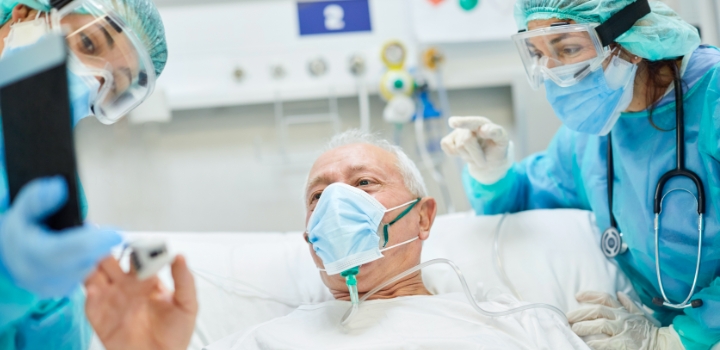 Throughout the pandemic, critically ill COVID-19 patients have been cut off from their loved ones for weeks while receiving care in Intensive Care Units (ICUs). Thanks to some innovative engineering, the forward-thinking doctors at Tygerberg Hospital have a robotic colleague who's changing that!
Professor Coenie Koegelenberg is a pulmonologist at Tygerberg Hospital in the Western Cape. When COVID-19 patients began flooding into the ICU, he realised that if the doctors got infected, they'd be unable to tend to their patients who really needed them. He knew they needed an innovative and effective solution, and that's where Quintin came in.
Quintin, who looks like a computer tablet on wheels, was acquired from the Sunskill Laboratory in the Faculty of Medical and Health Sciences at the University of Stellenbosch. Accessible through an app and equipped for video and voice calls, Quintin allowed doctors to communicate with their patients remotely. This reduced the risk of viral transmission for both parties.
From virtual doctor to emotional support bot
Professor Brian Allwood, a colleague of Prof Koegelenberg's, says that Quintin was meant to be a "medical personality". However, the staff soon realised the immeasurably valuable role he could play - allowing families at home to see and speak to their loved ones in ICU.
This made all the difference to many COVID-19 patients. Some believe this made the difference between life and death. Quintin enabled Mr Nceba Simayile to hear his wife's voice when he was at his weakest point, giving him the psychological strength to keep fighting. Watch how a virtual doctor later became patients' only connection to loved ones:
Tech that protects doctors and patients - and gives us all hope
Over the last year and a half, our country's healthcare workers have been incredibly brave and dedicated. They have been resilient in the battle to care for their patients during an outbreak of this scale. In large part, they have struggled with not being able to support their patients' emotional needs.
Innovations like Quintin allow healthcare professionals to interact with patients meaningfully and safely. This protects them both, and helps doctors focus more time and energy on their core goal - saving as many lives as possible.
Quintin has also proved to play a significant role in the experience of patients, usually propelling them towards recovery. In some heart-breaking cases, Quintin has allowed family and friends to say their final goodbyes and find some semblance of closure.
Bots like Quintin can change the game in healthcare
There are also exciting potential applications for future versions of the technology, such as bots that enable virtual video consultations. This will allow doctors to learn from specialised fields remotely or connect their patients with specialists around the world.
It's in desperate times that great leadership comes to the fore and innovation thrives. In this case, healthcare professionals are dealing with a devastating and highly infectious virus with limited healthcare resources. Quintin is a heart-warming example of strategic thinking and creativity, one that may well begin a new way of caring for our most vulnerable patients.
Discovery Health wants to recognise and applaud all healthcare workers on the frontlines of the COVID-19 pandemic. Find more hope-giving examples of resilience, innovation and thought leadership in South Africa's healthcare sector here.

Mental Health Awareness is vital year-round
This July is Mental Illness Awareness Month. As the theme suggests, the month is about creating awareness around mental wellness to help save lives and break the stigma around mental illness.

Your allies in mental wellbeing
Thinking about the future can be intimidating for many, and now more than ever, thanks to the ever-present threat of COVID-19. When planning for the future, mental health should be a priority. Try this mental health toolkit for starters.