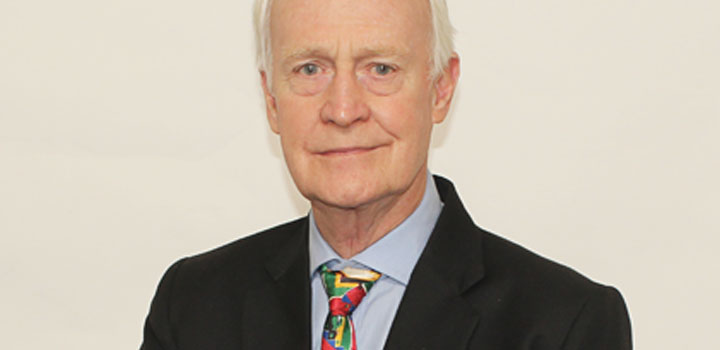 Insurance broker, 72 year old Dale Cavelle Clarke shares his story of surviving being shot during a hijacking which resulted to spending a month in ICU and a further two months in hospital.
"I saw a well-dressed man coming towards me. It was a public holiday, so there weren't that many people around. I thought nothing of it as people approach me all the time, be it for water, money, a job or directions. I had just opened the car door and the engine was still running. He put both hands into the car and had a shawl over his hand which he pulled back to reveal a 9mm pistol. He just said, 'get out of the car or I'll kill you.' It seemed like a reasonable offer so I got out of the car," Dale adds dryly.
The attacker moved towards the rear of his car but refused to get into the back seat. "He said he would take me somewhere safe. I told him there was no way I was going with him and said to rather let me go and sit on some steps outside the office. He had the gun pushed against my stomach the whole time and said if I was lying about the steps he'd kill me. He told me he couldn't trust me not to call the police if he left me behind. I said it would take me 20 minutes to get to them. At that stage he had me against the nearby wall. I realised I was negotiating for my life," adds Dale. "Then three security guards walked past on their way to work, unaware of what was going on. He ordered me not to talk to them. Of all the heroic things I might have done, I raised my hand and used my thumb and forefinger to indicate that he had a gun – at which point he pulled the trigger. My first thought was, I'm going to die at the age of 70. There was no fear and very little pain. He got into my car and roared off – he must have passed the incoming police van, hailed by the security guards, on his way out. I can't remember much detail after that, but they were there incredibly quick."
Dale was admitted to Netcare St Anne's Hospital, less than a kilometre from where he was shot.
Dale says the doctors and nurses who took care of him were magnificent, with many of the nurses visiting him while off-duty when he was recuperating in a step-down facility nearby. Another favourite memory is of Zulu nurses gathering around his hospital bed and singing him a song when he was "upgraded" from ICU to a general ward. "It was to celebrate my having made it," he adds.
Total care-giving funded – no worries for Dale
Dale had three further operations to tidy up the internal wounds, re-connect his intestines and close the external colostomy wound when the bag and catheter were removed. "I went home after a month at the Wembley House sub-acute step-down facility, but inexplicably began to suffer blackouts. They eventually discovered that I was merely dehydrated. I simply wasn't drinking enough water!" he explains.
His experience of Discovery Health Medical Scheme? "I honestly would not be alive were it not for them. I've never had a day's trouble. They were so good that I only thought of bills four months after the shooting. Just about everything was paid for. The St Anne's Hospital bill alone was about R888 000. If you add the full anaesthetic operations, physiotherapy, psychologist and dietician, it comes to well over R1 million. I saw patients in other beds seriously concerned about how they were going to pay for their care. Some actually left the hospital because they couldn't afford the care any longer. The doctors bought it up more than I did - they kept saying it was all taken care of. I was left to focus on getting well."
The Discovery Health Medical Scheme is an independent non-profit entity governed by the Medical Schemes Act, and regulated by the Council for Medical Schemes. It is administered by a separate company, Discovery Health (Pty) Ltd, an authorised financial services provider.
Beating the kidney dialysis odds
Brian Anderson, is a minor walking miracle. He's had 93 operations, including two kidney transplants and been on intermittent dialysis for 22 years. He's passionate about raising awareness around Chronic Kidney Disease and organ donation.