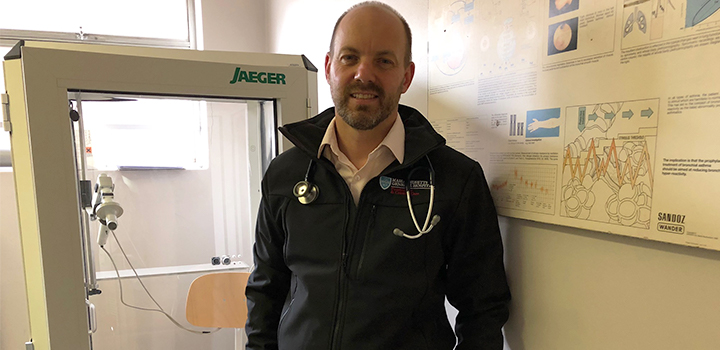 Back home a year since returning from 12 months of Discovery Fellowship-funded training in America, Dr Allwood is thrilled that his new skills are saving lives. His mission: to raise the bar of medical excellence in SA.
Senior pulmonologist at Tygerberg Academic Hospital's pulmonary unit, Dr Brian Allwood (43) is brimming with enthusiasm. This is due in large part to the knowledge and ideas that have been brewing in his head since his transformative 12-month Discovery Fellowship stint at Massachusetts General Hospital (MGH) in the United States.
Picking up life-saving principles
Four patients suffering from chronic thrombo-embolic pulmonary hypertension were key in Dr Allwood's applying for the Discovery MGH Fellowship. Three of these patients died while he was urgently seeking surgical skills for them, but in early 2019, he was able to refer the last for surgery – and the operation was life-changing.
Thanks to Dr Allwood, the patient – a young woman with several clotted thrombi in her lung – went from struggling to breathe to hiking in the Cape Peninsula mountains. "I used some of the principles I learnt at MGH which I'm applying to post-TB lung disease and pulmonary hypertension with some fairly good results," he reflects in his characteristically understated way.
"I'm now investigating patients with more insight and my treatment strategies are more accurate. I've averted deaths and complications with my pulmonary hypertensive patients for many different reasons," he says. He's also begun doing successful right-heart catheterisations, something he would never have considered before his MGH tenure.
Pulmonologists with 'the mindset to make a change'
While the interstitial lung disease clinic he set up at Tygerberg Hospital in 2015 is now flourishing, Dr Allwood says he has to think creatively about how to structure the pulmonary hypertension service in the absence of funds to expand.
With just two pulmonologist colleagues on hand, and having experienced the transformative power of a critical mass of experts at MGH, he's strategizing on how to get enough enthusiastic pulmonologists at the coal face to further local research and clinical care.
"You need pulmonologists seeing patients on a daily or weekly basis who have a mindset of wanting to make a change. When you have enough of them, it becomes self-sustaining," he believes.
'You have to persevere'
Dr Allwood has a public/private sector business model in his back pocket which he's exploring with the Stellenbosch University Business School. "It's on the runway, we just need human resources and capital for it to fly. So far, I just haven't had enough personal bandwidth to make it happen – it will take time," he adds.
"That's the model I want to create – and it goes for all disciplines," he adds. "You have to persevere, structure your changes and create beachheads in a system that resists change because of a lack of resources. When you look at South Africa compared to the rest of Africa though, we're hugely privileged."
Raising the bar of medical excellence in SA
Since his return from the United States, Dr Allwood organised the world's first post-TB symposium and workshop, held in Stellenbosch, attracting experts from around the world to grapple with this endemic and much-neglected societal problem.
With 320 000 Tuberculosis cases diagnosed annually in South Africa (2017), and a dearth of knowledge and services around pulmonary vascular disease, post-TB treatment, Dr Brian Allwood conceptualised, organised and carried out the highly acclaimed pioneering symposium.
Read more about how Dr Allwood's Discovery Award is boosting excellence in the treatment of pulmonary vascular disease here.
We want to improve primary healthcare in needy communities
The Discovery Fund has an important goal: to improve the quality of life of South Africans by providing primary health services in communities that don't have access to mainstream healthcare. This aligns with Discovery's core purpose of making people healthier and enhancing and protecting their lives. Our focus areas include:
Maternal and child healthcare, to reduce maternal and infant mortality
Community health interventions that enable access to healthcare services to those in under-resourced and marginalised communities
Human capital and skills development to enhance the quality of public health services and increase the number of qualified public healthcare workers.
The Fund has an annual spend of around R30 million and currently works with approximately 40 partner organisations. Be inspired and learn more about the Discovery Fund here.
The Discovery Health Medical Scheme is an independent non-profit entity governed by the Medical Schemes Act, and regulated by the Council for Medical Schemes. It is administered by a separate company, Discovery Health (Pty) Ltd, an authorised financial services provider.
Discovery underpins transformative KZN wellspring initiative
In March 2019 Discovery hosted a conference aimed at encouraging fellow corporates to join in pooling resources for social impact. In this series, we look at the transformation that occurs when companies and organisations become partners for social good.