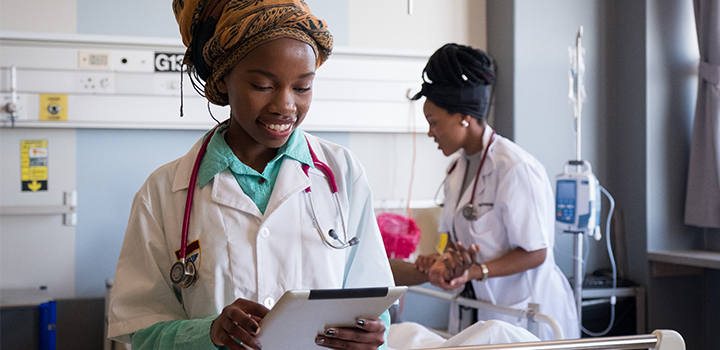 On 7 April 2019 the World Health Organisation commemorates World Health Day. This year's theme is Quality Access to Healthcare for All. The Discovery Fund supports several exceptional initiatives that provide healthcare to the most under-resourced communities.
By financially underpinning a transformative health initiative begun by one concerned doctor in a poverty stricken deep rural KwaZulu-Natal district 19 years ago, the Discovery Fund today stands to partner with his foundation to uplift similar communities nationally.
The unique, replicable training and mentoring project, begun by Dr Andrew Ross during his tenure as a medical officer at the remote Mosvold Hospital in the Ingwavuma district, sources talented local matriculants to study health sciences and return as graduates to serve their home communities. Called the Umthombo (The Source) Youth Development Foundation, the project has produced 336 alumni in the past 19 years. A calculation of their lifetime post-graduate earnings shows that they will infuse more than R4 billion into their local communities, transforming lives that previously depended on migrant labour, subsistence farming or menial work. The lifetime tax these graduates will pay alone stands to boost the national fiscus by nearly R2 billion, meaning they punch way above their weight in national contributions. That's an attractive return on a R186 million investment in university fees.
Origins of Umthombo
Dr Ross was troubled by the extent of the dismal poverty-induced ill health of his patients with, in addition, the overwhelming number of them being tended to by a thinly-spread healthcare staff. He was convinced the solution lay in the local people themselves, and began identifying promising high school pupils, familiarising them with what the hospital does, motivating them and sourcing the financial means to enable their study towards a chosen health sciences degree. Then, in February 2008 Dr Ross, now Principal Specialist in Family Medicine at the University of KwaZulu-Natal, used R1 million of a total R12 million donated (to date) by the Discovery Fund, to create a full-time Umthombo Foundation executive post, setting the project on a solid business track.
He recalls; "That R1 million Discovery input was our biggest break – it allowed us to employ veteran NGO specialist, Dr Gavin MacGregor as a full-time director, meaning that today (early March 2019), we facilitate these bursaries while supporting and mentoring over 250 rural youth. We've produced 336 graduates, 32% of whom are doctors."
This transformative project has huge potential to be replicated across professional disciplines country-wide.
Local is lekker – and effective
Mosvold and the surrounding rural hospitals are boosting healthcare in their districts, having previously relied on foreign-qualified health cadres to supplement small cores of local medical officers, community service doctors and related professionals. Most professional staff were unable to speak the local Zulu language and unfamiliar with local customs, whereas the new home-grown Umthombo cadre has instant empathy and understanding, enhancing appropriate and effective disease prevention, treatment adherence – and overall outcomes. From small beginnings at Mosvold hospital, the programme has spread to include all the hospitals in the Umkhanyakude district, as well as hospitals in the Zululand and King Cetshwayo districts – 15 KZN hospitals in all.
Dr MacGregor says comprehensive financial support and solid on-campus mentoring support are key to the success of the rural youth it invests in - as is an insistence on achieving a minimum of 65% for every subject (setting a high standard). Overall the project has achieved an annual 92% student pass rate for the past six years – powerful testimony it's efficacy.
Among the first moves by Dr MacGregor, a former manager of a rural livestock management NGO in the province, upon taking the helm at Umthombo, was to put in place a mentor co-ordinator.
He elaborates; "I found a qualified physiotherapist – from one of the first cohorts that Andrew supported – who knew first-hand how difficult it was for a Zulu-speaking rural student to progress at university without support. He got our mentorship programme going."
The physiotherapist, Dumisani Gumede, initiated a network of mentors, each holding five to 12 Umthombo students accountable across 16 higher learning institutions, most of them in KZN. Gumede soon reverted to Dr MacGregor, asserting that full sponsorship plus food and books deserved more than a 50% quid pro quo pass-mark from students.
"He said that all they have to do is study, and proposed a 65% exam mark minimum. I initially thought that's quite harsh, knowing they come from non-fee-paying rural State schools with no libraries, laboratories, internet or computers. Some of the matriculants whom we took on our hospital department tours thought radiographers were radio DJ's. However, I learnt a huge lesson; if you raise the bar; they can better realise their own potential. You do young people an injustice by setting standards low."
Emphasises Dr MacGregor; "Our impact in assisting rural youth from non-fee-paying schools to succeed at university is a message the entire country needs to hear."
Government post-funding gremlins
Most provinces have their own provincial bursary schemes to train healthcare professionals but the drop-out rate is debilitating and the work-back and/or financial payback record dismal.
It wasn't always been plain sailing for Umthombo. In 2016 they were unable to select any new students when one of their principal overseas funders withdrew from South Africa. Fortuitously however, circumstances changed (former President Zuma announcing free tertiary education in 2018), freeing Umthombo up to concentrate on providing mentorship, food and study-materials while facilitating the selection and placement of students and graduates in partnership with the respective KwaZulu Natal and national health departments. The year 2017 also saw rougher seas with a two percent drop in Umthombo pass rates, due mainly to the Fees Must Fall campaign which interfered with studies and delayed exams.
The project has proved a Godsend for retention of staff at rural hospitals with 63% of Umthombo graduates still serving their communities ten years after graduation. (All graduates have to initially work off the years spent training in their community-of-origin.)
"Our role has been to help students navigate and succeed at university and to hold them accountable to work back in their communities," he sums up.
Although there is a 2010 memorandum of understanding between Umthombo and the KZN Health Department about placing graduates, the province has an escape clause; Umthombo graduate placement is 'budget-dependant." In 2017, National Treasury cut-backs on provincial health allocations translated to several Umthombo graduates not finding posts. Provincial bursars take precedent over Umthombo graduates as do the increasing numbers of returning Cuban-trained South Africa graduates. This led to 11 of 27 Umthombo graduates being denied provincial slots in 2017. While all medical doctors were placed, several radiographers, physiotherapists, dieticians, nurses and physiotherapists were unable to find funded posts. Dr MacGregor says that budget-wise, Umthombo can support about 250 students per year with 27 -50 graduates starting internship (with discipline-specific length variation), community service or direct work, annually.
Discussing the human resources for health crisis, MacGregor says, "I ask the province where they'll get healthcare staff from in say, three years' when they finally have money again. Healthcare professionals don't sit on a shelf, they make a plan and move on."
It's ironic that with the National Skills Fund now bankrolling Umthombo to the tune of R14,5 million per annum in student fees, freeing the NGO to focus on its unique, gold standard HR recruitment, mentorship and placement niche, some of the diamonds they produce cannot shine in the too-scarce posts.
Umthombo model a solution nationally
Commending the Umthombo model, Dr Maurice Goodman, Discovery Health's Chief Medical Officer, said: "It's not only good for society, but it's satisfying for the individuals to come back and make a huge impact on the village or community where they grew up and be role models for other youth. Over time, a far-flung rural healthcare system becomes a pocket of patient-centred excellence we can all learn from."
Ruth Lewin, Head of Corporate Sustainability at Discovery adds: "It's scalable, can be replicated and could, if taken on broadly, potentially address skills shortages in any number of fields, from teaching to skilled trades in South Africa's outlying areas."
Dr Ross's work has been recognised with the highest citizen award in the land, the Order of the Boabab, Silver, conferred by former president Jacob Zuma.
Discovery partnership turbo-charges breast cancer awareness
On 7 April 2019 the World Health Organisation commemorates World Health Day. This year's theme is Quality Access to Healthcare for All. The Discovery Fund supports several exceptional initiatives that provide healthcare to the most under-resourced communities.