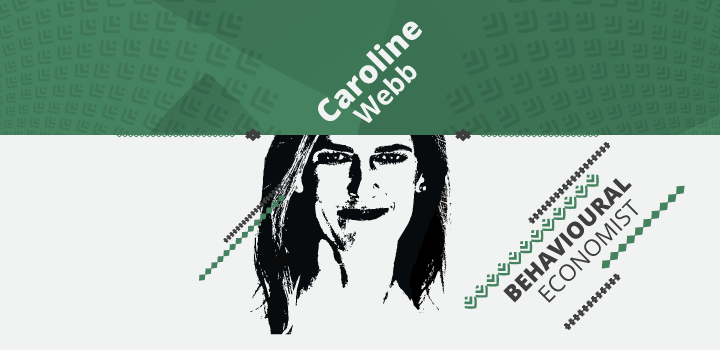 Join Caroline Webb and other inspiring minds at this year's Discovery Leadership Summit at the Sandton Convention Centre on 1 November. Book now.
Sevenshift CEO, Caroline Webb on how to transform your approach to everyday life.
Did you know that daily struggles such as demanding commutes and difficult work emails are far worse for your health than major life events including divorce or bereavement? According to Caroline Webb, renowned executive adviser and pioneer in high performance workplace behaviour, this is because small daily struggles build up over time, leading to a negative mindset and stress.
Webb founded Sevenshift in 2012, so called because it is based on the premise that there are seven particular behavioural 'shifts' that can translate into dramatic improvements in everyday professional life. Through working with clients over time, she began to see that very specific techniques were helpful in coaching people. Her book, "How to Have a Good Day" is a culmination of her unique insights into the power of harnessing behavioural science to improve our day-to-day working lives. In so doing, we are better equipped to apply that knowledge to our daily activities, reducing the occurrence of repeatedly stressful situations.
Webb read hundreds of academic papers before writing a book offering science-based tweaks in behaviour and attitudes to help you have a better day at work. Published in 16 languages and over 60 countries, and hailed as one of the "top must-read business books of 2016" by Inc. and Forbes, Webb's revelations delve deeply into the sciences to divulge how the brain works in parallel with two opposing systems: deliberate and automatic. The deliberate system is conscious, slow and rational thinking. The automatic system is the subconscious, fast and instinctive thinking process.
Webb reveals how we have two fluid states of self between which we are constantly shifting: the axis of discovery and defence. We are constantly moving on an axis between these two perspectives. One where we are waiting for an attack at any moment (defence), while on the other we are looking for rewarding experiences (discovery).
According to Webb, a good day starts with not just letting the day happen to you but choosing to focus on the right things, and organise your time to give those priorities your best attention. Being deliberate about setting your intentions for the day will result in calculated outcomes. She refers to this as setting priorities.
In addition to defining the intentional direction of your day, Webb touts six other important concepts to maximise good outcomes: productivity (using your daytime in the best way); relationships (maintaining productive and positive interactions; thinking (making good choices, being creative and smart); influence (maximising the impact of what you say or do); resilience (overcoming obstacles and hassles); energy (generating enthusiasm and satisfaction). She touts these seven behavioural shifts as the cornerstone of our ability to maximise the potential of our day.
Essentially, Webb shows us that by using a combination of psychology and neuroscience-based behavioural shortcuts, we can affirm positive outcomes and have a good workday, every day.