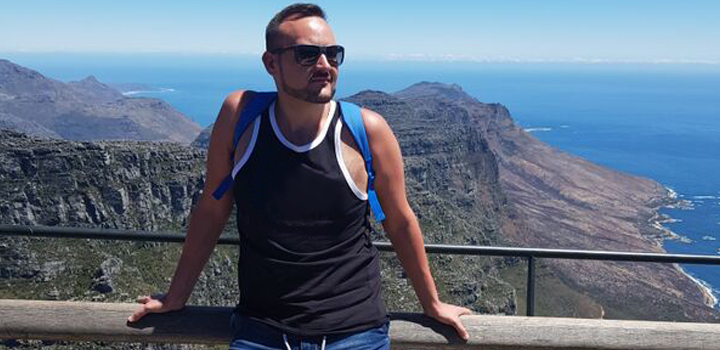 Never in his wildest dreams did 28-year-old Wade Schaerer think he'd become a prominent HIV/Aids activist and vocal campaigner, conveying a vital, universal message pertinent to every South African.
His shock HIV positive diagnosis in March 2017 changed his world view. "I realised just how ignorant I'd been about the disease and that country-wide, over half of young people living with it are not even aware they're infected, something, several surveys confirm," says Wade. "Seriously, I didn't even know what HIV was at the time. I soon realised I was part of a majority and could do something about it by speaking out."
A few days before his diagnosis, Wade had landed at OR Tambo International Airport on a routine domestic flight. He saw 82 missed calls from a close friend on his cell phone. "I knew instantly in my heart that something was up. My heart sank - I thought somebody in his family had died or he had cancer. I never imagined he was calling with news that would rock my world," he recalls. His friend had been to see his GP about his nagging flu which was proving unresponsive to antibiotics. He'd decided to add an HIV test to the blood tests and had only got the results that day - he was HIV positive.
"When I arrived at his house, he was on the phone to his doctor who said I should come in for a test. We went to the emergency room at the Netcare Olivedale Hospital in Randburg. I sat in front of that instant test and saw two lines develop. I was totally shocked. I felt dead, everything went blank , I couldn't see or hear," says Wade.
Tumult of emotions upon HIV diagnosis
"My heart was hitting my chest so hard I thought it would break my ribs. Before I saw those lines, it felt worse than holding your breath under water for a very long time. It was more like having a gun held to your head and being told not to let your heart beat. I was HIV positive - the tests are quite accurate. The doctor called a nurse to confirm it by taking my blood. As he walked away he said: 'It's not a death sentence anymore," recalls Wade.
Luckily Wade is gifted with a positive disposition. He even signs off his e-mails with the words, "good vibes." "It's like a spiritual thing. I always wish people that. So, when I got over the shock, I simply said; "OK, I'm already a positive person. I can deal with this diagnosis," he explains.
With a CD4 cell count of 239 - just 39 points above developing AIDS - Wade went onto the single combination daily antiretroviral drug (ARV) dose. After six months his viral count was undetectable, meaning he could no longer transmit the disease.
"I'm more careful now, I always use condoms. I didn't with the partner who infected me. It's sad how ignorant I was. I've now gone fully public. I have a blog post. Strangers call me for advice. One guy even wanted to commit suicide upon diagnosis and I talked him down. He called me the other day to say I saved his life."
An HIV/AIDS advocate is born
Wade's out to fight the stigmatisation of people living with HIV. "We're not a walking contagion. There's no 'look'' to HIV, no matter your gender, race or income. People need to get educated, tested, use condoms. It's unfortunate that I didn't, but I have to take responsibility. For example, I could have lied, saying I got HIV from a needle prick transmission or from having had several tattoos done, or I could have said I was raped - but I chose to be honest about how I contracted HIV. I tell myself I'm a survivor - I've had my wake-up call. I can set the world on fire with my truth. You never know who needs your raging courage. I am not 'suffering from HIV' nor am I a victim," he adds.
Wade is in discussion with the National Department of Health about possibly promoting existing free-condom dissemination programmes, is due to appear in HIV/AIDS prevention television adverts and is meeting with an HIV home/self-testing kit company to discuss promoting their product.
"I've found my life's purpose. Not everyone's able to talk about these things. I'd be untrue to my character if I was diagnosed and kept quiet. My family loves me regardless of my sexuality or HIV status," he adds.
Wade sees his doctor every four to six months for check-ups, has resumed his 15 km daily runs and plans to return to a twice weekly gym routine. "I'm more conscious about diet and exercise. My diagnosis has forced me to love myself more. I take care of myself and know my boundaries and limits. I do mainly cardio and core-strength training, plus yoga to be more flexible and at peace. I belong to a monthly hiking group that supports the SPCA with each of us bringing a donation bag of dog food each time."
By doing this, he's managed to keep up his Silver Vitality status, with all the ensuing benefits. His diet consists of salads, with fish and red meat for protein. He avoids processed foods, sugar and carbohydrates.
"I treat myself to fast foods occasionally. My doctor says I shouldn't stress too much, so long as I take my ARVs regularly. And, I still go on dates," he adds.
His advice for anyone diagnosed HIV positive?
"Take care of your mental health, talk to somebody, take your medication and check the side-effects. Acknowledge your feelings and try and do something about it," he says.
The Discovery Health Medical Scheme is an independent non-profit entity governed by the Medical Schemes Act, and regulated by the Council for Medical Schemes. It is administered by a separate company, Discovery Health (Pty) Ltd, an authorised financial services provider.
Free doctor advice is just a click away
Do you have a niggling medical concern that you're not sure warrants a trip to the doctor, but wish you could consult with one anyway? With Discovery DrConnect, you can access to trustworthy, high quality medical information. Through the Discovery app and website, you now have access to:
Ask a doctor: a growing library of over 5 billion doctor-created answers to medical questions - or you can get a personalised answer from a doctor, at no additional cost to you.
Health goals: Doctor-created tips and checklists to help you meet your health goals and manage your chronic conditions.
Your doctors: Virtual follow-up consultations with participating doctors who you have seen in the last 12 months, using voice, video or text, paid from your applicable day-to-day benefits.
If you are already a Discovery Health Medical Scheme member, you can access this functionality here or download the Discovery DrConnect app now
Get extensive cover for chronic conditions
Suffering from a chronic health condition like asthma or bronchiectasis? Discovery Health Medical Scheme members living with a chronic illness get the best care at all times through our suite of quality care programmes.
The Chronic Illness Benefit covers you for a defined list of chronic conditions. You need to apply to have your medicine covered for your chronic condition. You can then get full cover for approved chronic medicine on our medicine list.
Give your baby everything, but not HIV
Pregnancy is a very special time in a woman's life. You have to make serious decisions that affect your and your baby's health, and this is especially important if you have a chronic condition like HIV.
A virtual consultation is just a tap away
In his opinion, Dr Sudeshan Govender, a General Practitioner in Tongaat, KwaZulu-Natal, believes the digital revolution will improve healthcare for both patients and healthcare practitioners
Opening hearts everywhere - Chris Truter's story
The Truters make some of Wellington's finest export wines. But their main claim to fame is winning an extended battle to save their son's life. Chris was diagnosed in-utero with Hypoplastic Left heart Syndrome, one of the most challenging of all heart defects.