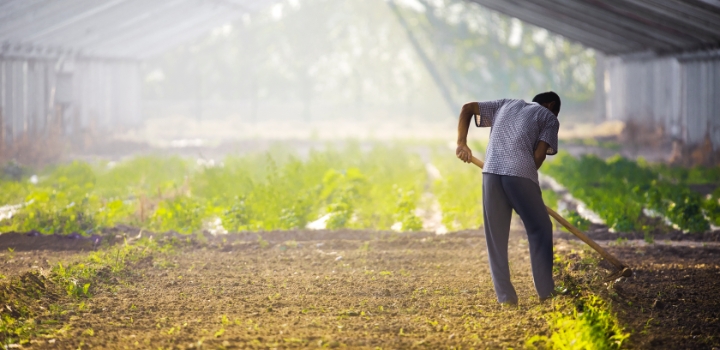 As with so many vital healthcare NGOs in South Africa, the resilience and fortitude learned in the seemingly impossible battle against HIV and AIDS proved vital in saving lives when COVID-19 landed on our shores.
Hlokomela (Sepedi for "To care"), a primary health and social welfare organisation in Hoedspruit started in 1990 by a Limpopo farm wife and nurse, Christine du Preez, was no different. Hundreds of seasonal fruit pickers and their family members started dying mysteriously from then-unknown HIV and AIDS, which wreaked havoc with communities and the local agricultural economy.
"I think we learned we can fight anything. Nothing's too big. And we learned to care for each other. That was the most important in the end,' she says.
Watch the inspiring story of how a small NGO has pivoted from providing screening and care for HIV and AIDS to COVID-19:
Du Preez set up a makeshift clinic in one room, at first lit by a single candle. She arrived at 05:00 when the queue of those seeking help - officially denied help by the government - was already stretching into the predawn shadows.
Within a few short years and belatedly armed with antiretroviral drugs, Hlokomela grew into a sprawling organisation caring for 16 000 farmworkers at the height of the Aids epidemic. Today it spreads across the thousands of hectares of lush fruit orchards surrounding Hoedspruit.
"With Aids it was harder, I think, because the Department of Health at that stage didn't think there was something like Aids, so we had to fight that too. But with COVID, the government really came to the party. I think that helped all of us,' she says phlegmatically.
Emile van der Westhuizen, agricultural manager of Bavaria Estate, one of the bigger spreads of mango and lemon trees in the district, says COVID-19 hit in the midst of their harvest season. "We were extremely worried and nervous because we had almost 800 people on the farm and didn't know what to expect," he confesses.
Hlokomela immediately stepped up, providing education and awareness campaigns on social distancing and sanitising, and distributing masks.
More fear of the unknown
Du Preez echoes Van der Westhuizen: "I could see the workers were also really scared. They didn't know. It's strange - they asked the nurses as if we know everything!"
Hlokomela auxiliary nurse Merriam Ndlovu helped with an ambitious screening programme. Ndlovu scheduled awareness meetings and moving from farm to farm, bus stop to bus stop, literally bringing to life another interpretation of Hlokomela, ("Be careful"), and telling them just why this was so necessary.
Adds Doris Malepe, of the linked Nompilo NGO and a Hlokomela counsellor, "we told ourselves as front-line workers there is no way we're going to hide ourselves from this Corona."
Their courage and modelling of non-pharmaceutical interventions soon touched 10 000 farm workers, many of whom were unavoidably out of a job.
"That was the roughest," recalls Du Preez, adding that entire families soon went hungry. Hlokomela quickly pivoted their mobile resources and began coordinating food relief with 6 000 food parcels and 10 tonnes of citrus food distributed to farm workers in need.
The risk to their workers of contracting COVID-19 was an ever-present threat. Fortunately, both Discovery Health and Gift of the Givers came to the rescue, providing personal protection equipment (PPE) and other resources.
Says Du Preez, "that was wonderful, because you must remember, we didn't have a budget for this. You know you feel alone because everything ... it's just too big. That was the feeling, but our staff was wonderful, really pulling together. And nobody was complaining, and everybody was just doing what they need to do."
She believes that Hlokomela's culture of caring and a passion for people literally defines their organisation and its volunteers.
Perhaps farm manager Van der Westhuizen sums Hlokomela - and Du Preez - up best: "I think often it's an absolutely thankless job. She does so much for the community. She just doesn't know how to give up."
Discovery Health wants to recognise and applaud all healthcare workers on the frontlines of the COVID-19 pandemic. Find more hope-giving examples of resilience, innovation and thought leadership in South Africa's healthcare sector here.
Related articles
For the doctors committed to saving as many lives as possible, fighting the spread of the Coronavirus pandemic has meant adapting to unfamiliar roles. Learn how Prof Hofmeyer and his team developed a protocol to help combat COVID-19.
Find out how the COVID-19 pandemic has emotionally wounded and stressed healthcare workers, resulting in breakdowns and burnout, and how a tight-knit group of compassionate colleagues pulled together to give pragmatic, mitigating care.
Perched on a coastal hilltop in the Eastern Cape, 84 km from the nearest town, Madwaleni Hospital serves 130 000 impoverished rural people. As the hospital has limited resources, their resourceful staff dug deep to cope with the COVID-19 pandemic.