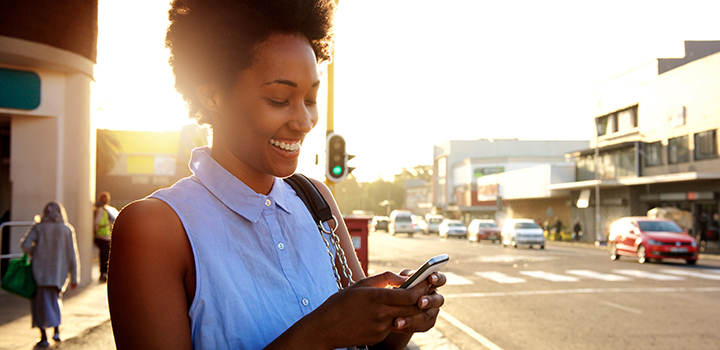 Not only do regular health checks keep you healthy, they also help you make better lifestyle choices.
Request your Uber. Get checked. Get #Uberhealthy
For one day only, we're bringing a Vitality Health Check to you - for free! It's as easy as requesting an Uber.
Open or download the Uber app
Set up your 'pickup' location
Select the 'UberWELLNESS' between 09:00 to 16:00 on 31 October 2018 to request a Vitality Health Check Uber
This service will only be available in the Sandton CBD area
A nurse will administer your health check at your workplace or home if you have set up a private area. Alternatively, we will provide the option to have the health check done in an Uber H1 vehicle. You may need to step out for height and weight measurements.
The health check can take about 25 - 35 minutes.
A maximum of two people per trip are allowed to have their health check done.
Pay R100 for the Uber and get a free Vitality Health Check.
Get rewarded with Vitality points for having your health check
As a Vitality member, you can earn up to 20 000 Vitality points for getting your health check. For more information about Vitality and health checks, please click here
Amy Rabie was only 24 years old when a Vitality Health Check saved her life. Work, studies and all the pressures of modern life took a toll and she struggled to lead a healthy lifestyle because of her busy schedule. "Young people think that they're invincible, that nothing can go wrong with them," she says.
She often felt tired, thirsty and her eyesight was deteriorating - but didn't give it much thought until her work organised a Discovery Wellness Day and she did a Vitality Health Check- a set of health screening and preventive tests that monitors your blood pressure, sugar, cholesterol and weight, among other things.
"Miss Rabie should not be alive"
Like so many people, Amy was unaware that she was walking around with a disease. The nurse who tested Amy's sugar was shocked by the high level - 31 - and exclaimed: "Miss Rabie should not be alive!" That's when she realised the magnitude of her situation - she had life-threatening type 1 diabetes.
The diagnosis finally helped her to understand and take control of her health. "It was more of a relief. What's next? Tell me what I need to do?" Now, she monitors her sugar, eats healthy food and exercises regularly. "Knowledge is power," she says, "I have my life back again."
"I train a lot more. Training is a priority to me," Amy says. "It doesn't have to be an hour cardio session. If it's walking up the stairs rather than taking the lift up, or taking a walk to the shops - it's that mental switch of I need to do this because it's good for my sugar and it improves my life."
Watch the video of Amy Rabie's journey back to health and wellness.
Screening and exercise can save your life
Discovery research has shown that screening and exercise have a significant impact on healthcare costs. People who go for their Vitality Health Check and exercise have significantly lower healthcare costs than those who don't do any go for health checks or do exercise.
Through solely going for a Vitality Health Check, Discovery members reduced their healthcare costs by 18%. For those clients whose BMI and health check are in range, the costs reduced a further 12%. Those who then also have high levels of physical activity reduced these costs to as low as 57% of those of a member who has not gone for a health check.
The silent killer
There's a reason why non-communicable diseases (NCDs) are often referred to as the "silent killer" - you don't feel it coming until it is too late. In South Africa, NCDs account for 43% of all deaths, according to the World Health Organisation (WHO).
These deaths are often premature and could have been prevented. There's a 27% chance that people between the ages of 30 and 70 will die because of the four main NCDs - cancer, diabetes, cardiovascular diseases and chronic respiratory diseases. Heart disease kills 225 South Africans a day and 10 South Africans suffer a stroke every hour, according to the Heart and Stroke Foundation. The Sunday Times reported last year that an estimated 2.3 million adults in South Africa suffer from diabetes and that more and more young people are getting type 1 diabetes.
On Wednesday, 31 October, Uber and Discovery is bringing the Vitality Health Check to you - at no cost to you! Scroll down for more information.
Just 30 minutes of exercise a day helps you live longer
We all know it's important to get off the couch and get active, but there are more health benefits of exercising regularly - for just 30 minutes a day - than you think. is that a fraction of time that you can spare if it meant a healthier life?
Using technology to manage your health
Life is easier, you have choices that are best suited for you, you save costs and valuable time. These benefits of technology are now also changing healthcare and how you interact with doctors – and it is all available on your smartphone with Discovery Health's Smart Series.