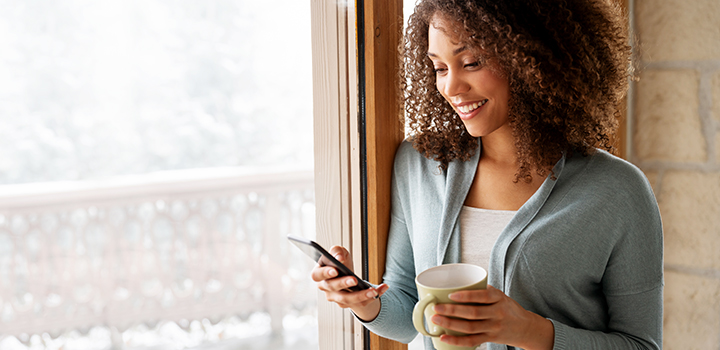 As the new year dawns, ground-breaking technologies are empowering consumers and healthcare systems at an unprecedented rate.
Many industries are being affected by the rapid advances in technology – especially through the use of robotics and Artificial Intelligence – that we're seeing all around us. But it's in healthcare in particular that these innovations hold the promise of huge potential that's set to affect us all.
Here's a look at powerful technology trends making strides in 2019:
1. Apps are helping people connect with experts
Telemedicine, telehealth, or mHealth (mobile health) – remote patient diagnosis and treatment by means of telecommunications technologies – is increasingly being used to treat patients with limited access to primary healthcare, and has been highly effective in humanitarian efforts.
Global virtual care adoption is driven both by the fact that people are living longer and by the global explosion in costly, chronic diseases of lifestyle. In both contexts, virtual care is helping patients and their healthcare providers communicate more quickly and effectively.
In 2017, Discovery partnered with HealthTap to create Discovery DrConnect. This platform connects you to doctors and allows for 24/7 virtual consultations, anytime, anywhere. The Discovery app also offers a wide range of digital tools to support you at any point in your healthcare journey.
Given that there are around 80 million mobile phone subscribers in South Africa and that 51% of the total population has access to the internet, there is great potential now in reaching people like never before.
Discovery Health's DrConnect app, gives users access to vetted medical information through a worldwide network of over 105 000 doctors. Users can search a library of over 5 billion doctor-created answers to common medical questions.
They can also pose personal medical questions. The app's AI system narrows down possible diagnoses, with advice on whether to consult a doctor, and how urgently. Patients can then use the app to book virtual consultations with doctors they've previously seen face-to-face.
2. Cutting-edge drugs that expand treatment therapies
Cutting-edge, targeted drugs therapies are changing the way we treat common illnesses. In fact, the 2018 Nobel Prize in Physiology or Medicine went to Immunologists James Allison and Tasuku Honjo, who each discovered ways to stimulate the inherent ability of the immune system to attack tumour cells.
This sort of research has fuelled the development of various immunotherapy drugs, revolutionising and personalising the care of previously untreatable cancers. During 2019, billions will be invested in developing new compounds that could form the basis of similarly life-extending or -saving drugs.
The challenge that remains is providing universal access to these kinds of medicines, as their high development costs mean they come to market at a premium. In 2010, Discovery Health Medical Scheme members claimed R608 million on such drugs. By 2017, that figure rose to R1.5 billion. The number of members claiming towards these medicines has increased seven-fold since 2008 – and this trend will continue into 2019.
3. Big data analytics and machine learning enable tailored care
Our growing ability to accurately analyse new kinds of health data means that 2019 will propel us further from one-size-fits-all treatments to more personalised medicine. This is made possible through machine learning, which can analyse data sets from thousands of people.
We can then glean insights from patterns and trends found in the data to predict likely health risks in a single individual. Simply put, big data helps understand ourselves by understanding everyone around us.
Machine-learning platforms enable early interventions
Soon you may get the chance to experience these exciting technologies yourself! In 2019, Discovery Health is launching a machine-learning powered platform which, when a patient is admitted to hospital, will predict their risk of complications, hospital-acquired infections, future re-admissions or mortality. A good an early understanding of these risks allows for the right interventions and better outcomes.
Discovery Health is also using machine learning to develop an app-based platform that will offer members of schemes administered by Discovery Health a personalised prediction of their risk for developing diabetes, hypertension or hyperlipidaemia, based on their unique health metrics. These members will also have access practical and specific advice through the Discovery app. This is aimed at addressing the underlying behaviours that fuel their risk, with rewards for following the advice.
Fitness devices and medical wearables are becoming better equipped
Machine-learning is also what enables the latest Apple Watch Series 4 to detect an irregular heart rate and rhythm, and send an electrocardiogram to a doctor so that high-risk patients can access medical care in time. The Watch also detects hard falls and alerts emergency services. Wearable fitness devices such as this, and other connected health monitors, allow for remote patient-monitoring by sending out continuous biometric data to healthcare providers.
Globally, there is ongoing R&D on biosensing patches and digital tattoos that monitor the blood sugar levels of diabetics, sensor-embedded bandages, implantable and ingestible medical devices, at-home vision-testing devices and even tiny tooth-mounted sensors that track food intake. In a world in which older people are living longer, and in which non-communicable diseases are rising, this sort of technology literally saves lives.
Make becoming more health-tech savvy your 2019 resolution
These developments in technology and healthcare are helping people become more connected – to information and to each other. And while such advances can seem foreign and confusing at first, they all hold the potential to empower us as consumers of healthcare.
By being passive healthcare consumers, we may well be missing out on potentially life-changing aids, but by understanding what's available to us, we can learn to use digital tools to our advantage. So commit in 2019 to becoming more health-tech savvy, and let the health tech revolution further your own personal journey to good health.
The Discovery Health Medical Scheme is an independent non-profit entity governed by the Medical Schemes Act, and regulated by the Council for Medical Schemes. It is administered by a separate company, Discovery Health (Pty) Ltd, an authorised financial services provider.
Free doctor advice is just a click away
Do you have a niggling medical concern that you're not sure warrants a trip to the doctor, but wish you could consult with one anyway? With Discovery DrConnect, you can access to trustworthy, high quality medical information. Through the Discovery app and website, you now have access to:
Ask a doctor: a growing library of over 5 billion doctor-created answers to medical questions - or you can get a personalised answer from a doctor, at no additional cost to you.
Health goals: Doctor-created tips and checklists to help you meet your health goals and manage your chronic conditions.
Your doctors: Virtual follow-up consultations with participating doctors who you have seen in the last 12 months, using voice, video or text, paid from your applicable day-to-day benefits.
If you are already a Discovery Health Medical Scheme member, you can access this functionality here or download the Discovery DrConnect app now