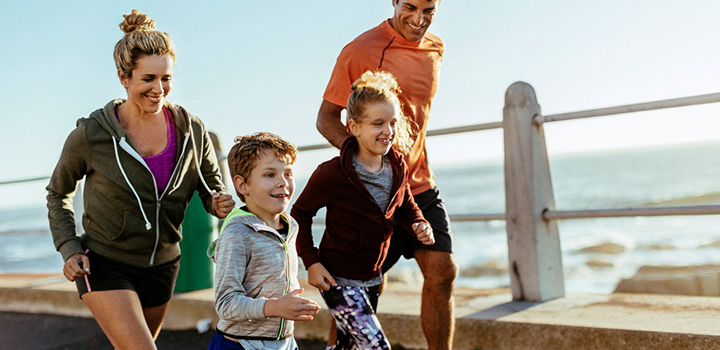 Personality can play a big role in how your child approaches life, but there are certain fundamental things you can do to encourage wellbeing in your kids. Try your best to accommodate for these key elements below!
All parents want to encourage happiness and mental wellbeing in their child, and prevent mental health issues like depression and anxiety. But sometimes it's easy as a parent to get caught up in specifics while forgetting the basics, like making sure they get enough sleep. Read on for some simple tips on making your child happier.
1. Focus on diet
Food that is highly processed or high in salt, sugar or unhealthy fat can interfere with your child's mood and energy levels. Similarly, children who don't eat regularly are vulnerable to mood swings and crankiness.
In addition, the rate of childhood obesity is increasing, with prevalence up in both boys and girls, according to the 2017 Vitality ObeCity Index. This is due in no small part to food marketing that targets your kids.
It's up to discerning parents and other adults to take a stand, says Jacques Rousseau, a lecturer in critical thinking and ethics at UCT: "We can't control everything our children do, but we can control some of it. And we can remind ourselves that most of the time, it's not the increasingly-overweight children that are buying food. It's us."
So be mindful about what you stock in the house and make sure your child eats healthy, nutritious food regularly throughout the day.
2. Ensure good sleep habits
Crankiness isn't the worst thing about kids who don't get enough sleep. Sleep deprivation is very harmful - not only can it impede normal development and contribute to obesity, but it can also lead to behavioural problems that persist for years.
So just how much sleep do kids need to function well? Probably more than you think. Naps included - infants need 12 to 16 hours of sleep a day; toddlers 11 to 14 hours; pre-schoolers 10 to 13 hours; primary school children 9 to 12 hours; and teens 8 to 10 hours a day.
Kids thrive if they get consistently good sleep by following a bedtime routine each night. Think about the before-bed wind down at home: is it calm, consistent and non-negotiable, or does the routine need some work? Make sleep a priority and remember - kids pay more attention to what you do than what you say - so set a good example, and the extra winks will do you a world of good too!
3. Make time for play
Childhood was once characterised by imaginative play and plenty of time spent being active. These days, kids may not have time for free play if their school routines are too demanding, and watching TV or playing electronic games often replaces the more traditional activities of childhood.
Children are much happier if play is part of their day, and if they get enough exercise. It isn't necessary that they compete in a school sport (although these are great opportunities), as long as they're keeping physically active on a regular basis through games or an energetic hobby that suits their abilities and interests.
Rather than overloading your kids with too many extracurricular activities, make a point of fostering their creativity and imagination through outdoor play, storytelling, building, art and crafts, self-directed musicals or productions, and free time. Looking for inspiration? Let Vitality and Disney add a little magic to spending time together as a family. Go online to unveil fun and inspiring things to do with your kids all year long.
4. Be available
Being available to your child is a lot easier said than done; not because you have no interest, but because the stresses and responsibilities of the day may leave parents feeling like they have little energy left for anything else. Being emotionally available to your child, however, has huge benefits.
It allows your child to express their emotions in front of you and feel validated when they're insecure, comforted when they're anxious, and lovingly challenged when they need to accept hard truths. All this helps them develop a stable self-identity, resilience in the face of difficulty, and ultimately maturity and independence as they grow up.
If something is troubling your child, your simple presence and attention is often all that's needed to calm them down, so take the effort to listen and spend quiet one-on-one time together. Following these basics can be invaluable in building a solid foundation for your child's health and wellbeing.
The information is this article is intended for general purposes only. If you have any concerns about your health or the health of your child, you should always consult with a healthcare professional.
Win a Disney baby hamper for your little one with Vitality Baby
Each hamper is made up of essentials from Disney Baby range like blankets, baby baths, caps, Huggies nappies and other spoils. We also have life-sized Mickey and Minnie Mouse stuffed toys that could be yours!
Simply activate Vitality Baby to be entered into the draw. Winners will be drawn throughout the year and will be contacted directly. You can also visit Disney Baby for more valuable info on how to care for your little one.
Win your family a Mickey Mouse and Friends hamper!
In celebration of healthy, happy families, Discovery Vitality and Disney are running an awesome competition where you can stand a chance to win one of 10 Mickey Mouse and Friends hampers. Simply do these three activities before 31 March 2018 to stand a chance to win:
Complete a Kids Vitality Health Review for each child on your policy.
Take all your kids for a Kids Vitality Health Check.
Activate HealthyCare - get up to 25% cash back at Clicks and Dis-Chem.
We'll be running competitions and drawing winners throughout the year so you have many chances to win hampers and other cool prizes. Kids, get healthy, get active and have fun while you and your family enjoy rewards. Start winning now!
NetCells, Next Biosciences' umbilical cord stem cell banking service, gives expectant parents the opportunity to collect their new born baby's umbilical cord blood and tissue stem cells and cryogenically store them for potential future medical use.
A mom's guide to gestational diabetes
Gestational diabetes can come as a shock to women who've never had any issues with their blood sugar levels before. Here's what expecting parents need to know.