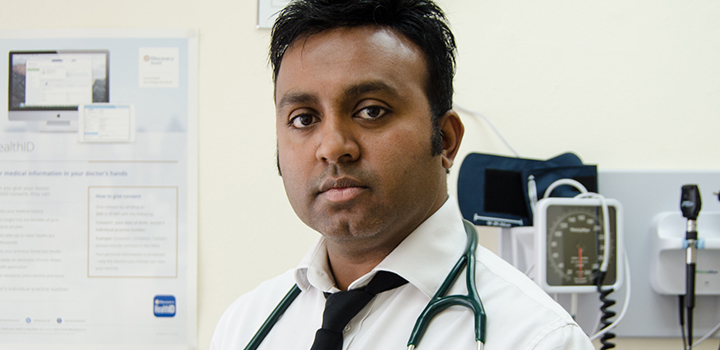 Digitisation and artificial intelligence-based innovations have become catalysts to the evolution of the healthcare industry. GP, Dr Sudeshan Govender, describes how digital healthcare tools are increasingly augmenting the doctor-patient relationship.
In 2013, globally available digital data weighed in at 4.4 zettabytes (that's a staggering 4.4 trillion gigabytes). It is further predicted that by 2020, the digital universe will multiply tenfold in size.
In what is now widely known as the 'Fourth Industrial Revolution', advances in digitisation and disruptive technologies are redesigning healthcare systems at an unprecedented rate.
For example, today we have access to patient electronic health records which - as opposed to archaic, paper-based processes - allow for superior capture of a patient's medical history, as well as for better analysis and measurement of value-based outcomes. Doctors also have access to big data streams from multiple devices including wearable sensors, mobile phones, tablets and desktop computers.
Rapidly improving connectivity, combined with advanced data analytics and algorithms have paved the way for Artificial intelligence (A.I.) or – a term I prefer – Machine Learning. In fact, A.I. has become integral to precision medicine. Consider the applications of computer system IBM Watson in healthcare, or the potential held by CRISPR-Cas9 genome editing in leading advances seen in the field of cancer treatment.
Dr Sudeshan Govender, General Practitioner.
Will A.I-based systems replace doctors?
Many of my colleagues meet digital healthcare technologies, with extreme trepidation. I have seen this reflected in the apathy towards early adoption of local digital platforms. Why is this the case?
We may fear being replaced by A.I. However, I feel that the time has come for our profession to redefine its role. We must be receptive to the way in which digitisation and new technologies in healthcare have become catalysts to our evolution – not our extinction. Tools like Discovery Health's DrConnect and HealthID platforms don't replace the doctor-patient relationship – they augment it.
Discovery Health's patient electronic health record – HealthID – provides us doctors with a more complete view of our patient's health history and test results – with patient consent. This improves our patient care and reduces the likelihood of serious medical errors or any duplication of pathology tests, so reducing waste in the system. HealthID also reduces our administrative burden by making it easy to fill in Chronic Illness Benefit applications, and providing us with the relevant scheme formulary list. The HealthID system is currently used in more than 2 000 doctors' practices.
According to a study by the University of Phoenix Arizona, 59% of adults use online resources in place of primary healthcare. And, according to an international survey published by McKinsey in July 2014, this is expected to increase to more than 75% across all age groups. How should the world of healthcare respond to patients' growing need for credible, digital healthcare offerings alongside traditional healthcare offerings?
Discovery Health's DrConnect is an app-based platform launched in late 2017. In early June 2019, DrConnect users gain access to an enhancement on the platform called Dr A.I., which is symptom-checker technology. All in all, DrConnect allows doctors and their patients to communicate on a protected digital platform, ensuring privacy, protecting confidentiality and allowing for efficient, cost-effective virtual care where it is needed. The platform also 'learns' as users and their doctors engage on the app, and, so constantly adds to the extensive library of personalised, doctor-created and peer-reviewed health content, stemming from over seven billion responses to medical questions – provided by over 108 000 doctors to millions of patients across 174 countries – at no cost to users.
All of us want to reduce our patients' exposure to Google and other search engines, where they become entangled in a morass of incorrect medical facts and advice, at a time when they are vulnerable and most need accurate input and quality care. DrConnect is one platform playing a vital role in fulfilling this need.
Digital healthcare platforms: enablers of excellence in healthcare
Much of what we doctors once did with our eyes, hands, and ears is now enabled through machines, so extending our ability to help patients. These examples prove the point:
A.I. is removing the need for doctors to perform repetitive, monotonous tasks such as filing prescriptions and investigation-request forms, allowing us to focus on challenging, creative assignments that truly benefit our patients.
A.I. will soon allow for mining of medical records to create tailored treatment plans, hence improving efficiency and reducing waiting times.
Wearables devices and biosensors, like Motiv Ring (a smart ring worn on the hand like a piece of jewellery) and the Apple Watch Series 4, allow for remote monitoring of heart rate in cardiac patients with arrhythmias, to detect and reduce adverse events. In fact these devices - which also track daily activity levels - have allowed insurance companies to adopt novel incentive-based behavioural change models, to promote physical activity. Vitality is a perfect example of this, as depicted in the recent Discovery/Vitality study by RAND Europe on over 400 000 people - the largest behaviour change study on physical activity conducted to date. The study found that taking up the Vitality Active Rewards and Apple Watch benefit, compared to taking up Vitality Active Rewards alone, is associated with an average 34% increase in activity levels (equating to 4.8 extra days of activity per month). CEO and Founder of Discovery/Vitality, Adrian Gore writes about the study here.
The Flash Glucose Monitoring System Freestyle Libre, Dexcom system or Eversense (implantable) continuous glucose monitoring systems, are improving quality of life for patients with diabetes through non-invasive testing that both reduces variability in test data, as well as hypoglycaemic events, meaning fewer hospital visits are required for patients.
The Stethee Pro and eKuore Pro are FDA-approved A.I-based stethoscopes which allow healthcare professionals to record, share and compare auscultation of cardiac and respiratory systems quickly and easily, for second opinions or follow-ups from point-of-care.
Then, the Omron Heartguide Smartwatch allows for remote monitoring of hypertension.
TYM by Cupris turns a smartphone into an otoscope for remote opinion or to share information from point-of-care to a primary care doctor or an ear, nose and throat specialist, in real time.
Portable ultrasound machines like, Philips-Lumify or the Butterfly iQ, transmit ultrasound images and more, from point-of-care to a radiologist, allowing for real-time medical input. This particularly useful in, for example, enhancing maternal care and mortality in settings where access to healthcare may be limited.
NuvoAir's Air smart spirometer measures lung function for chronic respiratory diseases such as COPD, at point-of-care, and transmits findings to clinicians for immediate, even remote, access to patient health data.
Air by Propeller has an in-built A.I.-based device that monitors surrounding environmental and atmospheric conditions, and informs asthma patients to appropriately alter a preventer dosage.
FDA-approved drugs with digital ingestion-tracking systems now aim to improve adherence by sending a message from the pill's sensor to a wearable patch which transmits to a mobile application. Patients give consent for physicians to access the information through a web-based portal. This technology has, for example, demonstrated massive healthcare cost savings in improving adherence to expensive Hepatitis C treatment forms.
Using a patient's GPS coordinates, drone technology can deliver medication or medical devices such as defibrillators to inaccessible areas and meet patient needs in certain medical emergencies.
Voice-enabled chatbots are the next frontier in assisting patients with disabilities, such as the aged or those with severe arthritis and other mobility issues, the blind and those with speech and hearing impairments.
Recent reports around Amazon Healthcare's joint venture with JP Morgan Chase and Berkshire Hathaway have us wondering how the tech giant will leverage its expertise towards healthcare. Undoubtedly, Harvard Professor and surgeon, Atul Gawande – CEO of the venture - will be Amazon's primary arrow in the quiver, as they attempt to drive greater efficiencies in healthcare and reduce waste in the system, through digitization.
What do we want to do with technology?
With all this on our horizon, we physicians should be optimistic about the redefining of our role and industry. We should remember that it is well-documented that burden of non-communicable diseases such as diabetes, cardiac disease and COPD, coupled with poor payment models including fee-for-service and capitation, erode the sustainability of healthcare's future.
Harvard Business review articles by Prof. Michael Porter, Dr Thomas Lee and Prof. Robert Kaplan have illustrated the necessity for so-called Integrated Practice Units. This means that our practices need to become multidisciplinary, patient-centric, disease-specific centres of excellence – with bundled payments and incentives determined by shared-value outcomes. This also means running our businesses on electronic platforms supported through big data analytics and algorithms, via A.I-based systems.
Digital healthcare platforms are the enablers of our inevitable move from hospi-centric to patient-centric care, and from population-based to individualised or precision medicine. They further turn the top-down doctor-patient relationship into a collaborative partnership, so making the patient a part of decision-making around their care. Patients in turn, have ownership of their data and are empowered with relevant information. In South Africa, where 80% of the population don't have access to affordable, appropriate and value-based care, digital innovations such as Discovery's HealthID and DrConnect, could offer much-needed solutions to some of the challenges faced, as we imminently embark on our quest for Universal Healthcare Coverage (through the NHI).
In their new book, 'Machine, Platform, Crowd: Harnessing Our Digital Future', MIT economists Andrew McAfee and Erik Brynjolfsson capture the divergence of man and machine aptly: "So we should ask not 'What will technology do to us?' but rather 'What do we want to do with technology?' More than ever before, what matters is thinking deeply about what we want. Having more power and more choice means that our values are more important than ever."
Free doctor advice is just a click away
Do you have a niggling medical concern that you're not sure warrants a trip to the doctor, but wish you could consult with one anyway? With Discovery DrConnect, you can access to trustworthy, high quality medical information. Through the Discovery app and website, you now have access to:
Ask a doctor: a growing library of over 5 billion doctor-created answers to medical questions - or you can get a personalised answer from a doctor, at no additional cost to you.
Health goals: Doctor-created tips and checklists to help you meet your health goals and manage your chronic conditions.
Your doctors: Virtual follow-up consultations with participating doctors who you have seen in the last 12 months, using voice, video or text, paid from your applicable day-to-day benefits.
If you are already a Discovery Health Medical Scheme member, you can access this functionality here or download the Discovery DrConnect app now
How will these rising tech trends affect your health?
As the new year dawns, ground-breaking technologies are empowering consumers and healthcare systems at an unprecedented rate. Here are three healthcare trends that are fast gaining traction, and how they can affect you.
"Why I'm embracing digital tech in healthcare"
In this opinion piece, Dr Sudeshan Govender, a General Practitioner in Tongaat, KwaZulu-Natal, explains why he believes the digital revolution will improve healthcare for both patients and healthcare practitioners.