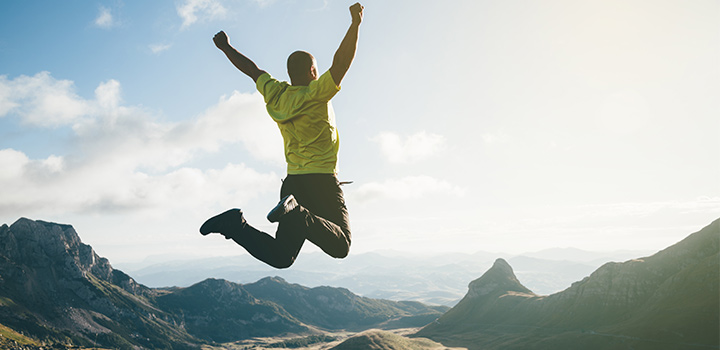 There's emerging evidence that people who exercise self-control in one domain are generally successful in a number of other domains. Here's how engaging in Vitality Active Rewards can make you more capable by triggering other positive habits.
Acclaimed behavioural economist Professor Dan Ariely has spent many years studying the reasons behind the choices we make in a wide range of areas, from fitness and wellness to financial success.
He believes that when you're trying to develop healthy habits and set new goals, the best way to motivate you – and sustain that motivation – is to reward your behaviour, rather than the outcome. In other words, acknowledging the efforts you're putting in to make healthier choices every day instead of only rewarding you for achieving your ultimate goal.
The value of shaping
Dr Deepak Patel, Principal Clinical Specialist at Vitality, agrees. "If you only look at the big picture, your goals may be very difficult to reach and sustain," he says. "That's why Vitality Active Rewards focuses on your journey instead of your destination. It sets you a series of short-term goals for which you are rewarded – a process in behavioural economics called shaping."
Both Discovery Vitality and the Discovery Insure app use these principles to ensure your success, constantly rewarding you for making the right decisions, which inspires you to making wiser and healthier choices – and ultimately, to attain and maintain your goals.
One success leads to another
Dr Patel maintains that there's emerging evidence that people who exercise considerable self-control in one domain are generally successful in a number of other domains.
The reason behind this is quite simple. Continually being acknowledged and rewarded for making small positive changes not only encourages you to keep going, but also gives you more confidence and self-respect.
When you feel good about yourself, you'll start believing in your ability to achieve your goals and this will spill over into other aspects of your life, according to American writer Benjamin P Hardy. "Human beings are holistic," he says, "And when you change a part of any system, you simultaneously change the whole."
Achieving your VAR goals triggers other positive lifestyle behaviours
This knock-on effect is clearly demonstrated in a study which tracked Vitality members' engagement levels of physical activity. "Our data shows that engaging in Vitality Active Rewards is directly linked to a higher prevalence of health screenings, assessments and other Vitality benefit activations," says Head of Vitality Wellness Dr Craig Nossel.
Overall, Vitality Active Rewards members experienced the following lifestyle changes after engaging in the programme:
A 28% decrease in the number of members who are smokers
A 12% increase in the number of members engaging in the HealthyFood benefit
A 24% increase in the number of members going for a Vitality Health Check (VHC).
Previously sedentary members get the biggest benefits
The impact is greatest among members who were previously unengaged in physical activity but who drastically changed their lifestyle as they started engaging in Vitality Active Rewards.
The following changes were observed among around 2 200 members:
A 45% decrease in the number of members who are smokers
A 20% increase in the number of members engaging in the HealthyFood benefit
A 71% increase in the number of members going for a VHC.
When it comes to results – the proof is in the numbers. The data shows how the behavioural improvements of these members translates directly into a lower relative risk and improved health outcomes:
Overweight and obese members experienced a 1.5% and 5.4% reduction in their BMIs respectively
Lower relative mortality risk, as reflected by the Vitality Age differential decreasing from 3.0 years older than their actual age to 1.7 years older than their actual age
Hospital admission rates amongst these members decreased from 22% to 19% in the 12 months after activating Vitality Active Rewards.
Regard any healthy life change as an investment
"The key to making any life change, no matter how big or how small," says clinical psychologist Dr Colinda Linde, "Is to regard it as a long-term investment. Good investors are the ones who don't let the daily ebb and flow of the stock market send them into a panic. Rather, they have a goal and a plan, and keep working at these on a daily basis."
So sign up for Vitality Active Rewards and start each week fresh with a personalised, weekly goal. By aiming to achieve them, you'll build on your healthy behaviours incrementally, reinforce lasting habits and get rewarded along the way!
Exercise makes you a better driver
Studies have also shown that being physically active makes you a better driver. According to an Arrive Alive report, driving is a physical activity and a driver who leads a sedentary lifestyle may not have the required strength, flexibility or coordination to control and safely drive a vehicle.
Research now indicates that regular exercise may improve your safety on the road due to the fact that your fitness, concentration, stamina and fatigue resistance are all optimised.
Another study published in the Journal of Aging and Physical Activity notes that regular exercise may also improve the driving skills of senior citizens, while researchers at Yale School of Medicine who developed a physical conditioning programme for senior citizens discovered that participants were able to maintain or enhance their driving performance potentially making them safer behind the wheel.

The Vitality Open. Anyone can join. Everyone wins
Download the Discovery app to join the Vitality Open and get rewarded for getting active and driving well.
Achieve your goals to earn great rewards PLUS if you reveal a diamond, you will go into a draw to win prizes... for life. Flights, fuel, gym, movies, concert tickets, smoothies, coffees, tyres, Uber, Nando's, running shoes, HealthyFood and the latest iPhone... for LIFE.
Chad le Clos' Decade of Greatness
Highlighting a decade of greatness, Chad le Clos emerged as the most decorated South African swimmer of all time by stepping onto the podium at major events each year since making his international debut.