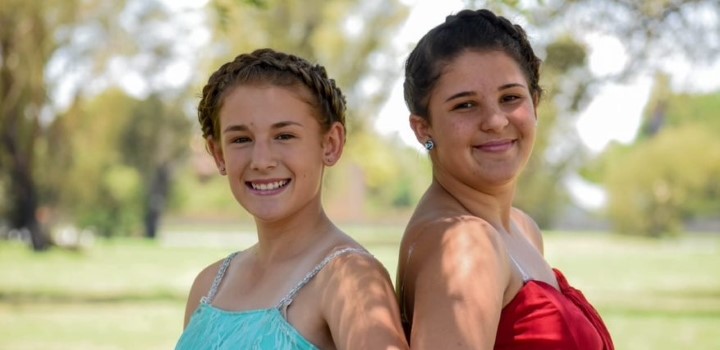 She is dynamic, courageous and inspiring! At only 16-years old, Kaelyn Smit (pictured wearing red alongside her sister Amber-Lee) has lived through kidney failure, months of dialysis and a kidney transplant. No wonder she hopes to become a paediatric nephrologist.
She's been inspired by her own doctor – paediatric nephrologist, Prof. Errol Gottlich – and also by her sports-mad uncle – Herman Rens – who donated his kidney to Kaelyn.
Kaelyn was diagnosed with kidney failure in early February 2014, at nine years old. This diagnosis came after a year of feeling listless, having no appetite and preferring to be alone with her books or spending time in her bedroom.
The final diagnosis, while serious, also came as a huge relief to her parents, who had long suspected something was wrong but couldn't put their finger on what it was. Now, their daughter would get the help she needed.
Her mum, Lizelle, recalls: "Kaelyn was always tired. She wouldn't play for long outside and preferred watching TV or reading her books. We thought she was just that kind of child. She was tiny and thin, but not anorexic. We consulted chemists and doctors, and also tried some herbal remedies and tonics but nothing solved the mystery of how fatigued she always seemed to be."
Then, while Lizelle was away at a conference in 2014, and Kaelyn was staying with Lizelle's parents, they noticed her skin had turned a yellow colour and took her to their GP. He tested her urine, found high protein levels and immediately ordered emergency blood tests. That same evening, she was admitted to a hospital in Springs, before being transferred to the Morningside Mediclinic in Sandton where she came under the care of paediatric nephrologist, Prof Errol Gottlich. Within weeks she was put on haemodialysis at the hospital's Children's Kidney Treatment Centre, a unique unit designed for children with kidney failure.
Kaelyn says: "When I was sick I carried on dancing. It kept me happy, especially after a dialysis session."
Finding a kidney donor for Kaelyn
From not even understanding the term kidney failure or renal failure, her parents become lay experts in the condition as Kaelyn underwent dialysis three times a week for four hours at a time. This continued for six months whilst her father, Piet and her mother volunteered to be tested to see whether they were a tissue match for a kidney donation to their daughter.
Piet was initially a 97% match but subsequent tests reduced his suitability. Lizelle was a 98% match and began clinical work-up towards the harvesting of a kidney. Her younger brother, Herman Rens – Kaelyn's uncle – a teacher, rugby coach and fitness fanatic, also pestered Lizelle to let him go for a test. She eventually capitulated.
Herman adds, "You know, visiting Kaelyn for the first time I saw kids with a broken spirit on dialysis. It changed my perspective and I wanted to get involved." He was a 100% tissue match. That meant he was the best donor for Kaelyn.
Donation transforms uncle's life
Herman, then aged 32, was forced to give up his beloved club rugby and describes his last-ever game, playing in the position of flank, before the transplant: "It felt like I was playing test rugby. There was that last tackle, the last run with the ball."
Today he's the epitome of how active a life one can have after donating a kidney. He's done the Duzi Marathon with a paddling partner, completed two Golden Cap sponsored swims of the Midmar Mile - two 4 km swims over one weekend, one for the CHOC Childhood Cancer Foundation of South Africa, ridden the 94.7 Cycle Challenge and completed the 7.4 km Nelson Mandela Freedom Swim from Robben Island to Blouberg beach. To top that he's also done several Warrior Races, South Africa's largest endurance obstacle course race over between 9 km and 21 km.
"I think potential donors are afraid they'll be disabled. Well, that so-called disability can become your ability, if you choose to live that way. My message to people is to embrace the unknown. Life gives you opportunities.," he says.
Discovery Health Medical Scheme supports Kaelyn journey
Discovery Heath Medical Scheme covered both Herman and Kaelyn hospital costs – those relating to his donation and the transplant on 26 August 2014, plus costs relating to four prior surgical procedures Kaelyn underwent. These include inserting and removing a stent for her dialysis and diagnostic biopsies. The family is on the scheme's Classic Priority Plan, and Kaelyn's chronic medication is also fully covered.
Say Lizelle, "In every interaction over those six months, Discovery Health Medical Scheme were extremely helpful and it was a pleasant experience. When you're communicating with the medical aid they always say something supportive. If Kaelyn was undergoing a procedure, they'd wish us luck and send Kaelyn best wishes for a speedy recovery."
Kaelyn's amazing health transformation
Lizelle describes Kaelyn's life since the transplant: "She is a healthy teenage girl with an energetic sense for life." She eats like a ravenous teenager, though we avoid salt and grilled foods. It's been like watering a tree and suddenly seeing it grow. The cortisone medication she needed to be on after the transplant contributed to some excess weight gain but that's normalised. On our first holiday after the transplant, she was swimming in the sea at St Lucia for the first time in years and can now spend hours on the trampoline. We've got our girl back."
Prof. Gottlich adds, "Kaelyn's new kidney, if well looked after, can last another 30 years, after which another transplant may be necessary."
Kaelyn still sees Prof. Gottlich for check-ups every two months at the Morningside Mediclinic.
Kaelyn has the last word: "I was so restricted by dialysis. The worst part of it all was getting up at 05:00 to go for dialysis. The best part of it all was hearing that Uncle Herman was a complete match. I met a boy who'd been on dialysis for years and whose uncle was also a complete match but he wasn't willing to donate. That was sad. I want to be a paediatric nephrologist like Prof. Gottlich so I can help other children who'll be in the same position."
Discovery Health Medical Scheme's KidneyCare programme
The KidneyCare Programme is designed to ensure that Discovery Health Medical Scheme members living with chronic kidney disease are managed according to international best practice guidelines, to ensure the best quality of care and quality of life.
FIND OUT MORE ABOUT THE KIDNEYCARE PROGRAMME
Beating the kidney dialysis odds
Brian Anderson, is a minor walking miracle. He's had 93 operations, including two kidney transplants and been on intermittent dialysis for 22 years. He's passionate about raising awareness around Chronic Kidney Disease and organ donation.
KidneyCare helps keep a smile on Ayanda's face
Ayanda Nxasana was born with one regular kidney and one small one, a condition that led to renal failure as a teenager. She also suffers from lupus and is dyslexic – but none of this keeps her from managing her health and staying positive.