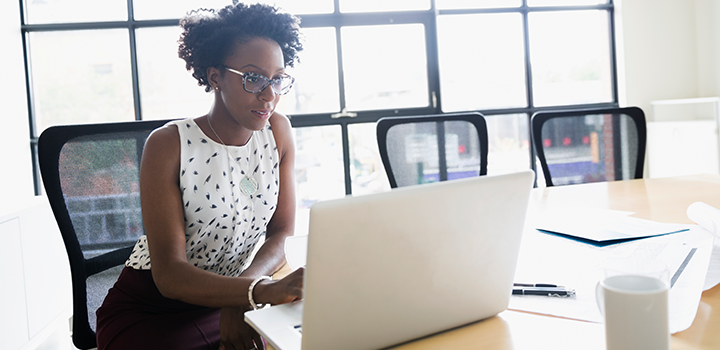 Many of us rely quite heavily on the efficiency of auto-populated email addresses and auto-correction in our typing. But there are some hidden dangers we ought to be aware of. Here are 7 ways to watch out for cybersquatting.
Ever heard of a type of phishing scam called cybersquatting? This happens when a website domain name is registered by someone other than the trademark owner, with the intent of stealing personal information for illegal financial gain.
Do you check auto-populated addresses? Here's why you should
Cybersquatting can occur in many different ways, like when scammers register .biz or .net domains, or use domain names with common misspellings or abbreviations, such as "Doscovery" or "Discovey" – an official company name with one letter changed or missing.
By the misspelling of a company name in an auto-populated company email address, there's a risk that your emails are mistakenly sent to unauthorised domains. This potentially puts your personal information at risk.
The problem with sharing information unknowingly with cybersquatters is that they often conduct all kinds of illegal practices, such as delivering malware or hosting phishing schemes, that are designed to steal your personal information.
7 ways to watch out for cybersquatting
To help protect your personal information online, be sure to always check the following:
When replying to or sending emails, especially to a business address, do not rely on auto-populated email addresses – always double check that the email address is correctly spelled and that of the intended recipient. Use the secure company website and emails on old conversations, as well as new ones in your inbox, to double-check.
Never click on a link in an email to enter or update your credentials, and never download files or open attachments in emails from unknown senders.
Check your online accounts and statements regularly – if you detect anything suspicious, contact your bank or service provider to report the incident.
Communicate personal information only by phone or secure websites.
Call the legitimate company directly.
If an email or website has terrible grammar or a strange email or website address, chances are it could part of a phishing scam.
You may be directed to dangerous websites by phishing scams. Always check the address that appears in the address bar of your browser, and click on the closed lock that appears next to the address – the identity of the site should be shown as "secure", "safe" or "verified". Discovery's website is secured via Entrust.
Remember, these issues are not unique to Discovery, so please be careful in all of your online correspondence and transactions and help raise awareness to keep those cybersquatters at bay.
Rest easy with Discovery Bank's secure and protected banking app
Keeping your money and details safe is a high priority, which is why we've invested in market-leading technology from all over the world to make sure we have the strictest security measures in place.
We keep your Discovery Bank app secure through biometric identification, real-time identity verification, and Discovery Digital Identification – for seamless integration across all Discovery Apps with a single digital login. Learn more here.


How behaviour determines your bank balance
Discovery changed the insurance game when it helped a huge proportion of its client base embrace a cleaner-eating, gym-going, safe-driving culture. Now Discovery is going into banking to help people become similarly healthy with their finances. The question is: how?

Tips to safeguard your personal information online
There are a number of ways in which you may be unknowingly putting your personal information at risk when you're engaging or transacting online. Here's what you need to know about protecting your personal information in the digital world.