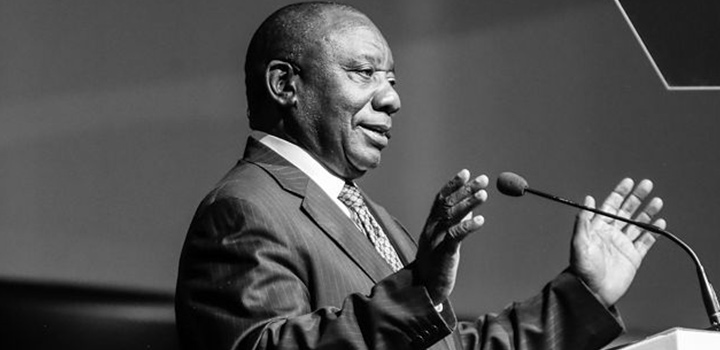 Business leaders, economists and world leaders gathered at the 2018 Discovery Leadership Summit and shared their views on the role of leadership in society. Economic growth, the subject of innovation and behavioural economics were high on the agenda.
President Bill Clinton and former First Lady, U.S. Senator, Secretary of State and presidential candidate, Hillary Rodham Clinton were the keynote speakers at the 9th Discovery Leadership Summit held at the Sandton Convention Centre on 1 November. To an audience of about 3000 people, and interviewed by Discovery Chief Executive, Adrian Gore, the couple conveyed insights into themes as varied as the state of democracy in today's global society, land reform policies in South Africa, approaches to managing corruption and state capture, and the double-edged sword of technological advances and AI (artificial intelligence).
Asked by Gore about their worldview, the Clintons were optimistic about democracies around the world but cautionary, among other things, about ungoverned technology and artificial intelligence possibly threatening job security in economies such as South Africa's.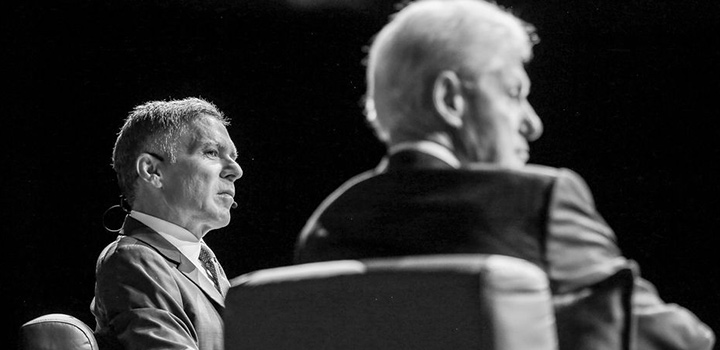 Discovery Chief Executive, Adrian Gore, in conversation with US President Bill Clinton and former First Lady, U.S. Senator, Secretary of State and presidential candidate, Hillary Rodham Clinton
Ramaphosa calls for new dawn
Speaking earlier, President Cyril Ramaphosa proclaimed the end of what he dubbed the war between the government and private sector, and thanked Gore for his visionary leadership and good corporate citizenship.
Touching on the country's sluggish economy, he said: "Economic growth is not an end in itself – it is rather a means to an end. Growth is vital to our efforts to reduce poverty, and to improve health outcomes. Growth is necessary but not sufficient to achieve a more equal society – we must strive for growth that is inclusive and sustainable."
Accelerated land reform would be undertaken within the framework of our Constitution he said, adding that it was a central element to inclusive growth in the country.
"I want to reconcile the hunger people have for land as well as the fears people have about land so that we find a durable and sustainable solution going forward."
South Africa can write a beautiful story
Former British Prime Minister, David Cameron, honed in on leadership under difficult circumstances.
"How we lead in dangerous times, is extremely important," Cameron said. Some of these dangers include the threats of corruption, climate change, economic uncertainty, and making sure that people are not being left behind in creating prosperity, he said.
"We have to ask if the 'strong man' leadership style of leaders who believe they alone have all the answers, is what we need now."
Earlier in the day, Gore, Chief Executive Officer of the Investec Group, Stephen Koseff, and Patrice Motsepe, Chief Executive Officer of African Rainbow Minerals made the case for economic growth. They argued growth would be crucial in turning around the country after the 2008 financial crisis and the challenges associated with state capture.
Gore, who opened the Discovery Leadership Summit, emphasised the importance of leadership and optimism in South Africa. "The facts prove South Africa has more opportunity than people perceive, based on scientific evidence on growth prospects and income," said Gore.
With this deep belief in building the country, Discovery will invest over R13 billion over the next five years in new businesses including Discovery Bank and Commercial Insurance, infrastructure and more.
"It's not about patriotism but a deep belief in opportunity," Gore added.
Superbugs: the greatest societal leveller of our time?
Will antimicrobial resistance (AMR) be the greatest societal leveller of our time? "It doesn't distinguish between colour, economic status or political systems. It affects all seven billion of us and we need to do something about it." This is the view of British Economist, Lord Jim O'Neill
O'Neill, who coined the acronym "BRIC" (Brazil, Russia, India, China) was tasked by UK Prime Minister David Cameron in 2014 to establish and chair a Review into AMR to analyse the global problem of rising drug resistance. The purpose was also to propose concrete actions to tackle what the World Health Organization has called one of the three major threats to global healthcare.
"In the absence of a solution, AMR could, by 2050, cause 10 million deaths a year – which is far more deaths than cancer causes today," added Lord O'Neill. "The BRICS countries share a considerable vulnerability. One third of global AMR-linked deaths could stem from drug-resistant tuberculosis alone. Very worrying signs show that the rise of drug resistance is only set to worsen with time. We need to do something about this urgently, otherwise the BRICS countries - even China and India - will never reach their potential."
Lord O'Neill added South Africa has played a key leadership role in giving a voice to this global threat. "If not for South Africa's leadership around AMR within the BRICS countries, this theme would not have been on the G20 agenda," he said.
Women must stand together
Meanwhile, Caster Semenya, Olympic gold medalist and Discovery Vitality Ambassador, in an interview with journalist, Redi Tlhabi, said the empowerment of young people and women was close to her heart because of the obstacles she has had to overcome to achieve her dreams.
"We as women, we need to stand together. Men get a lot of things done together, but as women, we lack support. We must be more organised, to make it easier for each other. Instead of complaining about transformation, we must be transformative."
Prosperous countries know the power of market-leading innovation
Professor Clayton Christensen and research fellow, Efosa Ojomo, discussed the role of disruptive innovation. Innovation usually aimed to disrupt markets and industries. When thinking of innovation, it may not always be a completely new product or service. Market-creating innovation probably had the greatest potential to disrupt markets and grow the economy.
"Innovation always comes before development that has the potential to create prosperity. This prosperity does not come from resources, but is rooted in market-creating innovation. Taking a product that is often, at the outset, only available to a selected and affluent market, such as the first car, personal computer and cellphones, and making it affordable and accessible for every person, changes the world. This is the main characteristic of market-creating innovation – it is affordable and accessible to the majority of people," said Professor Christensen.
How can we shift our perception to create a better reality? Caroline Webb, leadership coach and economist, shared critical views on getting the most out of the human brain to have a better, more productive day, every day.
Webb's passion for leadership that enables the very best in others, was palpable. "At the end of the day, the filters that we take into situations really matter," she said. "Our starting point drives the reality that we experience and the most effective leaders understand this dynamic well."
Related articles
How would you make the world healthier?
We asked Lord Jim O'Neill he would make the world healthier and he immediately spoke of tackling the 'greatest global crisis of antimicrobial resistance'. Here, he balances the cost of solving this crisis against the cost of doing nothing.