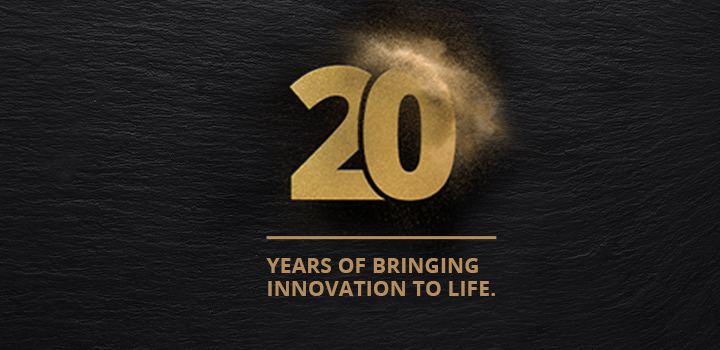 It was the year 2000 when minds came together to do something the life insurance industry had yet to consider. They had a particular vision – To create a life insurer with the purpose of providing the most comprehensive protection available, but also to incentivise people to proactively manage their own health in order to lead more prosperous lives.
The healthier people are, the longer they tend to live and for Discovery Life, this means that the Shared-value insurance model upon which the business is built comes full circle. Discovery Life is this able to reward clients for their efforts to engage in their health and wellness and continue the virtuous circle of innovating in order to deliver products that fulfil needs in even better ways.
For two decades, our products have been enhanced and innovated in order to make, and keep, life insurance cover relevant for everyone – no matter what stage of life they find themselves in.
Today, Discovery Life is celebrating 20 years of award-winning, innovative and dynamic risk protection products that continue to enhance quality of life; protecting what truly matters, and generate real value that is shared with our clients.
To mark this milestone, Discovery Life is offering all clients increased access to our range of benefits, enabling enhanced cover and improved value – for a limited time only.
PAYBACK + 20% OFFER
Did you know that Discovery Vitality members are some of the healthiest people in the world?
Vitality Gold and Diamond members are now living up to the average age of 87. So, if people are working to live healthier, longer lives, life insurance should be more rewarding, right? We think so.
To celebrate our 20th anniversary, qualifying clients can now get an additional 20% PayBack during the first 3 years of their life plan when choosing the Double PayBack Benefit on new policies.
20% LOYALTY DISCOUNT OFFER
We're celebrating 20 years by making comprehensive cover more accessible and valuable for you.
No matter where in our 20-year journey you joined us, you've been fundamental to the growth of Discovery Life as a business.
That's why we're offering you a 20% premium discount for up to three years when you add cover or additional qualifying benefits to your Life Plan.
AUTO BUY-UP CASH CONVERSION OFFER
Living longer and healthier lives means that retirement planning becomes more important than ever before.
So, shouldn't your pre-retirement engagement in your health and wellness reward you in retirement? The Auto Buy-up Cash Conversion Benefit can help you do just that, enabling you to supplement your savings in your retirement years.
With this limited offer, qualifying clients that choose the Buy-up Cash Conversion benefit on their policies will receive the 50% option at no premium for three years.
Over the years, Discovery Life has built a comprehensive offering that is most beneficial and relevant for our clients and their families.
Our core purpose has always been to make people healthier, and enhance and protect their lives. At Discovery Life, this has been about making sure that no matter how life unfolds, our risk protection products support and enhance the quality of our clients' lives. Through the Shared-value Insurance business model that underpins our product offering, we are able to deliver on that purpose while rewarding our clients for the steps that they take to engage in their health and wellness. We're celebrating not only what we've been able to accomplish in two decades, but also how you, our valued clients, can benefit from the kind of cover that matters most to you and your loved ones.
To each and every one of over a million valued clients, all of us at Discovery Life thank you for being a part of this remarkable journey. Here's to many, many more years of Shared Value life insurance - together.
Speak to your financial adviser for more information.
*Best cancer coverage voted by Icon for the LifeTime Severe Illness Benefit.
Find out how important life insurance is for someone like you
Use our new claims calculator to see how many claims we paid for people like you.


How a budget can help you reach your savings goals
July is Savings Month, and this year the benefits of saving have been further highlighted as we face a global pandemic. Saving money is one of the most important things that can help you be financially secure under any circumstances. The first step towards getting where you want to be financially is to set SMART goals.