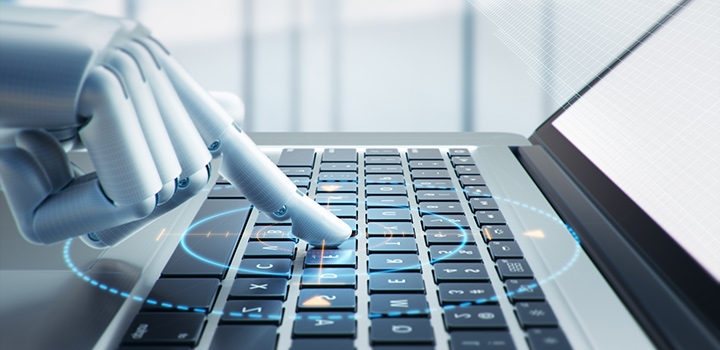 Artificial Intelligence (AI) is the new buzzword in the investment industry, and for good reason. Here's how AI is making waves in the industry.
In recent years, we have started to see the emergence of Artificial Intelligence (AI) in the form of innovations such as driverless cars, 3D printing and drones. This technology is now changing the way we invest.
AI in the asset management space involves the use of computer algorithms to replicate the human ability to learn and make predictions. AI is not set to replace the financial adviser or fund manager, but rather to enhance the investment process so that the adviser or fund manager can produce better results for clients.
AI can help investors, portfolio managers, sovereign wealth funds (SWFs), and other financial institutions to predict the future prices more accurately and without the burden of emotional investing.
The effect of emotional bias
According to a thesis from the Helsinki School of Economics on the behavioural biases of investment advisers, the fact that the different behavioural biases can lead to overconfidence has serious impacts on the financial decisions of clients, depending on advice they receive.
In addition, a recent study by financial services market research firm Dalbar shows that the psychology of an investor could have a negative impact of around 3% on portfolio performance. This is why the emergence of AI in the asset management industry could revolutionise the way funds are managed.
The use of AI at Discovery Invest
Pieter Bosman, head of digital strategy at Discovery, says there is a progression and a way of introducing AI and machine-learning step by step and little by little. He refers to the digital experience pyramid below that was published in thefinancialbrand.com and notes that "Discovery Invest has already addressed two of the green layers in terms of how our clients interact with us, i.e. making interaction easier and faster," he says.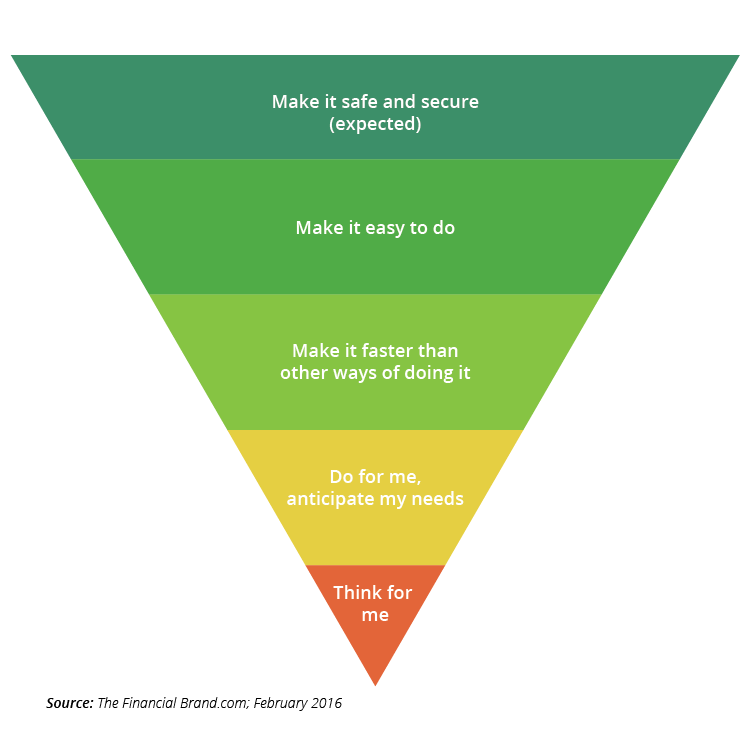 Going forward, Discovery Invest is introducing password-protected access to clients' quarterly statements starting with the statements that will go out at the end of September. Clients will receive an email or SMS notification that their statements are available for viewing and they will then have to log-in to their profile on the Discovery website to view their statements.
"We still have a lot of work to do on the remaining layers. This task lies ahead and will include AI and machine learning across the whole value chain," Bosman notes.
The best of passive and active investing
The versatility of the AI architecture is such that it efficiently manages globally diversified investment portfolios at a relatively lower cost. These investment options aren't limited to just equities and bonds, but also include alternative investments such as gold, real estate, natural resources, forex and cryptocurrencies.
AI is now able to bring the best of passive and active investing worlds into one portfolio. The ability to trade risk and reward at the turn of a dial will change the asset management game, enabling institutional investors and fund managers alike to take complex positions in the market, while maintaining a high-level ratio of stable and growth investments.
Two ways AI can be used within asset management are:
To identify analytics – solutions that help define access to critical data and systems based on information from authoritative systems
For data virtualisation – the retrieval and manipulation of data by an app, regardless of its format or where it is stored.
Research from ESI Thoughtlab's Wealth and Asset Management 2022: The Path to Digital Leadership survey, which included 1 503 financial firms, highlights below how financial institutions globally are planning to use AI over the next five years:
Now
5 years
Growth
Digital leaders are
now far ahead
Track sentiment / market
9%
14%
+56%
29%
Enhance portfolio management
8%
12%
+50%
44%
Increase productivity
8%
11%
+38%
56%
Forecast trends, analyse risks
8%
11%
+38%
41%
Understand investor behaviours
7%
12%
+71%
29%
Find and attract investors
7%
10%
+43%
41%
Uncover cybersecurity risks
5%
10%
+100%
44%
Automate compliance
5%
9%
+80%
32%
Optimise back office
5%
10%
+100%
38%
Create automated advisers
4%
10%
+150%
41%
Source: ESI Thoughtlab, October 2017
AI in South Africa
AI is still a relatively new concept in the South African asset management industry. However, there has been some activity in the last two years:
This year, former chief executive officer of First National Bank, Michael Jordaan, backed NMRQL Research – SA's first investment manager powered by machine learning. NMRQL was established in 2015 by Thomas Schlebusch, who reiterates that removing the emotional bias is the key benefit of this investment approach. The fintech offering uses artificial intelligence (AI) and machine learning to drive research, analysis and stock selection, offering a hedge fund and unit trust fund.
Consumer credit report agency, Transunion, reported in early August that it would be using AI or alternative data (non-credit data mined from consumers' offline and online activities) to get a better understanding of a consumer's credit risk.
AI in the global asset management industry
While SA is still playing catch-up, the use of AI globally has taken off. In an effort to better predict market trends and make better performance calculations, organisations such as Blackstone, S&P Global and Euronext have adopted machine learning to improve forecasting.
An article in Thomson Reuters earlier this year noted that although AI will play a big role in the future of investment management, it is still important to have human fund managers and good fundamental reasoning. And this seems to be the consensus.
Sound fundamental human reasoning is still key
Speaking at the AI and the Future of Financial Services Forum in Beijing in December 2017, Eric Chang of Microsoft Research Asia agreed with his fellow panellist that AI is unlikely to drive investment managers out of business because there is not enough data yet. Chang noted that although finance is a data-rich industry, financial markets are not controlled environments and encounter many unanticipated events that AI is not particularly well-suited to navigating.
"[Warren] Buffett can make split-second decisions on complicated M&A deals," he said. "AI cannot do that yet." He concluded by saying that AI is not the competition to be afraid of, but the threat is rather from the "people plus machine teams."
Disclaimer: This article is meant only as information and should not be taken as financial advice. For tailored financial advice, please contact your financial adviser. Discovery Life Investment Services Pty (Ltd), branded as Discovery Invest, is an authorised financial services provider. Registration number 2007/005969/07.
Recommended to you by Discovery Invest
Manage your finances easily with interactive statements
With Discovery Invest's easily accessible online features, you can stay up to date with your finances and learn to manage them better. Use any device to view details of your investments. The new functionality makes your statements easier to understand and navigate, keeping you better informed about your finances.
MORE ABOUT INTERACTIVE STATEMENTS
What's your financial personality? Find out here
Aggressive, cautious, or somewhere in between? Understanding your investment personality can help you make better-informed investment decisions, and take ownership of them. Here's how to find out what type you are.