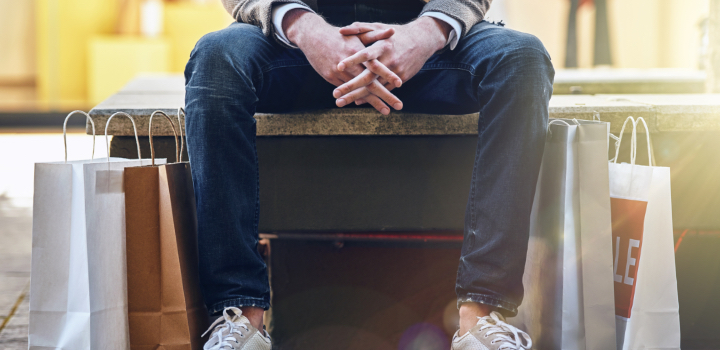 With long queues, shortage of stock and heavy online traffic, #BlackFriday is not for the faint-hearted. But with a few savvy moves, you can make the most of both your time and money, and score some great deals in the process! Here's how.
South Africa's most popular shopping day, Black Friday, falls on Friday 29 November this year – and many in the market for electronic devices, PC hardware, appliances and essentials are eagerly waiting to see what deals are on offer. We know it can be especially tough to spend responsibly when temptation is rife, so here are Discovery Bank's top 10 hacks to stretch your rands this Black Friday.
1. I need, or I want?
Before you splurge on electronic devices, PC hardware and appliances, take a moment to ask yourself whether you really need it, and whether you can honestly afford it. Is it an upgrade (in which case, what will you do with the old one?) or a replacement? Unless you've specifically been planning and saving for it, it may be better to give the purchase a miss.
2. Do your homework
Many retailers use Black Friday, sales and promotional gimmicks like 'Buy three, get the cheapest free' to move old stock or less desirable inventory, so know exactly what you want – down to the model number of the device or appliance – and the regular price.
Make a list of the retailers that stock the item/s so you can check them all out on Black Friday to ensure you get the best deal. Sign up for their email newsletters so you can capitalise on any exclusive deals they run for this "insider" list.
3. Stick to a pre-planned budget
Consumer psychology tells us that human beings prize value – but value is not a fixed number. Rather, it's relative to whatever amount you are used to paying – and how badly you want something! The greater the value relative to the price you associate it with (and that number varies for different people), the more likely you'll be to buy it.
So don't be lured in by seemingly-great bargains for items you don't actually need or want, just because the discount seems huge – decide how much you can afford to spend in advance, and stick to that.
4. The power of one
Retailers often use science and psychology to fool shoppers into thinking they are getting a bargain. You can avoid falling prey to these gimmicks by knowing what one unit of an item usually costs and multiplying or dividing the stated price to figure out if a "buy one get one free" or '30% off' discount is actually a good deal.
5. Make time your friend, not your enemy
Creating a false sense of urgency is a proven tactic used by retailers to increase sales. Make sure you're not pressured into buying something (especially a large purchase) due to a 'deadline' and the urgency naturally created by frequent pop-up reminders or count-down timers. Take a long moment to think (and calculate) before you hand over your hard-earned money.
6. Be aware of dynamic pricing
'Dynamic pricing' occurs when online retailers (and especially airlines and travel agents) change the price of a product depending on your browsing or purchase history, operating system, or even postal code. To avoid dynamic pricing, set your browser to incognito or private mode; disable third party cookies; and shop from one browser while you make your purchases from another.
7. Be savvy online
With more people shopping online, ensuring you're dealing with a legitimate company is critical. Only shop on a secure website. You can tell by checking if the site you use begins with "https" instead of "http" (the 's' is for secure); or that the address bar is green and has a little lock icon on it.
8. Remember, there's still Cyber Monday … and January
Some retailers offer even better deals on Cyber Monday (the Monday after Black Friday) or after the festive season. So if you're not buying gifts specifically for Christmas or essential consumables, you stand a chance to get an even better deal by shopping then.
9. Take advantage of price-busting offers
Some stores offer a rain check – a voucher given for items that are out of stock that allows customers to purchase the product at a later date, but at the sale price. Several stores also promise price-matching or beating. Learn more about and use these offers if items you want are out of stock, or try your hand at price-beating (by obtaining a written quote) to nab your bargain.
10. Cash – and savings – are king
Buying something cash or with money that you have saved rather than on credit is the best way to build your wealth. And because you can only spend the cash available to you, you reduce the risk of going into debt!
So keep these tips in mind and start saving now to make this #BlackFriday a fun shopping experience you don't regret!
This article is not financial advice. Please consult with a financial adviser for financial advice.
Discovery Bank Limited. Registration number 2015/408745/06. An authorised financial services and registered credit provider. FSP number 48657. NCR registration number NCRCP9997. Limits, terms and conditions apply.
Get a new iPhone on us!
As a Discovery Bank client, you can activate the Vitality Active Rewards with iPhone benefit and choose from a variety of new iPhones based on the type of account you have and the credit you have available. By achieving all your weekly Vitality Active Rewards exercise, drive and money goals, you can fund your brand-new iPhone in full!
The worst thing you can do when it comes to your money is 'bury your head in the sand' and hope for the best. To make your money really work for you, it's vital that you take an active interest in every aspect of your finances and develop the right money mindset.
The difference between saving and investing
You might know that there's a difference between saving and investing, but do you really understand the difference, and why you need to do both for a secure financial future?
How cooking at home can protect your pocket
If you dine out often or have takeaways most nights, maybe it's time to take control of your pantry and start saving. Here are a few tips to make sure your food spending is not eating into your savings.