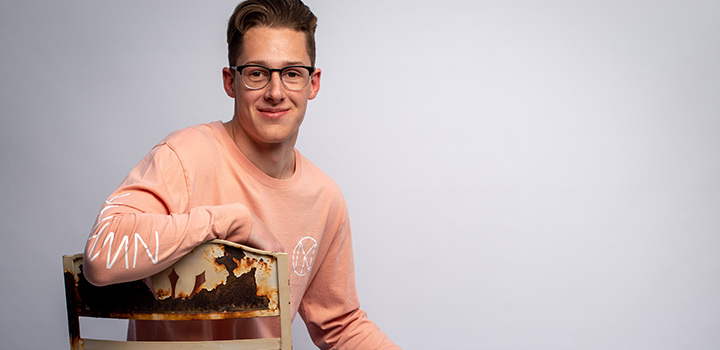 16-year-old Brandon Kynoch's mobile game, 'Torus.' was downloaded 100 000 times during its first 24 hours on the App Store and chosen as 'Game of the Day' in 137 countries. Discovery caught up with this self-taught programmer and indie game developer, to talk tech.
Torus. is the first South African game to achieved such broad, global App Store coverage. Uploaded to the App Store in April 2018, Torus. achieved (based on downloads) the number one spot in Free Action Games' number two in Free Arcade Games and number five in All Free Games on the store. The App Store's blurb says it well: "Torus. gracefully embodies so many things that we love about mobile games - intuitive sleek game play, clear objective and beautiful minimalistic design. And if that isn't enough, a zen state of mind is guaranteed after a few play sessions." This is evidenced by the high number of 5-star reviews the game has received since hitting the international audience.
All this is impressive considering that, since the age of 11, developer Kynoch's been teaching himself game development, programming and graphic design, learning through free online resources and computer science books. Discovery caught up with the indie game developer to talk tech.
Q: What elements of game development and technology drive you to succeed?
Game development is the perfect combination of art and programming. I've always loved video games and have a huge interest in technology. I started painting before I turned ten and later directed my energy into graphic design and digital art - especially 3D art and photorealistic renderings - and then picked up on programming. I downloaded free learning resources and software and started teaching myself. Ever since, I have been developing games purely for the fun of it, and to improve my skills. Games are the perfect medium to combine and practice design and coding. I am very interested in algorithms and algorithm analysis.
Q: You've acquired a range of programming skills?
I started to develop mobile games just for the fun of it and to improve my skills overall. Those were simple games such as top-down shooters, arcade games and more. I have learnt C# and Java as I study computer science in my free time. The insights gained are key to programming and developing games. .
Q: Tell us about Torus?
It's a puzzle game and all about connecting the dots. It's free to download and at first glance you will know where to tap. The premise of moving forward and avoiding obstacles with a dark enemy breathing down your neck isn't new in mobile games. Torus. continues this thread but strips out the unnecessary, leaving a beautiful, stark and rhythmical race to infinity. Torus. asks only that you focus through a series of obstacles, avoiding thumb gestures. No penalties for losing a round. Just Tap to retry.
Q: Why is the game called Torus?
I have been doing 3D design and renderings since the age of 11, with a free software called Blender, which I still use today. When doing 3D-modelling we use a lot of primitive shapes as building blocks for more advanced geometry. The torus is the shape of the player in my game. (A torus is a surface of revolution generated by revolving a circle in three-dimensional space about an axis coplanar with the circle).
Q: The first release of Torus. was developed in three weeks?
I spent two years developing my first published game, Blast: A Tank Game and was happy with its performance on the App Store. On launch day, within the first 24-hours it had 6000 downloads (where Torus. had over 100 000). After Blast I decided to focus on a smaller game to combine and practice design and coding. I then developed Torus. pretty quickly. I released the game under my studio name, Hard Graft, because I wanted to start building up a reputation for my studio as one that players equate to high quality games. I see Hard Graft becoming a triple-A internationally acclaimed, game development studio with thousands of developers working to produce high-quality games not only for mobile but also for console and multi-platform titles.
Q: What did you do when you reached the limits of what you could learn alone?
I met with Dr Richard Klein at Wits University's School of Computer Science and Applied Mathematics and he suggested a few learning resources and two books for me on Advanced Algorithm Analysis. This advice took me even further.
Q: Is it important to keep physically and mentally healthy to perform at the level you're at?
Brandon's mom, Nicky: We are Discovery Vitality and Discovery Health Medical Scheme members. My favourite credit card is my Discovery Card. We are on Diamond Vitality status. We've just enrolled in Saturday parkruns and Sunday myruns in Bryanston and we've told Brandon he is going to come along. It's a quick and easy 300 Vitality points without being an overly-taxing exercise session. Also, thanks to our Diamond Vitality status we are able to fly with kulula.com all the time, at discounted rates.
Brandon: It's important to ensure good nutrition and exercise to fuel my body and my work. I eat very healthily and have never been overweight. I don't eat many sweet things. I have salad or veggies almost every night with a protein, eggs in the morning and smoothies – that sort of thing. I also do a fair amount of sport at school. I used to play rugby which I stopped due to time constraints (and I got braces), but still take part in cross-country running and javelin and go gym occasionally. Training helps me to get out of the house.
Q: What are the apps and technologies that you most use and value – that make your life better?
I try to stay away from too much tech in my personal life. I use my phone for social media and messaging but otherwise stay off it. I am not really into apps in general. I don't have a lot of time to engage with them and I would rather be doing something more productive or worthwhile. When I am around friends I would rather speak to them than be on my phone. Gadget-wise, I have very few everyday gadgets. I don't even play video games often - as I don't have the time.
Q: Not many 16-year-olds have their own business?
I try to keep a balanced life, ensure that I get through school work and make space for game development but the only time I really get to work on the development is over the school holidays.
For now, I'm what you call an indie (independent) developer. I started out developing mobile games alone. I'll keep that up to grow my company, Hard Graft Studios. I plan on releasing a few more games similar in scale to that of Torus. this year. The number of apps I will develop depends on how successful they are' what profits I can generate and' unfortunately' how busy school will keep me. I can develop a game similar to Torus. in a matter of weeks.
Q: Has the attention Torus. has brought you been overwhelming?
I quite enjoy it. It's really nice to have recognition and appreciation for my work. I think there is a great story behind Torus. as I am so young and self-taught. I have had plenty of young people contact me for advice on how to undertake similar work, with requests for anything from app-related questions to general advice and guidance.
Q: Then, the sky is the limit for you?
After I finish school (Brandon is currently in Grade 11 at St Stithians College in Johannesburg), I hope to move to America to study computer science at MIT (Massachusetts Institute of Technology) or Stanford to access the best opportunities I can in to pursue my studies in computer science and setting up a business. Many major game development studios and triple-A companies are based in the US. I want Hard Graft Studios to join them there in the future and eventually also explore other fields of technology, such as Artificial Intelligence and research into algorithms and procedural generation and also the hardware needed to facilitate these.
Torus. and Blast are available on the App Store (Apple).
Want help in building a healthy, high-performing business?
Discovery Business Insurance is different to traditional insurance companies in that we look at your business holistically, helping you to become a better and high performing business that can manage its risks.
We use incentive-based insurance principles to encourage behaviour change that reduces insurance risks, and results in savings for the insurer. These savings are then shared with clients to further incentivise behaviour change.
Boosting your retirement savings through shared-value life cover
Life cover that allows you to get a substantial portion of your premiums back by encouraging and helping you to get healthy and stay healthy lets you benefit while you are still alive. Here is how Benna Koorsten boosted his retirement savings by R2.7 million.