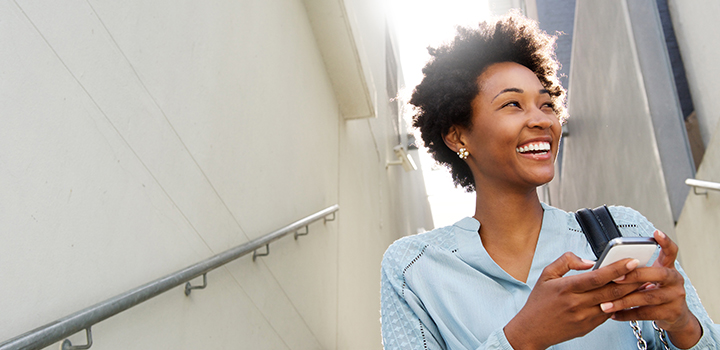 We're excited to let you know that your banking will become even more rewarding in 2020 when we introduce new ways for you to earn and spend your Discovery Miles.
Here's what you have to look forward to in the new year.
All the ways you can earn Discovery Miles
Earn hundreds of Discovery Miles for achieving your Vitality Active Rewards goals
From mid-January 2020, you can earn hundreds of Discovery Miles through Vitality Active Rewards when you reach your exercise, drive and money goals. Plus, you'll earn a gameboard play for reaching each goal, and the chance to earn even more Discovery Miles.
If you have Vitality Health, Vitality Drive and Vitality Money, you can earn the maximum of 300 Discovery Miles and a bonus play for achieving all three Vitality Active Rewards goals!
Earn Discovery Miles when you spend at our HealthyLiving partners
From early 2020, your monthly Vitality Money and Vitality Health cash back will be paid to you in Discovery Miles, this includes spending on HealthyFood, HealthyCare and HealthyGear purchases, plus fuel and Uber rides. We'll pay your rewards into your Discovery Miles account instead of your Vitality Savings Account. Your Vitality Savings Account and balance will remain available to you to continue to grow your savings.
Keep an eye on your inbox and we'll let you know when your cash back will be paid to you in Discovery Miles.
Earn Discovery Miles for your everyday credit card spend
Remember that you also earn up to 1 Discovery Mile for every R15 you spend on qualifying purchases every time you shop in-store or online with your Discovery Card. This depends on whether you have a credit card only or a full banking suite, your Discovery Card colour, and your Vitality Money status.
You'll continue to receive cash back for your other Vitality rewards
Your Vitality Health cash back will still be paid into your nominated bank account for the following rewards and will not be paid out to you as Discovery Miles:
Dream Destinations, which includes Contiki, Royal Caribbean International and World Leisure Holidays
The Vitality Money gym booster benefit (which includes the Vitality Health gym benefit)
Fuel (the Vitality Drive portion only)
The Vitality Active Rewards with iPhone benefit (which will continue to be paid into your Discovery Bank credit facility)
You'll continue to receive your upfront Uber discount from Vitality Drive at the time of booking your ride.
Have fun spending your Discovery Miles
Spending Discovery Miles has never been easier. You can spend your Discovery Miles through:
Vitality Active Rewards, at partners like BoxOffice, Exclusive Books, iStore, Netflix, Typo and so many more.
Our online and in-store partner shopping network, including Dis-Chem, kulula.com, Loot.co.za, One Day Only, Sportsmans Warehouse, takealot.com and a whole lot more,
Our flight and accommodation partners, making travel even more accessible,
The Discovery Bank app:

You can exchange your Discovery Miles for cash
British Airways Executive Club members can convert them to Avios, and
You can transfer them to anyone else who has a Discovery Miles account with Discovery Bank.
With so many awesome and exciting new ways to earn and spend your Discovery Miles, it's time for you to get active, drive well and spend responsibly to maximise your rewards in 2020.
To learn more about Discovery Miles, log in and visit the Bank Info and tips page.