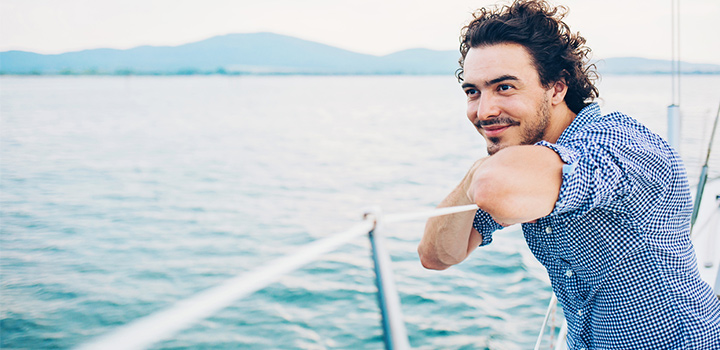 The Nature Conservancy defines "eco-tourism" as activities with an "emphasis on conservation, education, traveller responsibility and active community participation." Here are ideas on how to treat yourself on your next holiday - without mistreating the earth.
Globetrotters who understand that their footprints make a difference in the world learn to tread lightly. With the world at your fingertips, here are the top 5 eco-friendly travel destinations for the sophisticated traveller:
Slovenia
In 2016, Green Destinations declared Slovenia the greenest place on earth. Nestled between the Italian Alps and Croatia, Slovenia is an understated haven for people in search of tranquillity.
Slovenia's capital Ljubljana was named the European Green Capital of 2016. Designed by world-famous architect Joze Plecnik, the city is home to the breathtaking medieval Ljubljana Castle. Locals and tourists alike make use of the public bike sharing system, which means Vitality Purple members can continue to earn rewards and keep fit while on holiday. They also have busses that run on natural gas – now that's sustainable living!
Panama
Panama – meaning "an abundance of fish and butterflies" - is home to eleven national parks and is quickly becoming a go-to destination for expats. International Living named it one of the best places in the world to retire. The country boasts an affordable high quality of living, is foreigner-friendly and is host to an impressive range of eco-friendly hotels.
Popular activities for adventurous travellers include horse-riding, mountain biking, kayaking, sailing, fishing, bird watching, whale watching and much more. The nature trails are breathtaking and for the health-conscious, there's yoga on the beach.
Vancouver
In 2017, Vancouver was voted "Best destination in Canada" by 2017 Travel Weekly readers - for the 15th consecutive year! The luxurious Fairmount Pacific Rim Hotel in Vancouver is a microcosm for the larger city, where going green is a way of life.
Fairmount supports a myriad of initiatives that travellers can get involved in: all the food is locally sourced and made in-house, and the hotel is a member of Ocean Wise, Vancouver Aquarium's conservation programme for sustainable seafood. The hotel is also part of the Great Canadian Shore Cleanup initiative and the Stanley Park Ecology Society. Travellers can do their bit by seeing the city by bicycle and going paperless with mobile check-in services.
Malawi
Malawi is a small, landlocked southern African country that boasts fertile lands and wonderful wildlife areas protected by the National Parks and Wildlife Act. Lake Malawi is the life-giving centre of the country. It contains hidden tropical islands for the perfect beach getaway and is also a top freshwater diving destination.
Known as the "warm heart of Africa", Malawi is an up-and-coming travel destination, with eco-lodges and eco-tourism resorts springing up around the country, set against a beautiful, unspoilt backdrop. The Liwonde National Park - a small yet gorgeous park that offers safaris, night drives, mountain biking and more - is home to a range of ecological and luxurious traveller's rests.
Indonesia: Cempedak Private Island
For exclusive luxury in the heart of Asia, the Cempedak Private Island in Indonesia combines world-class accommodation with the preservation of natural life. The retreat extends over 42 hectares of tropical rainforests and consists of 20 hand-crafted bamboo villas. Visitors may be gratified to learn that a portion of their hotel fee is invested in education centres across Indonesia.
Cempedak - named after an evergreen fruit-bearing tree - not only used sustainable techniques when constructing the resort, they also taught these techniques to the local contractors and staff. The retreat is committed to uplifting the local community, while providing luxury accommodation to their guests.
Wherever you decide to go on your next holiday, spare a thought for the natural surroundings so you can enjoy all it has to offer and 'do no harm.' Plus, don't forget, Discovery Purple Card holders enjoy a wealth of rewards and VIP travel benefits.
This information in this article is intended for general purposes only. If you have any concerns about travelling abroad you should always consult with a travel professional.
International Living
The Telegraph
Fairmount.com
Cempedak.com
The Nature Conservancy
Enhance your travel experience with the International Travel Benefit
Want to enjoy a well-deserved holiday knowing that you and your family will receive quality medical assistance if need be? Members of Medical Schemes may have access to the International Travel Benefit whenever you travel outside of South Africa This may include medical emergency cover for 90 days from your date of departure.
Log onto your medical scheme website to find out more. Alternatively arrange International Cover through your credit card or your travel professional.
Convert your rands to dollars with a 3-year lock on exchange rates
As a Purple Life Plan client, you are eligible for the Dollar Swap Option, allowing you to convert your rand cover on your Purple Life Plan to dollar denominated cover on the Dollar Life Plan, free of underwriting and subject to applicable offshore rules.
In addition, the Exchange Rate Protector is automatically included on this benefit. This means your converted Dollar Life Plan premium will be locked-in at a 20% discount to the applicable monthly rand/dollar exchange rate at the date of exercising the Dollar Swap Option for a three year period, providing premium certainty after conversion to dollars.
To activate any Vitality Purple benefit or reward, contact a Discovery Purple Private Consultant.
Discovery Life Limited. Registration number 1966/003901/06, is a registered long-term insurer, and an authorised financial services and registered credit provider, NCR Reg No. NCRCP3555.
The tax implications of 3 popular investment vehicles
One of the first questions any savings-savvy investor asks a financial adviser is: "What's the most tax-efficient choice for my investment?" In this article, we take a look at a few investment vehicles and highlight the tax implications of each investment.