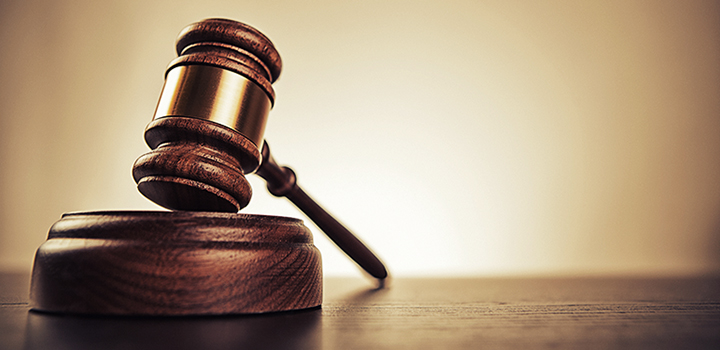 Following an intensive restructuring period, the Financial Services Board (FSB) officially became the Financial Sector Conduct Authority (FSCA), in April 2018. To find out more about the change, Discovery met up with Leanne Jackson, who has been an integral part of the team developing the new regulator's strategy. Here's what we learned.
Based on an interview with Leanne Jackson, Market Conduct Strategy Adviser at the FSCA, FSCA startegy
Why the change?
"Among other reasons, the financial crisis revealed that the regulatory landscape was not properly geared for conglomerates. The South African financial sector is dominated by large groups that include both banks and insurers. Yet, we've ended up with banks and insurers being separately regulated, rather than looking at groups as a whole. It became apparent that a focus only on prudential regulation could result in conduct problems being missed, and that more emphasis needed to be placed on the conduct of financial institutions and the protection of financial consumers."
Leanne Jackson, Market Conduct Strategy Adviser, FSCA
The new mandate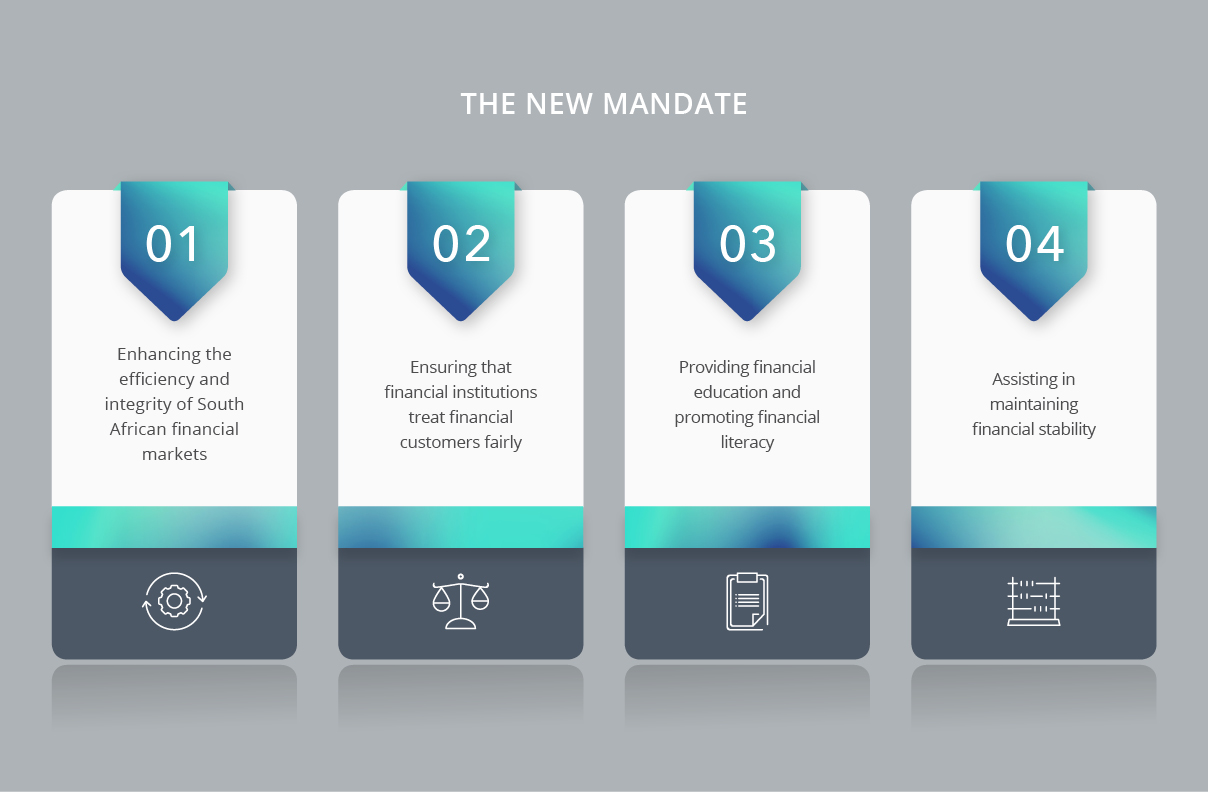 The widened scope of the FSCA mandate means that it has oversight of a number of additional activities, including some aspects of credit provision. It also now oversees banks. This widened scope enables the FSCA to better oversee the entire industry.
The game plan
The FSCA will (once all systems are in place) have authority over every South African firm or business that offers a financial product or service, effectively creating a highly progressive and comprehensive consumer protection regime.
1. The Twin Peaks model
The FSCA has based its approach on the international model of "Twin Peaks" regulation, but has adapted it to the unique financial sector in South Africa. The aim is a stable and efficient financial services sector that thrives and grows, while catering to all South Africans, treating customers fairly.
The prudential peak has been set up as a subsidiary of the South African Reserve Bank and is responsible for the safety and soundness of banks, insurers and other financial institutions. It creates and enforces prudential regulations designed to promote the financial soundness of these institutions. The second peak – the "Good Conduct" peak - is responsible for deterring misconduct and protecting financial consumers.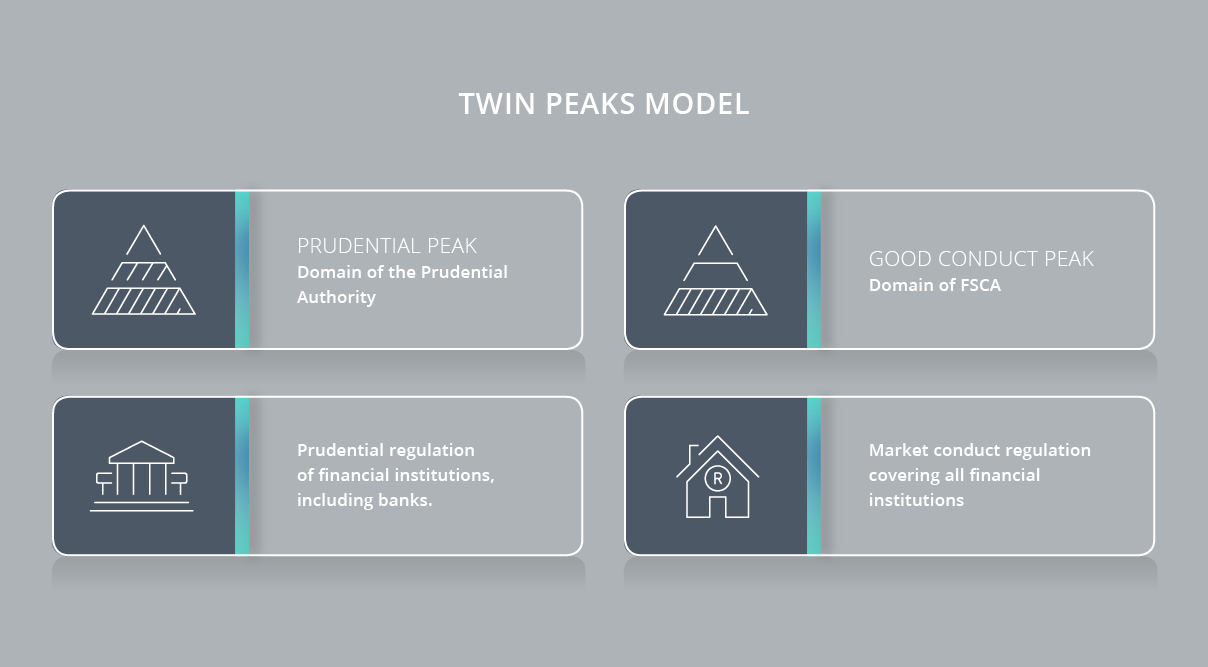 2. Change in structure from before
Before the Twin Peaks model was adopted, the South African Reserve Bank (SARB) was responsible for prudential regulation, but only for banks. The Financial Services Board (FSB) oversaw both prudential regulation and conduct regulation for multiple financial institutions, except banks.
Under the new model, the SARB is responsible for prudential regulation for all financial institutions while the FSCA oversees conduct regulation for all financial institutions. Furthermore, the FSCA is no longer structured on the silo basis of the FSB with its different licensing, supervision and enforcement departments. Regulation is carried out uniformly across financial institutions.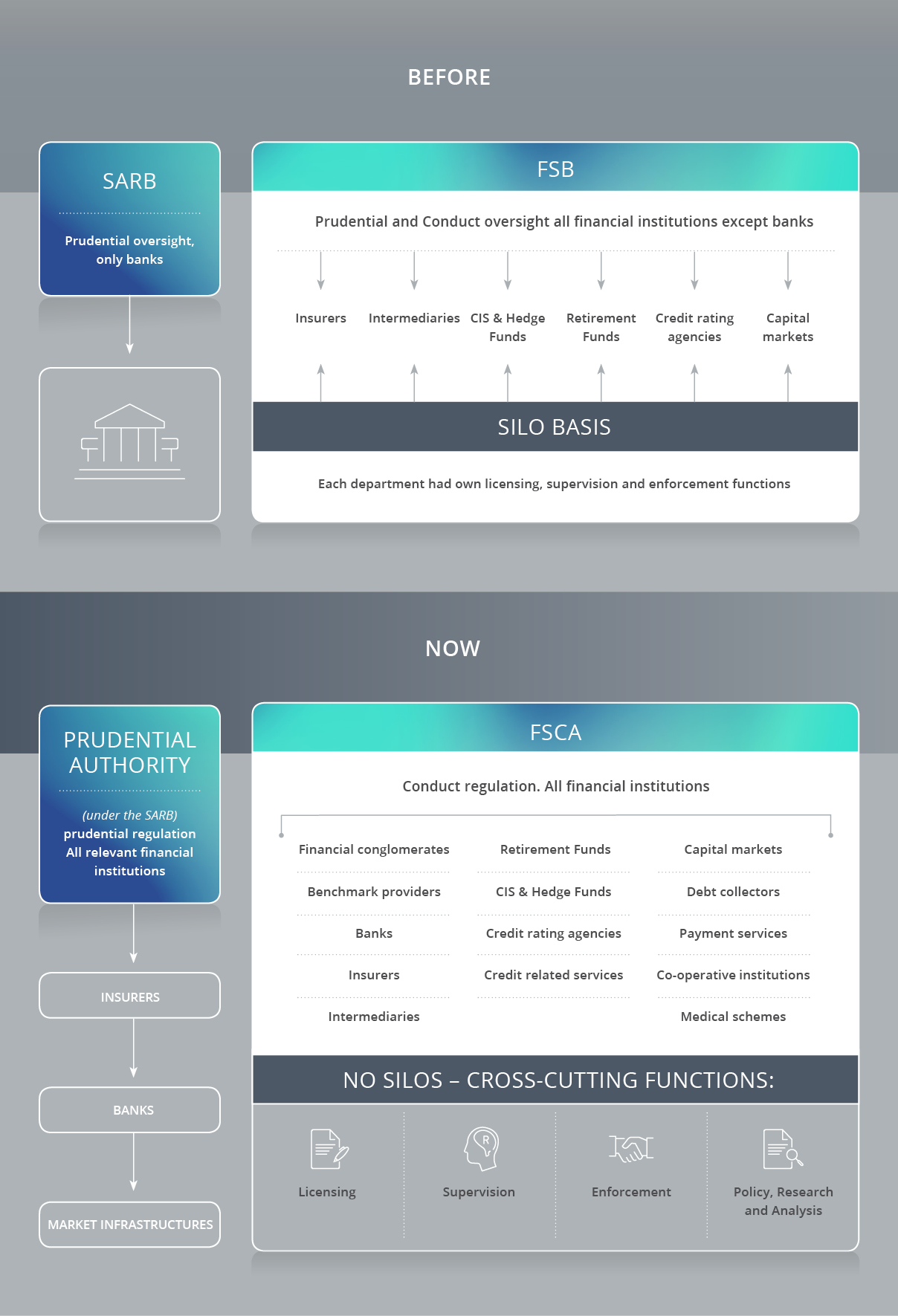 3. Empowered consumers
The FSCA's strategy around consumer education is extremely detailed, with a focus on enabling financial customers to make more informed decisions about their financial well-being.
Empowering consumers is crucial to supporting another key FSCA strategic priority – financial inclusion and making the financial sector more accessible to more South Africans in a highly ethical and empowering way.
"A key point is that the FSCA now has standard-setting powers, that include the ability to set standards for consumer education provision by financial institutions," Leanne Jacson, Market Conduct Strategy Adviser, FSCA
Currently, the FSCA website offers numerous resources, including booklets and quizzes, while the Consumer Education Department (CED) offers financial consumer education workshops and presentations across the country. These presentations are given by the FCSA, in collaboration with other regulators and entities such as the Department of Trade and Industry (DTI), National Credit Regulator (NCR), Independent Communications Authority of South Africa (ICASA), Competition Commission and Provincial Consumer Affairs offices (CPA).
Key principles
What drives the FSCA? The six principles the FSCA applies in carrying out its regulatory and supervisory functions are: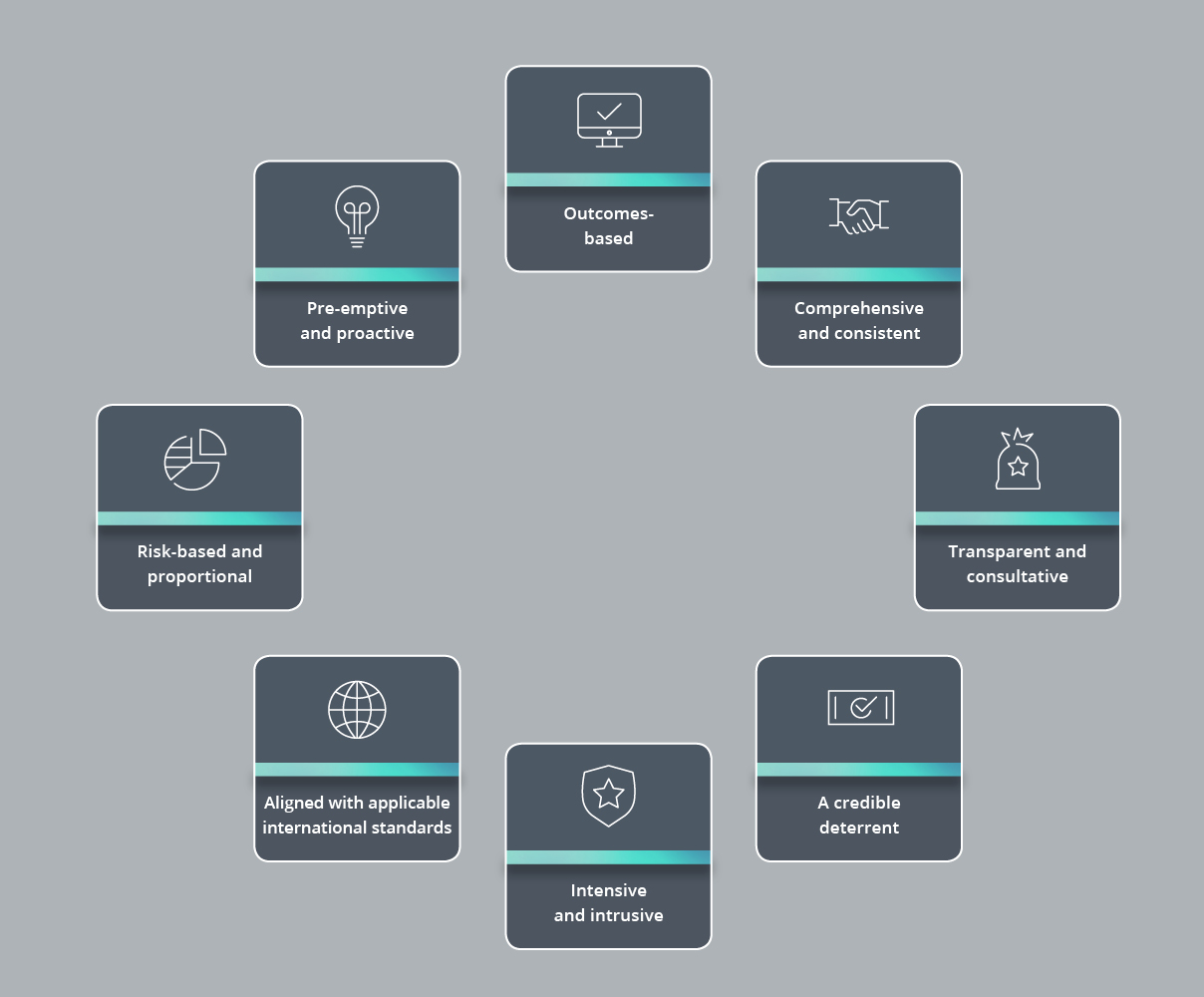 Outcomes-based approach
One of the FSCA's key principles is outcomes-based regulation and supervision. The FSCA's predecessor, the FSB, launched its outcomes-based customer protection initiative, Treating Customers Fairly (TCF), in 2011. The TCF initiative is now more than ever regarded as the blueprint for strengthening market conduct objectives and seeks to ensure that financial institutions demonstrably deliver specific, clearly articulated fairness outcomes.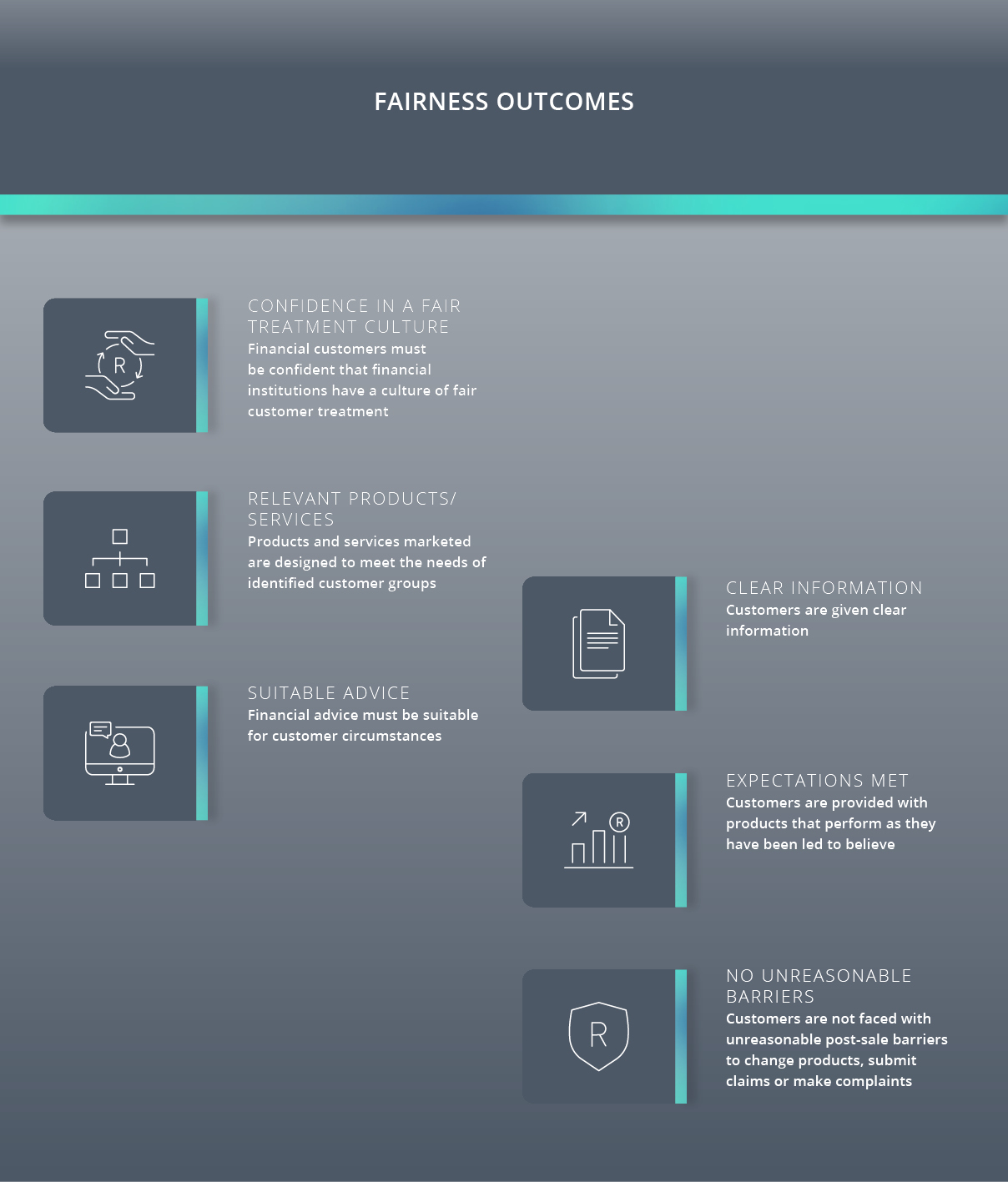 For more information about the vision, mandate and function of the FSCA, please visit www.fsca.co.za and www.fscaconsumered.co.za
This article is meant only as information and should not be taken as financial advice. For tailored financial advice, please contact your financial adviser. Discovery Life Investment Services Pty (Ltd): Registration number 2007/005969/07, branded as Discovery Invest, is an authorised financial services provider. All life assurance products are underwritten by Discovery Life Ltd. Registration number: 1966/003901/06. An authorised financial service provider and registered credit provider, NCA Reg No. NCRCP3555. Product rules, terms and conditions apply. The views expressed in this article are those of the author and may not necessarily represent those of Discovery Invest.