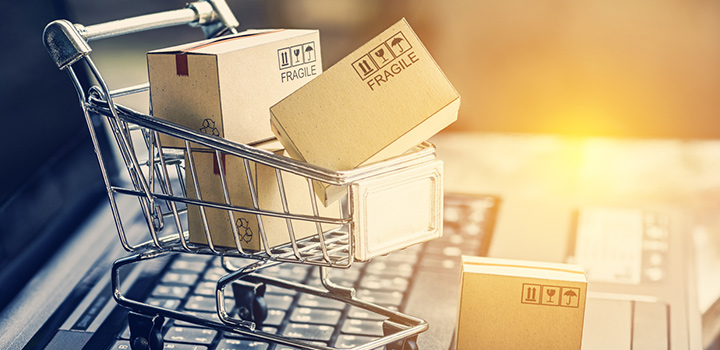 From property to exercise equipment to games, shoes and groceries - more and more people are turning online for their shopping needs. Here are pros, cons, and valuable safety tips for shopping online.
Online shopping offers a host of benefits over visiting a brick and mortar store, but carelessness can sometimes lead to buyer's remorse. Here's why the Web is worth taking advantage of and what to watch out for when you shop online.
The perks on online shopping
Unbeatable convenience: Can't get to a store to browse during trading hours? Shopping online lets you choose and order goods any time of the day or night, without leaving home.
Much more choice: products aren't confined to space on a store shelf, so you can find more range and variety in products when you shop online.
Access to reviews: Many online platforms offer comment threads, rankings or other opportunities for buyers to review and rate products. This kind of feedback from others can be invaluable in helping you make an informed decision before you purchase.
Quick price comparisons: If you know what specific product you want, you can find out which store offers it at the lowest price in a matter of minutes, instead of having to go from store to store and check in person. This saves time, aids planning and can ensure a better deal.
Frequent discounts: Many online retailers offer significant discounts and promotions for things like shopping on certain days, signing up for their newsletter or promoting their brand on social media.
When a screen falls short
However, online shopping has a few cons too, like the inability to physically try on clothes or shoes. You can't feel the texture and check the seams, so unless you know exactly what brand and size you want, it can be a bit of a gamble. If you decide against an item once you've received it, many stores make the returns process easy, but this process may take more time and effort that you've accounted for.
Some people are also deterred from online shopping because they can't speak to a sales consultant to ask about a product or service. When shopping online, you can often log a query that will be attended to you within a day or two. That said, more online platforms are starting to offer instant chat services where you can ask for help and get real-time responses
"The biggest concern people have with online shopping is security, and understandably so," says Phuti Sebidi, Chief Client Officer at Discovery Card. "This is legitimate if you're not careful, but by taking precautions against unscrupulous fraudsters, you can ensure your transactions are safe." Here are some measures to keep in mind:
Safety tips for shopping online
Only shop from secure websites. Check the URL address starts with "HTTPS" or "SHTTP", instead of just "HTTP". Look for a small icon of a locked padlock, which typically appears either in the status bar at the bottom of the browser, or next to the website link, depending on your browser. Secure websites are equipped with an extra layer of security known as 3D secure. It protects you, the cardholder, and the merchant, by verifying your personal details during an online purchase.
Install free spyware removal tools.
Educate yourself on how to identify online scams and hoaxes.
Keep your web usage private by surfing the web anonymously.
Enable and use Online Secure software wherever you can. For example, Discovery Card protects against unauthorised use when you shop online by means of a one-time PIN (OTP). Once Online Secure is activated, your Discovery Card cannot be used for online purchases at participating merchants without the OTP.
If you receive an OTP when you haven't initiated a transaction, take precautions and contact your Card division right away to report it. This is a new form of scam where fraudsters try and mimic the secure OTP process.
There is a new form of scam where fraudsters try and mimic the secure OTP process with fake authentication steps. They may have acquired a fair amount of your personal information, but don't be fooled if you have not made any changes to your account yourself. If you receive an OTP when you haven't initiated a transaction, contact your Card division right away to report it.
"In addition," says Sebidi, "you'll have access to Discovery Secure, a feature on your Discovery Card which is used to prevent unauthorised access to your information through the Discovery website. When you access certain secure sections of our website, such as updating your personal or account details, you will receive a message on your cell phone to confirm that it is you."
These kinds of rigorous security measures can go a long way in protecting you when transacting online - making online shopping fun, easy and ultra-convenient.
Fly out to LA to watch Sam Smith live with Discovery Card
Yes, you read right! Discovery Card is sending one lucky winner and their loved one to Los Angeles to watch the multi-award winning Sam Smith perform live on stage.
Want to know how to win? Just spoil a woman in your life this Mother's Day with a range of great offers from Discovery Card partners. Every R200 you spend between 25 April and 25 May will get you an automatic entry into the draw. The prize includes VIP front-row concert tickets, flights, accommodation for five nights and R20 000 spending money.
Remember, Discovery Card holders get 48 hours' pre-access to the best shows and events including concerts, like the upcoming Katy Perry with our partner Big Concerts.
12 ways to stay ahead of card fraud
Being mindful of card fraud and extra cautious - especially when travelling - can save you thousands in money and time. Here are a few simple steps to help prevent fraud.