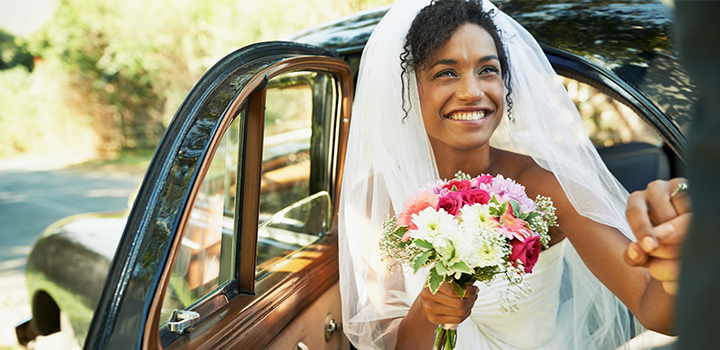 Planning a wedding in all its beautiful detail is exciting and romantic – the ring, the dress and suit, flowers, food, music. For couples about to start a new life together, the delight of the wedding, the honeymoon, and everything that follows, is the stuff of special, magical memories, but it is important to discuss the money matters before tying the knot.
It's tempting to ignore the practicality of costs and let yourself get completely carried away by the desire to have the perfect wedding day. It's a normal part of the excitement and anticipation. But, while having the wedding of your dreams is important, it's equally important, if not more so, to make sure money doesn't end up taking your bliss-filled start in the opposite direction.
Not only will being on common ground in your attitudes to money serve you well in planning your wedding and honeymoon, it is also a key factor in long-term marital harmony. Though there are many factors that contribute to success in marriage, an open and unified attitude towards finances, with guidelines and boundaries, will strengthen your bond.
Create your dreams, but keep your feet on the ground
Budgeting for your wedding is the foundation of your wedding plan. And because each couple is different, each budget will be different too. Use the figures below as a guideline to help you put together a basic budget*.
| | |
| --- | --- |
| Item | Approximate cost |
| Venue hire | R2 000 – R15 000 |
| Wedding invitations and save-the-date messages (based on 100 guests) | R1 500 – R4 000 |
| Dress and alterations | R5 000 – R25 000 |
| Jewellery and accessories | R1 500 – R8 000 |
| Wedding rings | R8 500 – R55 000 |
| Bridal make-up, hair and beauty | R1 500 – R5 000 |
| Groom's suit, shoes and accessories | R1 850 – R6 000 |
| Bridal and bridesmaids' bouquets | R550 – R1 500 |
| Bridesmaids (dresses, shoes and gifts) | R2 500 – R9 500 |
| Groomsmen (suits, shoes and gifts) | R1 500 – R5 500 |
| Wedding cake | R1 250 – R5 000 |
| Decor, flowers, centrepieces and entertainment | R10 000 – R60 000 |
| Drinks and catering (based on 100 guests) | R15 000 – R55 000 |
| Wedding favours (based on 100 guests) | R1 000 – R1 500 |
| Photographer | R9 500 – R23 500 |
| Transport | R2 000 – R5 000 |
| Marriage certificate and other legal fees | R75 – R1 500 |
*The above budget estimation is for indicative purposes only and should not be seen as an accurate guide as to the costs involved in planning a wedding.
Smart ways to save on your wedding costs
Wedding venue costs vary based on a number of different factors. You can save money if venue hire is included when booking accommodation or if you get married in winter, because it tends to be cheaper then.
If you have your wedding on a Friday or Sunday, it's also likely to cost less.
You can also cut costs by hiring a dress, buying a pre-loved or vintage dress or shopping around for specials and seasonal sales.
Your first trip as a married couple
Now that you're officially hitched, you can get on with the relaxing part of your nuptial journey – your honeymoon. There are so many great destinations to choose from, but take the following examples as some options to help you budget:
A tropical beach break
A romantic beach getaway to Mozambique or a languid trip to the serene beaches of Zanzibar could cost around R15 000* per person. Such options usually include return flights, transfers between the airport and the resort, meals, selected drinks, taxes, levies and surcharges.
A luxury trip overseas
A honeymoon in Thailand will cost around R16 500* per person, including return flights, transfers, breakfast, taxes, levies and surcharges. For about R10 500* per person, you could also enjoy a luxury cruise to Italy, Greece, Turkey and Croatia. This kind of cruise includes all meals, beverages and accommodation. Flights to Venice will cost around R12 800* per person and you will have to apply for a multiple-entry Schengen visa.
Take a Sho't Left
You can book return flights to Cape Town for about R3 500* per person and spend a week at a romantic four-star hotel for R800* per person per night. You could also take a slow drive to Polokwane and enjoy a luxurious seven-day stay at a luxury bush destination for R7 000* per person. Remember to factor in costs for petrol, meals and activities.
* These are approximate costs and will vary depending on the holiday package, flights, time of year and providers you choose.
Talk about the money
As newlyweds and even before the wedding, there are important financial decisions you need to discuss with each other and with your financial adviser.
Family budget
Consider creating a family budget now that you're married. As part of this process you may want to look at your income, your expenses and the difference between the two (which ideally is your savings). Then consider your assets, liabilities and the difference between the two (which is your net worth). You may also want to discuss your credit scores and credit reports, to make sure all your debt is transparent.
Financial goals
If you both want children, you may want to chat about how many children you'd like to have, and where you want them to attend school. If you are currently renting, you might want to buy your own home. You may also have debts you need to pay off. Your financial adviser can draw up a plan to help you save for your goals and show you where you can make compromises to reach them.
Investments
Managing your investments can help you reach your financial goals. Your financial adviser can help review your investments as a couple and recommend products based on what your goals are and when you would like to reach them. You may want to invest directly in unit trusts to save for emergencies and for short-term goals like trips and weekend getaways. You could also consider an endowment for longer-term goals such as saving for your children's education..
Retirement considerations
Making provision for retirement is a crucial part of your financial plan. Discussing when you would like to retire and with what income is integral to understanding how much and for how long you need to save. Your financial adviser can recommend investment products to suit your needs. As part of this discussion, you could consider a retirement annuity, which helps you save for retirement while getting tax benefits.
Estate planning and setting up a will
Creating an estate plan and having a will is very important if either or both of you pass away. Having a will ensures that your wishes are carried out and that your loved ones are taken care of when you aren't there to see to it yourself.
Remember: It's important to review your financial plan with your financial adviser at least once a year, or when you go through a major life event such as buying a house or having children. This will ensure that your plan reflects your current financial situation and continues to meet your needs.
This article is meant only as information and should not be taken as financial advice. For tailored financial advice, please contact your financial adviser.
Discovery Life Investment Services Pty (Ltd): Registration number 2007/005969/07, branded as Discovery Invest, is an authorised financial services provider. All life assurance products are underwritten by Discovery Life Ltd. Registration number: 1966/003901/06. An authorised financial service provider and registered credit provider, NCA Reg No. NCRCP3555. Product rules, terms and conditions apply.
Women, protect your life with life cover
Investment decisions are important and should not be made without expert financial advice. The right financial adviser will help you make the most appropriate investment choices for your future.
Find an accredited financial adviser who will guide you on your savings and investment journey.
How to get started on your savings journey
July is National Savings Month – an annual campaign to raise awareness about the importance of saving money, aimed at bringing about a shift among South Africans towards a culture of saving. Throughout the month, we will share advice to help you reach your savings goals.
Drawing up a budget to reach your savings goals
During Savings Month, we're looking at how saving money can help you become financially secure. We now know that the first step towards getting where you want to be financially is to set SMART goals. This article looks at the importance of drawing up a budget to support your goals.
Five questions to ask your financial adviser
Choosing a financial adviser means choosing someone you can trust to understand you as an individual and help you achieve your long-term financial goals. It is helpful for you to know that financial advisers are required, by law, to meet certain minimum requirements.