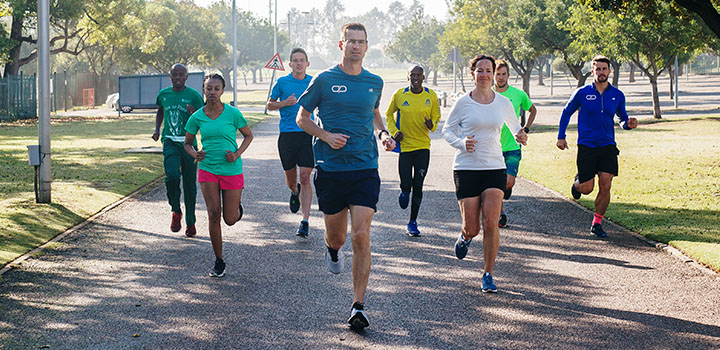 Team Vitality members now save 40% when they join The Coach Parry Training Club
Whether you're a competitive athlete or just in it for the fun, you can now get stronger, fitter and faster with our new Coach Parry benefit – exclusive to Team Vitality members.
Meet Coach Parry
Coach Lindsey Parry is one of South Africa's most well-known running coaches and has a passion for high-performance sport. He is the official Comrades Marathon coach and a Runner's World columnist – and has led many top athletes to greatness.
One such athlete is the 2015 Comrades Marathon and Two Oceans Marathon winner, Caroline Wöstmann. She said the following about Coach Parry:
"Lindsey Parry has helped me transform my running career. He takes the time to tailor my running programme to meet my individual needs by understanding my strengths and development areas. Through his coaching, I was able to improve my marathon time from 2 hours and 53 minutes to 2 hours and 44 minutes and I hope to continue improving under his guidance in the future."
Team Vitality + Coach Parry = your personal best
Coach Parry trains runners, cyclists and triathletes to help them train the right way and improve their personal best. With the Coach Parry benefit, you will get access to over 70 structured training programmes, from beginner 5km right through to a fast Comrades and everything in between. You also get direct access to Lindsey and the rest of the Coach Parry coaching team, so that you get the help you need, when you need it most. If you're looking to improve your exercise performance then work with a team that is in your corner every step of the way.
Coach Parry charges R247 a month for his programme, but for our Team Vitality members we're offering an exclusive 40% discount on this. This means a monthly payment of R147. To take up this offer, you'll receive a unique link in your Team Vitality welcome email that will direct you to the Coach Parry website.
Up your game with Coach Parry
Are you ready to take your fitness to the next level? Join the Team Vitality community for exclusive access to this benefit.
Young diet lessons from an expert
What do nutrition experts feed their own families? We chat to Candice Smith, Discovery Vitality's Head of Nutrition Strategy and mother of three, about what her family eats - and get her to share her personal favourite stew recipe!
Spring-clean your eating habits this September
One way to practice sustainable eating is to plan and eat meals according to the season. Doing so saves money, energy and lets you enjoy foods at the peak of their flavour. Here are 10 tips to get you eating more sustainably, plus a reminder of seasonal fruit and veg to buy this Spring.