Toddlers and masks: Do's and Don'ts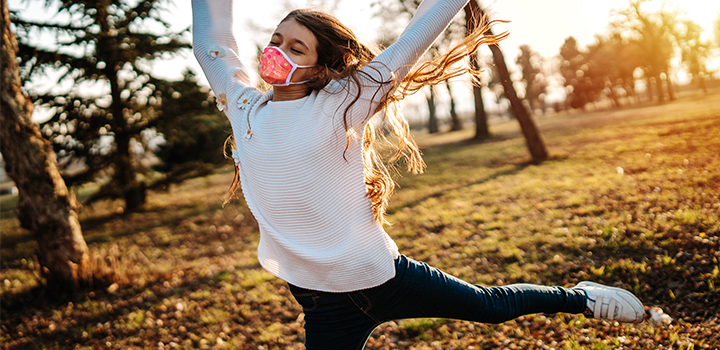 Masks are essential for curbing the spread of Covid-19 and as children return to school and interact with others, their masks should be used in the most effective way. Soon, parents can get kids' fabric face masks through Vitality Active Rewards.
The best masks for children are those which are comfortable and effective. This means that it isn't just aesthetics that are important, but that the mask is the right size, fit and fabric. NB: Masks are not recommended for children under the age of four.
"As children start to return to school and restrictions ease, we need to ensure they are safe, as well as those around them when moving around outside of the home," says Dr Mosima Mabunda, Head of Vitality Wellness.
The American Association of Pediatrics says a three-layer, pleated cloth mask with elastic straps work best for children, but the right size is equally important. The recommendation is to test a few masks for the correct sizing which will ensure secure fit.
Parents can get Discovery fabric face masks for kids
Children over the age of four can stay protected, too, with a Discovery reusable fabric face mask for kids. Parents can get a comfortable kids' mask with fun and funky designs, for 200 Discovery Miles or R39.95 at Dis-Chem or R39.00 at takealot.com. Parents will also be able get a bundle of four kids' masks, one of each design for 1000 Discovery Miles or R120.00 on takealot.com.
The masks are made from a single jersey knit to allow easy breathability, with a Vilene fabric filter to absorb bacteria.
Parents of school-going children are encouraged to have a spare mask as masks need to be washed and ironed to sanitise them after each wear.
Some do's and don'ts around masks:
Do talk to your child about wearing a mask, and the spread of germs which is reduced by behaviours such as handwashing and physical distancing.
Do make your child feel secure while wearing a mask by also wearing a mask, showing them pictures of kids wearing masks, talking about it or putting one on their favourite stuffed animal.
Do practice wearing a mask with your child, at home first.
Don't let a child with fever or respiratory symptoms like a cough, congestion, runny nose, diarrhoea, or vomiting leave home.
Don't let a child under the age of 4 years old wear a mask, due to risks of suffocation.
Don't let a child wear a mask that poses a possible choking or strangulation hazard.
Don't put a mask on a child who has difficulty breathing with a mask on, or has trouble removing it without help.
"Vitality has developed masks for children which are complaint for health regulations, but also comfortable for moving in their environment," says Mabunda.
Find out how parents can get kids their own fabric face masks.
Need inspiration to get active? Here's how you can achieve your exercise goals at home.
Visit the Discovery COVID-19 information hub for the latest updates and insights.
Discovery fabric face masks for the whole family
Got your Discovery face mask? Soon, you can also get a Discovery kids' reusable fabric face mask, a 350 ml bottle of Safeguard Hand Sanitiser for 200 Discovery Miles, and OmniProtect Sanitizing Spray for 300 Discovery Miles at Dis-Chem or takealot.com. here.