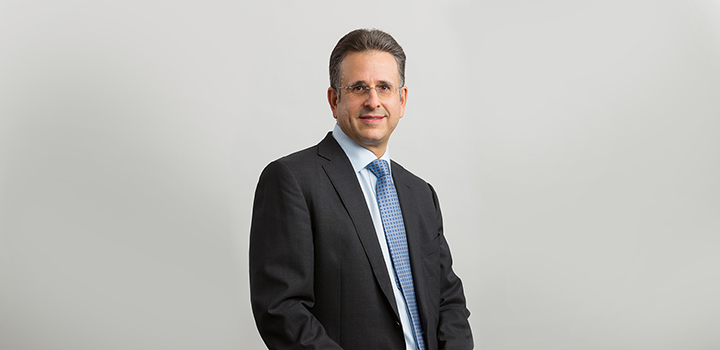 It is my pleasure to present the second edition of Invest Insights, our bi-annual publication, with the latest thinking and developments within our industry.
2017 was another strong year for Discovery Invest. Our assets under management increased to more than *R75 billion as at end November 2017; we have consistently ranked within the top six retail asset takers by Morningstar despite a difficult and volatile investment environment, and the Discovery Balanced Fund has remained a favourite among investors as evidenced by its ranking in the top 10 takers of retail net flows in the unit trust market as per the Association for Savings and Investment South Africa (ASISA).
November 2017 marked the 10th year of Discovery Invest creating exceptional value for clients through our unique shared-value model. For the 10 years to end November, the Discovery Balanced Fund returned a net 10.4% per annum and was ranked top in its category across three, five, seven and 10-year periods*.
The Discovery Moderate Balanced Fund, which has a shorter track record, also delivered solid returns to investors adding a net 10.7% per annum over five years. It is ranked top quartile over both three and five years*.
One of our newer global funds, the Discovery Global Value Equity Feeder Fund has added significant returns with gains of 14.02% over the last year to end December. *Read more about the investment philosophy behind each of our funds in our Fund View section. We also give you a glimpse of our very limited exposure to Capitec in this section. More detailed updates will follow throughout the year.
Discovery Invest ranked 8th in the Morningstar analysis of South African Domiciled Asset Managers in the fourth quarter of 2017, on an equally-weighted basis. 80% of our assets are rated as 4- or 5-star in this analysis.
In this issue, we look at the year ahead, both locally and abroad, with a number of thought-provoking articles. In Forecasting the World in 2018, compiled by Robert Armstrong, a number of Financial Times writers make bold predictions for the world this year. Sebastian Payne, Martin Wolf and Courtney Weaver – among others - answer questions such as:
Will a stable and liquid bitcoin futures market develop?
Will Zimbabwe's new leader hold — and win — fair elections? ; and
Will Trump trigger a trade war with China?
"South Africa enters 2018 buoyed by the election of Cyril Ramaphosa as the new president of the ANC – but significant risks remain as the party faithful has handed him a radical, populist 'to do' list." So writes popular political commentator, Justice Malala, who in this issue assesses the year ahead, looks at the implications of a Zuma departure, the challenges faced by Ramaphosa, and the key risks faced by South Africa and her leadership.
In A New World of Financial Advice, we look at Retail Distribution Review, which will be fully implemented this year. Many advisers are concerned about the potential impact to their business, however, if the UK roll-out is anything to go by, we can cease the anxiety and look forward to the improvement in professional standards, along with an increase in advisers' average income.
We also hear from Michael Power, a strategist at Investec Asset Management, who compares Brexit to a difficult divorce. Power outlines the likelihood of three potential outcomes of Brexit, and discusses his views on the implications for the EU.
We trust you will enjoy this issue of Invest Insights. Please share your feedback with us via Kenny.Rabson@discovery.co.za.
*All performance figures are as at end November 2017, unless otherwise stated, and sourced from Investec Asset Management.
Yours sincerely

Kenny Rabson
CEO Discovery Invest
The views expressed in this article are those of the author and may not necessarily represent those of Discovery Invest. Nothing contained herein should be construed as financial advice and is meant for information purposes only. Please contact your financial adviser for any advice related matters.
What to know before investing in collective investment schemes (unit trusts)
Before you invest in a collective investment scheme, there is important information you should know. This includes how we calculate the value of your investment, what affects the value of your investment, and investment charges you may have to pay. This notice sets out the information in detail. Speak to your financial adviser if you have any questions about this information or about your investment.
1.1 What the investment is
This Fund is a Collective Investment Scheme (also known as a unit trust fund) regulated by the Collective Investment Schemes Control Act, 45 of 2002 (CISCA). Collective investment schemes in securities are generally medium- to long-term investments (around three to five years).
1.2 WHO MANAGES THE INVESTMENT
Discovery Life Collective Investments (Pty) Ltd, branded as Discovery Invest, is the manager of the Fund. Discovery Invest is a member of the Association of Savings and Investment South Africa (ASISA).
1.3 YOU DECIDE ABOUT THE SUITABILITY OF THIS INVESTMENT FOR YOUR NEEDS
By investing in this Fund, you confirm that:
We did not provide you with any financial and investment advice about this investment
You have taken particular care to consider whether this investment is suitable for your own needs, personal investment objectives and financial situation.
1.4 YOU UNDERSTAND THAT YOUR INVESTMENT MAY GO UP OR DOWN
The value of units (known as participatory interests) may go down as well as up.
Past performance is not necessarily an indication of future performance.
Exchange rates may fluctuate, causing the value of investments with international exposure to go up or down.
The capital value and investment returns of your portfolio may go up or down. We do not provide any guarantees about the capital or the returns of a portfolio.
1.5 HOW WE CALCULATE THE UNIT PRICES AND VALUE THE PORTFOLIOS
We calculate unit trust prices on a net-asset value basis. (The net asset value is defined as the total market value of all assets in the unit portfolio, including any income accrued and less any allowable deductions from the portfolio, divided by the number of units in issue.)
The securities in collective investment schemes are traded at ruling prices using forward pricing. (Forward pricing means pricing all buy and sell orders of units according to the next net-asset value).
We value all portfolios every business day at 16:00, except on the last business day of the month when we value the portfolios at 17:00.
For the money market portfolio, the price of each unit is aimed at a constant value. This means that all returns are provided in the form of a distribution and that a change in the capital value will be an exception and only due to abnormal losses.
Buy and sell orders will receive the same price for that day if we receive them before 11:00 for the money market portfolio and before 14:00for the other portfolios.
We publish fund prices every business day, with a three-day lag, on www.discovery.co.za
1.6 ABOUT MANAGING THE PORTFOLIO
The portfolio manager may borrow up to 10% of the portfolio's market value from any appropriate financial institution in order to bridge insufficient liquidity.
The portfolio manager can borrow and lend scrip.
We value all portfolios every business day at 16:00, except on the last business day of the month when we value the portfolios at 17:00.
The portfolio may be closed in order to be managed according to the mandate (if applicable).
1.7 FEES AND CHARGES FOR THIS INVESTMENT
There are fees and other charges for this investment.
The fees and charges that apply to this investment are included in the net asset value of the units and you do not have to pay any extra amounts. These fees and charges may include:
The initial fund management fee
Commission
Incentives (if applicable)Incentives (if applicable)
Brokerage fees
Market securities tax
Auditor fees
Bank charges
Trustee fees
Custodian fees
You can ask us for a schedule of fees, charges and maximum commissions.
1.8 THE TOTAL EXPENSE RATIO
Total expense ratio means a measure of a portfolio's assets that have been expended as payment for services rendered in the management of the portfolio or collective investment scheme, expressed as a percentage of the average daily value of the portfolio or collective investment scheme calculated over a period of a financial year by the manager of the portfolio or collective investment scheme.
A percentage of the net asset value of the portfolio is for fees and other charges relating to managing the portfolio. The percentage is referred to as the total expense ratio (TER).
A higher TER does not necessarily imply poor return, nor does a low TER imply good return.
The current TER is not an indication of any future TERs. If fees go up, the TER is also expected to increase.
During any phase-in period, the TERs do not include information gathered over a full year.
1.9 TRANSACTION COST
Investors and advisers can use transaction cost (TC) as a measure to work out the costs they will incur in buying and selling the underlying assets of a portfolio.
The transaction cost is expressed as a percentage of the daily net asset value of the portfolio calculated over three years on an annualised basis. (This means the amount of interest an investment earns each year on average over three years, expressed as a percentage.)
Transaction cost is a necessary costs in administering the Fund. It affects the Fund's returns. It should not be considered in isolation as returns may also be affected by many other factors over time, including:

Market returns
The type of fund
The investment decisions of the investment manager
The TER.

Where a fund is less than one year old, the TER and transaction cost cannot be calculated accurately. This is because:

The life span of the fund is short
Calculations are based on actual data where possible and best estimates where actual data is not available.

The TER and the TC shown on the fund sheet are the latest available figures.
Discovery Life Investment Services (Pty) Ltd branded as Discovery Invest is an authorised financial services provider. Registration number 2007/00596/07.
Subscribe to our Invest Insights newsletter
Receive bi-annual updates on market insights, the economy and financial planning.