One Discovery Health Medical Scheme member opens up about her journey with mental illness and shares the value of sound medical aid when faced with numerous health challenges
Childhood memories aren't always sunshine and roses. But Emma Attwell's early years were particularly difficult and peppered with challenges that arose from moving cities frequently and being diagnosed with numerous medical conditions."
From nursery school she knew she was different and struggled to fit in, but even her parents couldn't have known just how tricky the road ahead was going to be.
"I live with both bipolar disease and pituitary Addison's disease," Emma says. "It took me a long time, after both diagnoses, to realise I still had a life ahead of me. It took even longer to make the conscious decision to pursue that life to the fullest, even if it wasn't the one I expected to have."
Eating disorders and the early years
Emma was bullied throughout primary school, and her high-school years were defined by bulimia. Desperate to fit in, she was unhappy with her body and felt a need for control. The eating disorder was a manifestation of these feelings.
"The dreadful thing about an eating disorder is that it consumes you, but it's also a way of coping with emotions that you're incapable of soothing."
After a time at Tara Psychiatric Hospital in Johannesburg, and with the help of a psychologist and a caring teacher, Emma went to Rhodes University, where she started a BA degree in English and psychology. Here her bulimia continued, and her competitive need always to be the best pushed her to breaking point.
"At 21, halfway through my third year, I was getting Dean's Merit List marks and had academic half-colours, but emotionally I couldn't take another step. I felt like a lost cause."
Professional intervention and the road to recovery
At this point, Emma's parents checked her in at Kenilworth Clinic in Cape Town. There she started to see a turnaround.
Although it was difficult initially, she saw a psychiatrist with whom she connected immediately. "He came to see me the day I arrived and I told him every horrible thing, all at once. He said to me, 'I don't think you're a lost cause.' That really stood out for me."
Emma's time at Kenilworth Clinic was tough but life changing. She connected with mental health specialists and a dietician who helped her normalise her eating.
"I continued to see that dietician for three years after I was discharged. For many years my eating was fine. When I felt my eating issues creeping back, I tracked her down and she got me back on track."
"It took me a long time, after both diagnoses, to realise I still had a life ahead of me. It took even longer to make the conscious decision to pursue that life to the fullest, even if it wasn't the one I expected to have."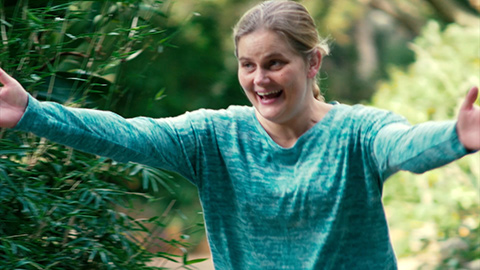 Hope for the future and becoming a mom
While Emma volunteered at the Red Cross Children's Hospital when she was 21, she met a little girl with whom she fell in love, and set her heart on adopting her. Hope is now 17 years old, and Emma's second daughter, Grace, is 12.
These girls both had traumatic entries into the world but have found a loving home with Emma, and together they form a strong family unit. That said, it's not without its challenges.
"My girls are strong, young women thriving against all odds. Both have developmental disabilities," Emma says. "When Grace was diagnosed with autism I started seeing a psychologist again. She held my hand for the next 10 years and was superb. I'll always remember what I learnt, the experiences I had in therapy, and that I have the tools and strength now to make it through."
Emma went on to finish her degree in 2006 and went back to work, but was still quietly struggling with depression and anxiety. She underwent electro-convulsive therapy (ECT) treatments, but nothing helped.
When her depression got so serious that she was unable to function, she went back to Kenilworth Clinic for a second opinion. "After numerous tests it was discovered that I had an underlying adrenal problem, which was why I hadn't been responding to any of the psychiatric treatments."
Emma has pituitary Addison's disease, which is a failure of the pituitary gland to produce enough cortisol, a stress hormone that's essential for many of the body's processes, including regulating its response to stress. She explains that, when a normal, healthy person goes through a stressful time or face a period of high mental or physical demands, the body raises its cortisol levels. "Mine remain critically low and the slightest stress will make me physically ill."
Despite this diagnosis, Emma is relieved to finally be able to manage her condition and move forward with her life.
"I've been on Discovery Health Medical Scheme's Classic Comprehensive Plan for years and can honestly say I owe my life to Discovery Health Medical Scheme. There have been medical emergencies, psychiatric admissions, ambulance trips and emergency surgeries. Discovery Health Medical Scheme is there for both my children and me, and gratitude doesn't begin to cover what I feel. I didn't plan on being the worst investment they ever made. But I wouldn't be here if it wasn't for them."
Watch Emma talk about mental health journey