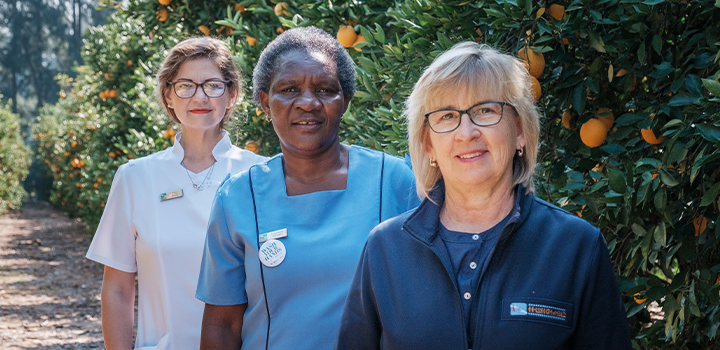 Where do rural women go when they need a pap smear, a mammogram, or suspect they may have breast cancer? In the town of Hoedspruit in Limpopo, they go to the Hlokomela Women's Clinic, where professional nurse Sonja Botha welcomes them with open arms.
"When you walk into the clinic, everything that you see or receive here is for you, for that time that you're with me," says Sonja Botha, a professional nurse who runs the Hlokomela Women's Clinic.
She adds that when someone enters the clinic, she looks at them as a human being and not at their problem. Sonja looks at what's going on with a patient's emotions, what's happening in their physical body, and asks what their needs are.
Nursing sister Christine du Preez has been caring for farmworkers with HIV and AIDS since the early 1990s. She founded Hlokomela, an award-winning HIV treatment and prevention programme, in 2005. In 2017, with the support of the Breast Health Foundation and the Discovery Fund, she opened the Hlokomela Women's Clinic.
"We are a small organisation but we have a huge heart and huge support," says Sonja. "We might not see 100 patients a day, but we're making a difference in that one patient's life."
A safe haven for women
Sonja, age 38, joined Hlokomela in 2017. "Christine phoned me one day and said, 'We need somebody to do ultrasounds, are you willing to learn?' And that's how it started," she recalls.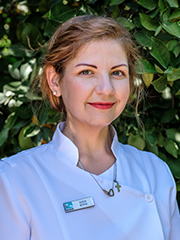 Professional nurse Sonja Botha runs the Hlokomela Women's Clinic.
"I've always had a passion for women's health, so this job was right up my ally," Sonja says. She explains that with all that domestic workers and farmworkers go through, she often feels that they get robbed of the freedom to have a voice, to access healthcare and to be treated with dignity.
Since 2017, the Hlokomela Women's Clinic has helped 15 women through their breast cancer journey. "The Women's Clinic is so much more holistic than the plan for it originally was. It has developed into a safe haven for women," Sonja adds.
"My hope for women in South Africa is accessibility. Access to whatever they need, whether it's proper healthcare, mammograms, pap smears, or counselling. We have so many women who battle with post-partum depression with no access to counselling or treatment. My biggest dream for women in rural areas is accessibility and availability of care. To give them a voice, to educate them on their health, to create a better future for them and a better South Africa for all," says Sonja.
Sonja gives her time to uplift women
Every patient gets Sonja's undivided attention. "I listen to you, I care for you, and it's important for me when you tell me something that I take it seriously and that I try to help."
"And sometimes women say they need a pap smear or a breast ultrasound but all they really need is someone to listen to them," she adds. "When we notice something, we do something about it. So, we started the Bravolution, the sanitary pads project, we have a closet full of baby clothes, toiletries – it's about giving women that little something extra."
Sonja runs outreach programmes in surrounding communities. "We teach about breast cancer, self-examination and pap smears and why we do it. And we teach women that they have a voice. That's the most important thing: You have a voice – you do."
Invest in women. Invest in society.
Since 2010, Discovery has been supporting Hlokomela's efforts to treat and prevent HIV among farmworkers – a vision that aligns directly with the third UN sustainable development goal of making people healthy and promoting wellbeing at all ages. The Hlokomela Women's Clinic takes this vision further and aims to improve the health of women by giving them access to critical healthcare services such as pap smears, mammograms, and breast health services.
Ruth Lewin, Head of Corporate Sustainability at Discovery, says, "Economists over decades identified the importance of addressing the socio-economic potential of women to guarantee the success of society as a whole. So, when women have access to material resources and healthcare for both themselves and children, it has socio-economic benefits to society as a whole. To this end, the Discovery Fund has prioritised the child and maternal healthcare services to guarantee the sustainability of the full healthcare ecosystem."
Constance Ngobeni, mother of life
Fifty-two-year-old Constance Ngobeni is a leader in the Hoedspruit community where she teaches farmworkers about HIV. "I started at Hlokomela in 1992," she says.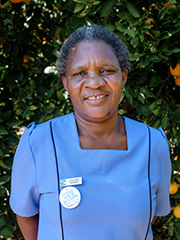 Constance Ngobeni, nompilo and HIV counsellor, has been with Hlokomela since the beginning.
"Since the beginning, I have been there with Hlokomela. I was a woman working on Bavaria Farm and I saw everything that happened on the farm, and then Christine was here with me and she said, 'Constance, we must help these people.' I was very afraid to talk to the people. But Christine said, 'Talk, talk, talk. Now is your time to talk and tell these people about HIV.'"
Constance explains, "I was a nompilo, mother of life, and change agent. As nompilo, if someone is sick or needs treatment, I take care of those people. I give them a health talk about lifestyle and how to take the ARV tablets. I remind them to go to the clinic and get treatment."
In 2005, Constance became an HIV counsellor. "As a counsellor, my work is to talk to people who have HIV. Before it was very, very difficult, because people believed that if someone is HIV-positive, they were going to die just now. So, I am always encouraging them, if you drink your ARVs, you can always be strong and go to work," she says.
Hlokomela brings people together in caring
"Hlokomela has brought people together in caring and that comes from Christine," Sonja adds. "Every person who works for this organisation has gone over and above what they need to do and that comes from the example that Christine gives."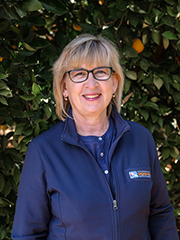 Christine du Preez started Hlokomela to care for farmworkers with HIV.
"Christine is not a director who sits in a director's chair and tells people what to do. She's the one who puts on her overall and pulls out weeds. She has taught me so many tough lessons in life. Her passion is contagious. This organisation would not be what it is today had it not been for Christine and her hard work and dedication," Sonja concludes.
Photographs by Alex Shapiro. All images were taken responsibly and with the necessary precautions to help contain the spread of COVID-19.
About the Discovery Foundation
Since 2006, the Discovery Foundation has invested over R256 million in grants to support academic medicine through research, development and training medical specialists in South Africa.
The Discovery Foundation is an independent trust with a clear focus – to strengthen the healthcare system – by making sure that more people have access to specialised healthcare services. Each year, the Discovery Foundation gives five different awards to outstanding individual and institutional awardees in the public healthcare sector.
Learn more about the Discovery Foundation Awards