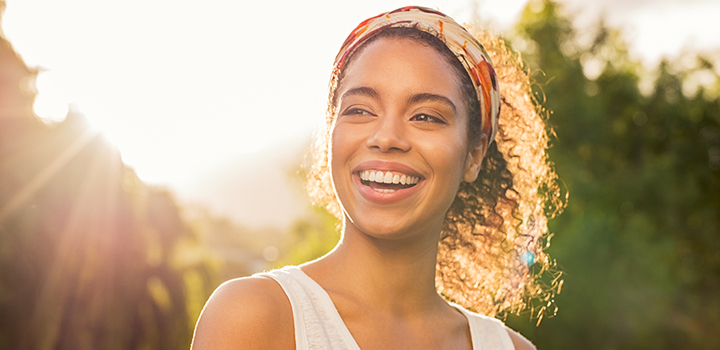 Research shows that a focus on regular, short-term challenges – at any time of the year – is the key to changing habits and achieving your goals!
"October and November are busy months for us all, particularly for those juggling year-end deadlines and school calendars. When December comes around, those pressures decrease," says clinical psychiatrist Dr Jonathan Moch. "The downtime allows more mental space to think about what you want to improve in your life. The December holidays – when most people take time off – are when our minds have the space to analyse and reset, making us want to set goals." So, we create New Year's resolutions. "But the toughest time of the year to implement goals may be in January, after getting back to the demands of life and work," he adds.
This might be why research shows that more than half of our New Year's resolutions fail. Studies into the psychology behind this show that we are just not ready in January.
"Many of us take holidays from work and school in December to contemplate where we are, where we come from and why we are here. Then we decide we want to change something for the better, like getting fitter or financially healthier. The problem is that this is often done without a considered plan and measured goals. We say we want to lose weight, but how many kilograms do we mean and how, specifically, will we change our diet and exercise plan to achieve this? If you want to implement that in January, it makes the goal almost unachievable because you have to get back to life after a slow-down. Psychologically, we go with the highest priority first – work or school – so the personal goal is not achieved."
Dr Moch adds, "Failure is a part of the road to any goal achievement, so expect it and allow it to happen. What's key is to allow yourself to bounce back."
Habits - the good, the bad and the ugly
Dr Moch believes the science of habits is hugely underestimated when setting goals. Referring to the book The Power of Habit by Pulitzer Prize-winning American journalist Charles Duhigg, he says habits are the brain's way of saving energy, so you do them on autopilot. Doing what you're not aware of could be good or bad, depending on the habit. It follows that the way to achieve a goal – at any time of the year – is to break an old habit, or forge good, new ones.
"Psychologically, goals should be structured. Any idea without execution is just an idea, without a considered plan," he said.
Moch says there are four components to creating habits:
Trigger: This is what sets you off on a habit. "For example, if you want to go on a run, your gear would be the trigger if it's the first thing you see in the morning. Alternatively, if you spot your cellphone, you would reach for it."
Response: "The second behaviour is response. "In the case of running, that would mean changing into running clothes and going for a run. Or, you see your cellphone, switch it on and spend time on social media instead."
Reward: "The third component is incentivising yourself to practice your desired habits. In psychobiology that means doing whatever releases dopamine, the reward chemical. Whatever your habit – whether it's the thrill of cellphone usage, eating too much sugar or doing exercise – you experience an internal reward whenever you engage in behaviour that makes you feel good, which is why you do it." If you incentivise yourself by exposing the brain to the reward response for good behaviours only, then poor habits are easier to change.
Repetition: "According to the science of neuroplasticity, a repeated action can change your brain network, building new brain pathways for new habits and creating new reward responses. The key is to keep repeating and keep practising until you replace the bad brain pathway or habit and create a good one. In the beginning, while your new brain pathway is being forged, if you have a moment of weakness, that habit will be dropped in favour of the old familiar one. So, simply try again."
Dr Moch says it can take up to 18 months to establish new habits, so don't expect change overnight.
What if my brain is not working with me?
"Weight loss, a common resolution, is something we commit to without a real plan on what to eat and how to prepare it, or how to fit in an exercise programme. Then there's a failure. The same will happen with any vague goal. There are times we will make a mistake or fall off the wagon. If you have no plan of how to deal with that, you will just give up," says Dr Moch.
Dr Moch cites American philanthropist and investor Ray Dalio on how principles can help people achieve goals. "We have a fairly weak mental map of the resolution and how it fits in with the forces we have to deal with every day. If you create a set of principles, you can fail, but start again. Most people don't set audacious goals or have a plan on how to deal with barriers or hurdles," says Dr Moch.
The psychological wiring around what gets us going is deep in the mind. Everyone has an emotional mind and a thinking mind. Unfortunately for us, the amygdala – a section of nerve tissue in the brain that operates in the subconscious mind – is more powerful than the rational mind. This links closely to psychological reasons we don't succeed in our resolutions.
"In our subconscious minds, we ruminate on going for a run, going to the gym, eating a salad or saving money. We also overthink how awful it will be and allow ourselves to give up before we start," says Dr Moch. "You have to get past that emotional brain. The thinking brain knows you can start a new, healthy habit."
It's in the science; behavioural science
Dr Craig Nossel, Head of Vitality Wellness at Discovery, says: "While it's fine to set ourselves big goals that we want to achieve, we need to break them down into small steps. Changing our behaviour and shifting to a healthier lifestyle can be very daunting, but there are certainly ways of setting yourself up for success."
If your goal for 2019 is to run your first 10km, you can go for a short stroll around the block, then slowly build up to your first parkrun. Get a friend or family member to join you on your journey."
"There is a lot of research taking place in the area of behavioural economics and behaviour change. In Vitality we apply this science to help improve peoples' health. Through the Active Rewards programme, we have seen significant increases in physical activity as a result of weekly goal setting, regular feedback loops through members being able to track their activity, as well as the use of incentives."
Nossel said an example is how people with Vitality Active Rewards with Apple Watch benefit, compared to the Vitality Active Rewards scheme alone, exercised an additional 4.8 days per month.
The result of the RAND Europe independent assessment showed that when people take up an incentive – like an Apple watch that pays for itself if you met your goals – a more pronounced behaviour change occurs.
Research shows that SMART goals are achieved more easily than random ones. These goals are Specific, Measurable, Achievable, Realistic and Time-bound. Don't aim to lose weight; rather say how many centimetres you would like to lose, how and by which date.
Don't hesitate to call in expert help, like a registered dietitian who can design an eating plan for you. Then, buy yourself a new item of clothing as a reward when you achieve your goal.
A study by behavioural and social science researchers Kaitlin Woolley from Cornell University and Ayelet Fishbach from the University of Chicago found that enjoyment is the most important factor in sticking to resolutions. So, remember to also have fun along the way!
With a clear aim in mind, you can get there, whatever your goals may be and whenever you feel the need to change towards a better you.
Discovery for Business
Employers benefit significantly from a healthier workforce. Find out more about our comprehensive Employee Benefits for businesses.