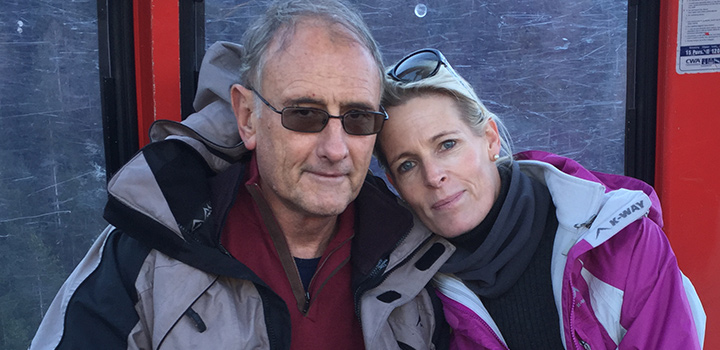 For Gavin and Colleen Clackworthy, of Vredehoek, Cape Town, a quality education for their children is a non-negotiable. So, they set about putting their beliefs into action. Read their story here.
The reality was that, in order to send both their boys, Juan-Luke, now 21, and Declan, now 19, to Michaelhouse, a prestigious KwaZulu Natal boarding school, they needed both their salaries to cover the costs.
Then, the ever-pragmatic Colleen paused to ponder what if something should happen to her or her husband?
"I don't like surprises in life. If you set your goals you have to have stepping stones along the way. You must be able to go the distance. Without a decent education in this world you won't get anywhere. We're investing in future generations," she asserts. Still living in Durban in 2009, they called in their broker, Peter Lambert, who put both Discovery Life cover and Discovery Life's Global Education Protector (GEP) policies in front of them. They took both, with additional cover for severe illnesses and disability events included in their Life cover policy.
Gavin faces a life-threatening diagnosis
As life would have it, Gavin, an entrepreneur who sourced and provided rubber seals for the nuclear industry for the past 30 years, was diagnosed with progressive Parkinson's Disease in 2010, at the age of 60.
Initially the Parkinson's did not impair him much, but after four years his neurologist submitted documentation to Discovery Life showing that his deteriorating fine motor skills were preventing him from performing many normal daily tasks, such as driving. His life changed hugely and his short-term memory began deteriorating.
"The Severe Illness section of his Discovery Life policy paid him out R480 000, enabling us to pay an outstanding debt almost to the cent." says Colleen, a property investor and animal travel company owner. Their Global Education Protector benefit allowed them to send their boys to live and study at Stellenbosch University, rather then have them board at home and attend the University of Cape Town.
Juan-Luke, is a talented sportsman who completed his BComm finance & investment degree last year and wants to do his masters in Finance and Investment at Griffiths University, in Brisbane, Queensland.
Colleen says that, combined, their sons' annual varsity education fees have come to R72 000, which she pays before submitting the slip to Discovery Life for reimbursement which usually happened within two months.
The family love the outdoors and benefit from reduced air travel rates, having flown to Switzerland on Air Emirates for a family skiing holiday four years ago, saving an estimated R17 000 on tickets through their Discovery Vitality status. They often use the 35% Vitality Diamond status discounted Kulula Airline tickets to travel to Mozambique, where they enjoy fishing and diving holidays.
"I think Discovery - is fantastic. We've benefitted hugely by using all their benefits to the maximum and keeping ourselves on Vitality Diamond status. Without the Global Education Protector benefits, basically we couldn't have sent our kids to the varsity of their choice. If you maximise the Discovery opportunities then it's a great company to have on your side," adds Colleen.
This endorsement does not constitute financial advice.
Discovery Life Limited is a registered long-term insurer and an authorised financial services provider. Registration number 1966/003901/06. Product rules, terms and conditions apply.
Fund your child's future with the game-changing Global Education Protector
Considering the current pace of education inflation, how important is an offering that helps you comprehensively protect your children's actual costs of education?
Discovery Life's enhanced Global Education Protector is designed to meet the growing challenge of funding education. It does this not only by ensuring that your child's education (whether local or international) is protected if you or your spouse suffers a life-changing event, but, in a game-changing move, also funds up to 100%* your children?s tertiary tuition fees, even if you don?t claim, when you simply lead a healthy lifestyle.
The three Global Education Protector benefits on offer (the Core, Private and Dollar options) provide the same key benefits at different levels of cover. Find out more about this ground-breaking new offering here.
*subject to the limits set by Discovery Life. Discovery Life Limited. Registration number 1966/003901/06, is a registered long-term insurer, and an authorised financial services and registered credit provider, NCR Reg No. NCRCP3555. Product rules, terms and conditions apply.