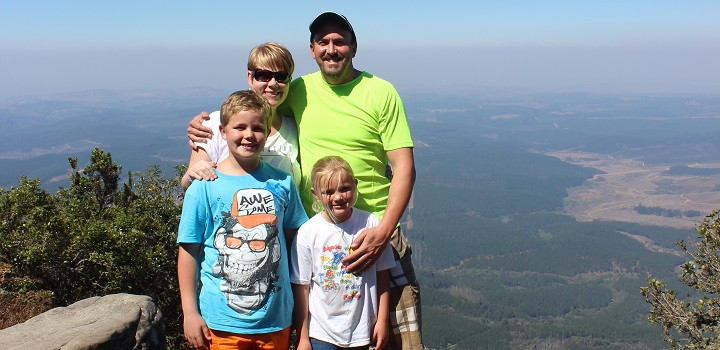 Manny de Moura's Discovery Life and Vitality integrated benefits make great financial sense
"My view was always that life cover was something you paid for, filed, and forgot about," says Manny de Moura. "Since joining Discovery Life, I've realised the true potential of dynamic Life cover that incentivises you to live a healthier life."
De Moura, a 45-year-old estate agent, husband and father of two, understands the financial services industry well. In 2004, after selling a coffee shop he owned for 10 years, he joined an independent brokerage.
"In the restaurant game, you have very little time for anything," he says. "My son was two years old when I sold. I had always had an interest in financial affairs and joined an independent brokerage based in Sandton and sold life cover for eight years." Thereafter, in 2012, De Moura found himself back in property sales – an industry he'd worked in for a brief time while studying engineering as a youngster: "I am 100% suited to the property sales industry. I enjoy it so much I feel like I have never really worked a day."
'I'm a rands and cents person'
"I am very much a rands and cents person," says De Moura. "Every year I sit and work out what I am paying Discovery and getting back in PayBacks."
De Moura's is an active user of Discovery's smartphone app through which he uploads his physical activity data, and earns Vitality Active Rewards. "The fact that I can engage with my life cover in a way that incentivises me to exercise and lead a healthy lifestyle is unique in my experience," he says. "My family achieves its weekly Vitality Active Rewards targets and our yearly Vitality points, keeping us on Diamond Vitality status."
Life cover that enhances my family's lives
In September 2017 Manny reached his first five-year Discovery Life PayBack anniversary and received a PayBack of R15 801.80.
"The fact that my life policy is integrated with Discovery Vitality means I can receive a percentage of my qualifying premiums back every five years - which I am currently doing because I am on Diamond Vitality status," he says. Additionally at age 65, he will receive a cash payment through the default Cash Conversion benefit which pays out a percentage of the Cover Integrator and/or Financial Integrator funds, based on the client's Vitality status. If Manny maintains his Diamond status until then, he will significantly increase his PayBack.
"Discovery Life and Vitality doesn't force you to engage in healthy living," he adds. "They just show you the right direction. It's up to you to take the journey and understand the benefits for yourself."
****This Endorsement does not constitute financial advice.
Discovery Life Ltd. Registration number: 1966/003901/06. An authorised financial service provider and registered credit provider, NCA Reg No. NCRCP3555.
Product rules, terms and conditions apply.
Secure global protection with the enhanced Dollar Life Plan
The interconnectedness of the world today means that creating certainty requires a truly global approach. With Discovery Life's enhanced Dollar Life Plan, you can lock in a rand/dollar exchange rate for three years with the Exchange Rate Protector Benefit.
The Dollar Life Plan now also includes the enhanced Global Treatment Benefit and Cancer Exome Sequencing Benefit, as available on the Purple Life Plan. This means you'll have access to advanced medical treatment options outside of South Africa, should you need it.
Learn more about the Dollar life Plan here, or speak to your financial adviser.
Get up to 50% of your premiums back in cash for living a healthier life
By simply linking your Discovery Life Plan with your other Discovery products, you can receive a percentage of your premiums back every five years for managing your health and wellness.
Integration allows you to receive up to 50% of your premiums back every five years
FIND YOUR LIFE PLAN
Investing in a low growth environment
When the economy is showing low growth, as it is currently, investors are likely to see lower investment returns from asset classes such as equity and property. Read what the experts have to say about investing in a low growth environment.