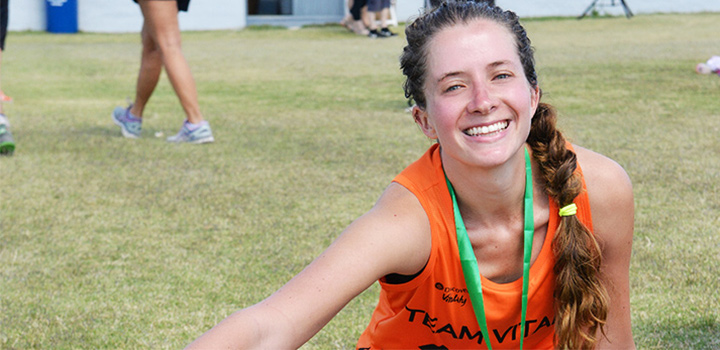 Running helped Illona Meyer, 27, reclaim her life when her mother Chamara Meyer passed away from Motor Neuron Disease (MND) in June 2017. Today Illona is on the verge of becoming a multiple marathon runner and is raising funds for victims of MND.
Her mum died four months after Springbok rugby player Joost van der Westhuizen succumbed to the disease. Van der Westhuizen, a rugby-playing legend, set up a research and support foundation for fellow sufferers, courageously campaigning for MND awareness, in his final years.
On one of Illona's last visits to her mum at Life Brenthurst Hospital in Parktown, Illona promised her she'd take up running to achieve a long-standing ambition of hers; to enter and complete a 10km race. When her mum suddenly contracted pneumonia and died, Illona, inspired by her mother's courage and good humour, transmuted the crippling power of her grief into an all-consuming passion for running. And, she became unstoppable.
In August 2017 Illona started training for the first time - but not for that 10km race. Her goal had grown. "When I came across a YouTube video by someone who'd run a marathon for the first time, an insane goal formed in my head: to run a marathon in honour of my mom and raise funds for an MND charity," she says. She started out having never run more than 3km and having done no exercise for over a year.
To honour her mom, Illona's passion has become raising funds for the Joost van der Westhuizen Centre for Neurodegeneration (formerly the J9 Foundation). "MND is an awful disease that causes severe nerve damage and muscle wastage to the point where a person cannot move, talk, swallow or, eventually, even breathe. Joost's Centre drives research and offers support, care and equipment to those who would otherwise be unable to afford it," she explains. Illona has qualified to run the 2018 Two Oceans Marathon on Easter weekend and has raised R6 000 for the centre thus far, but still requires donations to reach her fundraising goal of R12 000.
From zero to 42km in six months
Following a "couch to marathon" training guide by a renowned international running coach, Illona ran a 5km event in September, part of the Andrew Greyling Half Marathon in Brooklyn, the 10km Spar Women's Challenge in Johannesburg in October, and her first half-marathon at the end of December - the Danger Point Half Marathon in the Western Cape. "Other runners probably consider me crazy going from zero to 42km in six months," she admits. Yet, on the 25th of February 2018, she successfully ran her first ever full marathon, the Deloitte Challenge Pretoria Marathon, in a time of 04:58 meeting the criteria required to qualify for the Two Oceans Ultra taking place on March 31st 2018.
"The journey has been exceptionally tough physically, but incredibly rewarding mentally and emotionally. I literally just had to keep putting one foot in front of the other," she says. "I joined Vitality and Team Vitality in September 2017, which also helped me greatly, because I needed the gym membership for non-impact and strength training. I also needed motivation to up my nutrition game and buy proper running shoes and other gear."
"Running saved me. I'd suffered from insomnia after my mum died, but in the first few weeks the sheer physicality of the training tired me out so much that I slept soundly almost every night. And I had to start eating properly again because I was hungry all the time. Training and racing gave me focus and a sense of control and accomplishment and it spilled over into other areas of my life," she explains. Soon after completing her first half marathon in December she submitted the dissertation for her Master's degree in English Literature, which has allowed her to progress to PhD proposal stage.
"No matter what happens in your life, you can just keep running."
After the Two Oceans Ultra, she is targeting the Cape Town Marathon, the Soweto Marathon, and, internationally, the Abbott World Marathon Majors - six of most renowned marathons in the world that take place in Tokyo, Boston, London, Berlin, Chicago and New York.
"I would encourage anyone and everyone who is able to, to take up running. It is therapeutic and fun, has enormous physical and mental benefits, and barring injury, no matter what happens in your life, you can just keep running," adds Illona.
Are you running enthusiast, or keen to become one?
Team Vitality is South Africa's most popular running and cycling club, and it can help you get fit, save money and connect with like-minded people. Join Team Vitality and get 50% cash back on registration entry fees for selected events.

You'll also receive a great Team Vitality starter pack with race gear and vouchers worth over R1 000. Plus you'll have access to our VIP hospitality at certain events on the Team Vitality race calendar!
Great minds... run alike! How 3 members are championing parkruns
Invigorating, addictive and healthy, parkruns have taken South Africa by storm. Best of all, these outdoor events take place weekly, so act as a regular prompt to integrate fitness into your lifestyle. Thousands of people take part in parkruns, but three passionate Vitality members stand out.
How to become a morning exercise person
You don't have to catch worms to enjoy the merits of being an early bird. Exercising in the mornings has many advantages, so it's worth rearranging your daily schedule to fit it in. Here's why and how to give it a go.