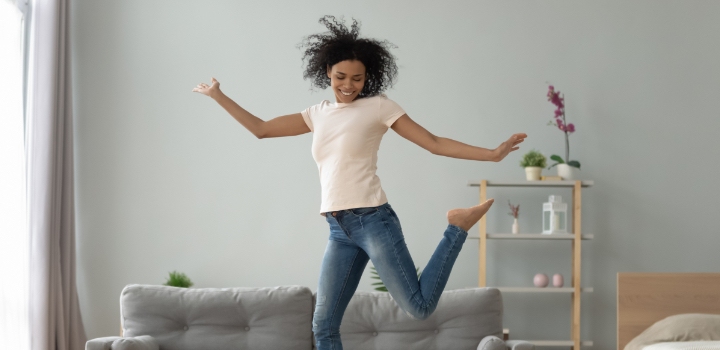 October is mental health awareness month around the world, and a good time to reflect on the importance of mental wellbeing, exercise and healthy diet to your overall health. Discovery Vitality experts share advice on how to take care of all aspects of your health.
If 2020 has taught us anything, it's that staying healthy is a holistic pursuit. Exercise, nutrition and mental wellbeing are three crucial elements in the quest for health and vitality.
Exercise - good for your body, good for your brain
Vitality Wellness Clinician Dr Seranne Motilal says regular physical activity is associated with a greater sense of wellbeing and lower rates of depression and anxiety.
Exercise can also:
Raise your self-esteem and self-worth
Relieve stress and anxiety
Lower the likelihood and symptoms of depression
Improve sleep
Help you to connect with others
Reduce the likelihood of cognitive decline and dementia
"We know there is research which shows that exercise can be helpful in the management of depression," she adds.
So, what kind of exercises can you do to boost your mood? Experts recommend a mix of activities that you enjoy and can keep up in the long term, for example walking, swimming, hiking, cycling, yoga, tai chi, or more intense workouts. High-intensity interval training classes, for example, allow you to release endorphins, reduce stress and connect with other people.
Food - good way to boost your mood
Discovery Vitality dietitian Terry Harris says, "The evidence that supports an association between dietary quality and mental health just keeps growing." She says following a healthy, balanced diet will lower your risk of health conditions and benefit your mental health.
"What you eat, and snack on, can have a very real effect on your day-to-day functioning," she explains. "Healthy habits, such a following a healthy, balanced diet, can lower stress and anxiety, boost brain function, and nourish your body and mind. So, the next time you crave something sweet, reach for a fruit instead!"
For optimal brain health, try Terry's five top tips:
Focus on a whole diet approach

The best way to get all the nutrients your body and brain needs is to consume a wide variety of colourful, wholesome foods.

Turn to tradition for inspiration

Western diets of red and processed meats, refined grains and sugar, and low intakes of fruits and vegetables, are associated with an increased risk of depression.

On the other hand, traditional diets of fruit, nuts, vegetables, fish, olive oil, lower fat dairy and antioxidants, and low intakes of animal foods, are associated with better mental health.

Eat foods rich in omega-3 fatty acids

Research supports the potential usefulness of omega-3 fatty acids, found in fatty fish like pilchards and salmon, for different mental disorders, including depression.

Get that gut going

For good gut health, eat fermented foods like yogurt, foods rich in dietary fibre, and colourful fruits and vegetables. Avoid highly processed foods and additives that could harm your gut microbiota.

Catch some rays

Vitamin D deficiencies have been linked to increased depressive symptoms. You can find Vitamin D in salmon, sardines, tuna and mushrooms, or, you can sit in the sun for a few minutes several times a week. Our bodies produce Vitamin D when our skin is exposed to direct sunlight.
Mindfulness - the key to good overall health
Your mental wellbeing is just as important as your physical health. Good mental wellbeing helps you to feel more fulfilled, be more productive at work or with studies, and to make meaningful contributions to society.
But what does it mean to take care of your mental wellbeing? Exercising and eating healthily are two ways you can stay mentally well. Another way is to get enough good quality sleep.
Good sleep hygiene habits are the result of paying attention to your behaviours, your sleep environment, your nutrition and physical activity.
Another important technique is mindfulness, or, as Dr Mosima Mabunda likes to call it, strength training for the mind. The Head of Wellness at Discovery Vitality says mindfulness is an exercise that can help you to build and develop the ability to stay calm, steady and mentally resilient when you're under stress.
Being mindful can help you direct your attention away from negative or random and unnecessary thoughts that can drain you. It can also help you engage with and appreciate the world around you. So, if you're looking for ways to deal with stress, anxiety and the symptoms of depression, practising mindfulness is a good start.
So, your overall health will greatly benefit from these three things - exercise, healthy eating, and taking care of your mental wellbeing.
Want to learn more? Listen to the podcast with Dr Seranne Motilal and Prof Renata Schoeman on how to maintain your mental wellbeing:
Vitality members, earn 1 000 Vitality points a year for completing essential mental wellbeing assessments to test your resilience, depression, anxiety, wellbeing, drinking and sleep. Find out more about Vitality mental wellbeing assessments.